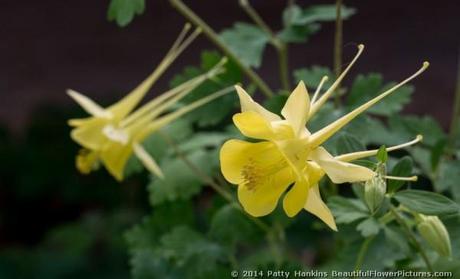 Yellow Columbine © 2014 Patty Hankins
Columbine is one of my favorite wildflower. I have photographed several native varieties of this magnificent member of the buttercup family – including the Eastern Red Columbine, the Colorado Blue Columbine, and the Yellow Columbine that grows Montana and Wyoming. This spring, I added another wonderful Yellow Columbine (Aquilegia Chrysantha  var. Hinkleyana) to the ones I photographed when I found this beautiful flower in Texas.
Native only to one area in Texas, this little beauty is also know as Texas Gold Columbine. I was lucky enough to find it at a botanical garden in Texas – rather than having to find the one waterfall in west Texas where it grows. It can be distinguished from other native varieties of yellow columbine due to its shorter petal blades and divided leaves.
Like other columbines, this Yellow Columbine blooms in the spring, is shade tolerant and has beautiful yellow flowers. I wish it was native to Maryland because I'd love to add some to my native plant garden.
Yellow Columbine is one of the wildflowers featured in my 2015 Wildflower Calendar. My calendar features photographs of twelve different wildflowers I've taken in recent years.