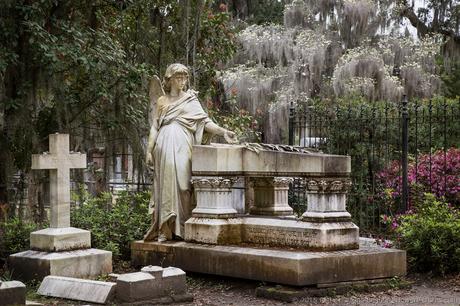 Graveyard Angel © 2015 Patty Hankins
I've recently added a new photo – Graveyard Angel – to my BeautifulFlowerPictures.com website.
From watching movies and reading books many of us have an image of Southern cemeteries as places with ornate statues on graves, dogwoods, azaleas and lots of Spanish Moss. When I was photographing in Savannah earlier this year, to my surprise I found a few cemeteries that looked  just like I imagined they would. Bonaventure Cemetery in Savannah is probably the quintessential Southern cemetery, particularly in the older sections. I found incredible graves with statutory angels and since I was there in the spring, they were surrounded by blooming azaleas and dogwoods, with Spanish Moss hanging from the surrounding trees. I had a wonderful time photographing at Bonaventure Cemetery and look forward to heading back there again to see what else I can find.
Graveyard Angel is available as a matted print on my website.
Like this? Share it...

0
0

0

0

0