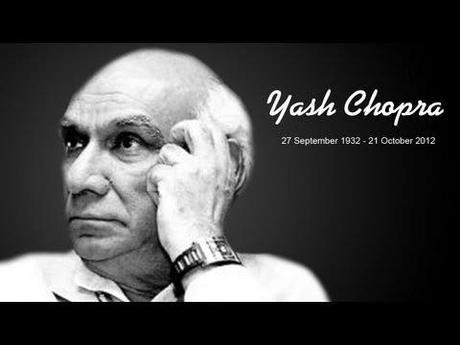 When I heard that Yash Ji is no more, I was dumb struck.  A sense of a permanent loss to the Indian cinema engulfed me, a sorrow that a genius is no more.
Not only did Yash Ji give Indian cinema two of its most successful stars (Amitabh Bachhan and Shahrukh Khan), he also enriched us with some of the most romantic songs which can stand the test of moods, generations and genres. 
Since Sixx cannot suffice for my favorite of his movies, I list some of the very romantic songs his movies had, touching on their respective blockbusters.
Trishul – This multi-starrer movie launched Amitabh Bachhan, as a wronged illegimate son, and his jouney to be accepted and known by his father(played by Sanjeev Kumar) and his family. Though this movie had very few bits of romance, "gapuchi gapuchi gamm gamm" is the perfect song for teenage kind of flutter a heart in love experiences.
Silsila – A bold movie for its time, the movie gave reality a stage with Amitabh and Rekha been showcased as stuck-in-separate-marriages-but-still-in-love couple. Jaya Bacchan was taken to add more realism as AB's wronged wife. I still wonder how would Yash Ji have convinced Jaya to play her part. My best guess is the way this movie ends, with the institution of marriage winning over infidelity. A very strong story, today, this movie is remembered for Rekha's halter neck blouses in plain, deep colored china silk sarees and the romantic soundtrack. Even today's generation cannot help but feel love when it first hears "Ye Kahaan aa gaye humm".
Chandni – Know about it here. The complete soundtrack of the movie is delicious, my personal favorite being "aa meri jaan".
Lamhe – Read about the movie here. Listen to "kabhi mai kahoon, kabhi tumm kaho" will bring back the youth to your love life.
Dil To Paagal Hai - Aiding to the current generation, this is one movie which is best remembered for its soundtrack. All the songs are listener's delight, do listen to "Arre re Arre ye kya hua" if you are just beginning to fall in love or "Dholna" if already deep into it.
Veer Zaara – When I first watched Veer Zaara, the movie progressed without impressing me. It was good, but not in the Yash Chopra way. This is the feeling before the last twenty minutes of the movie. It is then when "tere liye hum hain jiye" comes in. The song, the way its shot, its depth, everything will move you at the core. The kind of love which all of us can probably only hope to experience, the true meaning of love, which is living, not with, but for each other.
You can listen to all the listed songs here.
Dear Yash Ji, Rest in Peace. I will make sure the next generation watches the masterpieces you created for all of us to cherish.I became a fan of your movies as a kid, long before I even knew they were yours. Most of your movies, I have seen at-least ten times over, with the exception of Waqt and Trishul, both of which I have seen for more than twenty times each. The teeny-weeny bit of romance that resides in some minuscule corner of my heart  invariably grows larger not one or two but many times while watching the movies you made, the songs sequences in them, and the depiction of various forms of love.