Hi everyone,
Hope you are having a great week so far. It was raining here the other day very unlikely in this season and invites lots of health issues. What about you girls? Coming back to my today's review I shall be reviewing a body spray which I have been loving now a days. It is called Yardley of London Refreshing Body Spray in Secret Crush. The name sounded amusing to me and I liked the fragrance too so picked it up. Let us find out more about this body spray in my review...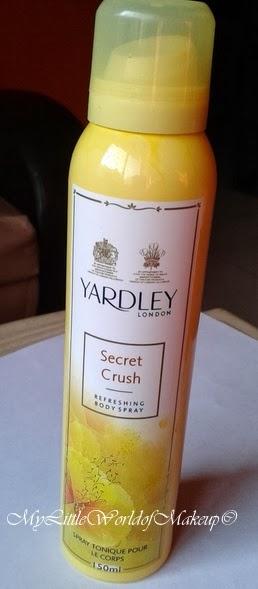 Ingredients: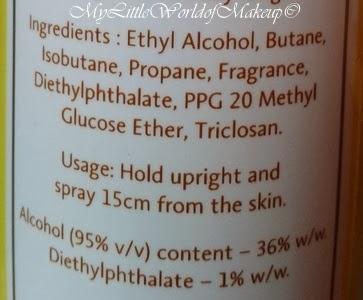 What does the company say about the body spray: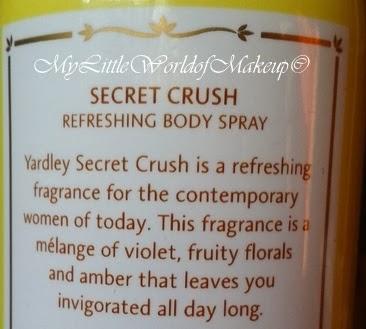 Price: App. Rs. 175/- for 150 ml.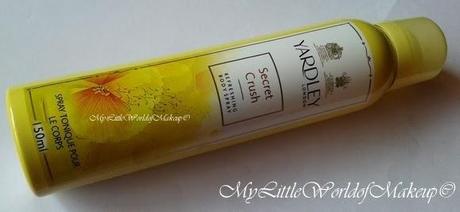 The body spray comes in tall bottle which is light lemon yellow in color. The packaging is what attracted me to it at first sight. It has images of flowers in the front which makes it all the more appealing and girly. Woman and floral packaging is a win win combination in my opinion. It comes  with a lemon yellow transparent plastic cap which goes on very secure and does not come of easily. Hence it is travel friendly.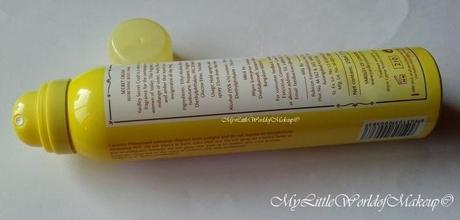 The body spray as mentioned by the company is a mixture of violet, fruity florals and amber. The  body spray in my opinion is a mixture of fruity and floral scents. The combination of both is very refreshing. It usually happens if it is a fruity scent,it is normally citrus based which sometimes gives a headache and complete floral scents is no good to give you that fresh feeling. This is a combination of both which is the best part. So you feel fresh also at the same time will have a happy feeling due to the floral scents. We all know how scents can affect our moods don't we? I have been using this everyday and have been enjoying it.In winter it lasts for nearly 5 hours ,about summers hard to tell because most body sprays fail to last then. However good a body spray may be I never take chances applying on the underarms as I am very particular about it.The alcohol content is there so I would suggest not to apply on freshly shaved/waxed armpits. Apart from this I do not find any con. The name is very interesting - Secret Crush.. Lol.. This would be ideal for gifting girls/women by boys/ men this coming Valentine's Day. I checked the website there is no mention of this body spray but I spotted this at a local medical store near my house which means it is available.It is also available on Ebay. Overall it is a nice body spray and I am loving it.The Good:Attractive and cute packaging.Cap fits well hence travel friendly.Inexpensive.Good quantity for the priceSmell is not overpowering - a perfect mixture of floral and fruity.Pretty long lasting.The not so Good:
Availability may be an issue for some but I spotted it at my local medical store also it is available on ebay.
Alcohol content.
I think for the price it is total value for money and the scent notes are very nice and not overpowering at all. It also has decent lasting power. Hence I recommend everyone to try this.It is my favorite body spray currently.Rating: 4.5/5
I hope you found my review helpful. Please comment below. I do reply to each one of them.
Have a nice day ahead.... 
Love,