June 9 2016
Trivia Answer: The American Pickers guys are Frank and Mike.

First

Four

: Monica Caraffa, Karen Feldman

,

Mike O'Dea & Chuck Chioc

co



THE NUMBERS
Tuesday's Broadcast Top 5
America's Got Talent-NBC 2

.2/10.6
The Bachelorette-ABC 2.

0/6.7
20/20-ABC 1.4/5.6
Maya & Marty-NBC 1.2/4.8
Person of Intere

st-CBS 1.0/6.3
Tuesday's Cable Top 5
American Dad-Adult Swim .8/1.7
Copa A

merica-FS1 .7/1.4
America's Choice-CNN .7/3.0
BIg Bang Theory-.6/1.8
Deadliest Catch-Discovery .6/1.9 
Tuesday's Social Media Top 5
The Bachelorette-ABC 185,000 Tweets
Am

ericas Got Talent-NBC 32,000 Tweets
Bad Girls Club-Oxy

gen 26,000 Tweets
Late Show with Stephen Colbert-CBS 24,

000 Tweets
America's Choice-CNN 13,000 Tweets
I've been saying this for a while now, but nobody really listens to me...I read some interesting info from another study some

company

did...1/2 to 3/4's of the C3 rating points against RA18-49 come from live or live-ish type programming. The 30 minute sitcom is getting killed on this front.

W

ho watches any of these shows live anymore? Especially when you know that if you DVR them you can knock an episode out in 20 minutes. Only 6 percent of the rating points come from sitcom

s. 

Food for thought for all of you guys working on your upfronts right now! 
THE SHOWS
Lots of flipping around last night between the Yankees, the Cavs and the CMTs.
Yankees won thanks in part to Carlos Beltran and the new guy, Chris Parmalee. 2 home runs last night in his first game in pinstripes. How's everyone feeling with John Sterling's "Parms done some harm" call? Thumbs up? Down? I kinda like it. Cavs won and it was a 30 point blowout which just makes no sense. I admit I don't know much about basketball. My husband and son both think the whole things fixed which of course I think is ridiculous but when you watch a 60 point swing in 2 games...I guess...I see where they're coming from.  
I'll admit, I have a soft spot for the CMTs. I love country music, Verizon used to sponsor the show and I've been lucky enough to have gone a few times. Nashville's one of my favorite cities. The show has a bit of a cheesy feel but that's why I love it. JJ Watt, was cute and didn't do a terrible job at all co-hosting. Erin Andrews isn't my fave but she was decent. The stars turn out for the CMTs. Everyone from Florida Georgia Line, Keith Urban, Luke Bryan, Jason Aldean and my current fave, Thomas Rhett. Pretty sure Kristen Bell wore the dress she had on in the opening skit on Ellen a few weeks ago. Nice to see that stars...they're just like us! Carrie Underwood looked bored sitting in the audience. She was awesome on stage, but in the seats...she looked like she was thinking..."How can I tell my husband that he needs a hairdo makeover big time?" Seriously, that hockey player needs to get some bangs or spike it all up or something, that middle part split thing just is NOT working. How does Carrie NOT tell him!!!  Nicole Kidman must be on some new meds, she looked like she was actually having a great time at the show. More takeaways:
Robin Zander from Cheap Trick's got a bit of gut these days

Way too much Billy Ray Cyrus in one 2 hour period (yes, I know, he's got a new show on CMT to promote)

Pit Bull at the CMTs? Odd but always enjoyable

When do we think the Chewbacca Mom's 5 minutes minutes of fame should be over?

Female Video of the

Year

-Carrie Underwood "Smoke Break"

That dude, Michael Ray who sings "Kiss You in the Morning" is super cute

Seemed to me the audience inside the Bridgestone wasn't into it and wished they were outside where the real party and performances were happening

. Note to producers...do the entire show outside on Broadway next year!

Breakthrough Video of the Year: Chris Stapleton (I'm just not that into him)

Erin and JJ's Mean Tweets attempt crashed and burned (Only Thomas Rhett fans can appreciate that one)

Hated the Florida Georgia Line dudes manbun. Again...where's the wife? No way she digs that look

Did I mention that currently I'm obsessed with Thomas Rhett?

I find it bizarre that I JUST mentioned Lucas Scott from One Tree Hill and there was Chad Michael Murray with the Mike and Molly guy promoting their new CMT show and giving away an award.

Chad's on his 3rd wife and he's only 34. Not bad.

Group Duo Video of the Year: Little Big Town "Girl Crush"

I love the new Dierks Bentley/Elle King son "Different for Girls" Fun Fact, Elle King's dad is Rob Schneider and her Mom, London, used to work at my Curves when it was the hot new workout spot in NYC. I knew Elle when she was just a little kid.

I'm betting Kelly Pickler is a crazy fun chick to hang out with in real life although Danica Patrick didn't find her charming but then again, I think Danica's just annoying 24/7 and doesn't find pleasure in much

Male Video of the Year-Thomas Rhett "Die a Happy Man"

Joey Lauren Adams from Chasing Amy's in Billy Ray Cyrus's new show. Haven't seen her since Chasing Amy she's definitely had a lot of work done. She's pulled prettttty tight.

Performance of the Year: Carrie Underwood who accepted in her 3rd outfit of the evening

Blake Shelton and the Oak Ridge Boys performed together. I can't imagine living life with a dude who has one of those crazy long Cousin Itt beards. That guy in the Oak Ridge Boys must spend a lot of time on that thing. It's gotta smell and catch all sorts of dust and food crumbs. Grosses me out

Social Superstar Award:  Blake Shelton (that's only because everyone's following him around to find out if he's with Gwen or not)

The Pepsi voice activated emoji wall was super lame

Vince Vaughn wasn't quite sure what award he was presenting and got that wrong. One job, Vince, you have ONE job to do...

Video of the Year:Tim McGraw's Humble & Kind. Tim's RIPPED and his daughter is gorgeous. Not sure I checked the tabloids this week. Are he and Faith together or apart?
THE OTHER STUFF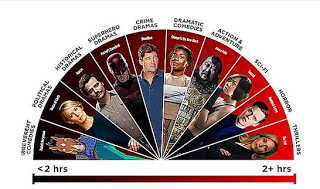 -Netflix never really tells us anything about their ratings or viewership numbers. We only know subscriber numbers and for them, that's all that really matters, right?  How many people are paying every month is really all it's about for them.  We don't have a clue how many people have actually watched all of House of Cards, Orange is the New Black or much of anything. Secrets, secrets, secrets. I got excited when I saw a headline in one of my news feeds yesterday that said Netflix released their "binge scale" but really...it wasn't such juicy info at all. 
Basically

,

Netflix analyzed peoples viewing patterns for more than 100 of their shows and found that the average time to complete the first season of a series was 5 days. Then they categorized the genres and put out this very pretty rainbow graphic that let us know how many hours people binge

each category. 
-Okay of the now 8 co

-

hosts

Kelly's had

during the

1st

two

weeks of

her search

for a new co

-host...

here's

how they rank so far:
Jimmy Kimmel 3.3
Jussie Smollett 3.1
Cedric the Entertainer 3.0
Fred Savage 

(Appearance #1)

2.9
D

avid Muir 2.9
Daniel Dae Kim 2.9
Seal 2.9
Andy Cohen 2.8 (Appearance #1)
Fred Savage 2.7 (Appearance #2)
Andy Cohen 2.7 ((Appearance #2)
-This week we've had DL Hughley and Joel McHale so far and both wer

e fine. I wish we knew who actually WANTS the job and who's just killing time and helping out. Let the viewers decide!!!

For the week of 6/20 we'll have John Leguizamo, Josh Groban, Anderson Cooper and Jussie Smollett.

 
-Last night during Jimmy Kimmel's regular time slot, he was still in NBA mode. I'm sure his bosses gave him some "notes" to keep the NBA theme allll during the Finals. I love the Generation Gap game but this one's hilarious. Ya

gotta check out Walt Frazier's face during the game. Hilarious.

http://abc.go.com/shows/jimmy-kimmel-live/video/featured/VDKA0_zjifhno8
-I wasn't sure Married at First Sight would be back since there hasn't been any success since Season 1 but 30,000 singles are willing to give it a shot and the show will be back this Summer! I hope Dr. Pepper did a better job this Season. I need a real love conn

ection or this will be the LAST season for me!

 
Thurs

day's Trivia Question
: Can you name any of the Alaskan Bush P

eople?  
[email protected]
WWTM-Kristy
Like me on Facebook at Watching Way Too Much
Follow me on Twitter at tvnme
http://watchingwaytoomuch.com
[email protected]