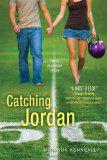 Catching Jordan by Miranda Kenneally
Grade:
9+ (sex and language)
Pages:
281
Publisher:
Sourcebooks Fire
Source:
Own
Goodreads
| Amazon
Description:
(from Goodreads) What girl doesn't want to be surrounded by gorgeous jocks day in and day out? Jordan Woods isn't just surrounded by hot guys, though-she leads them as the captain and quarterback of her high school football team. They all see her as one of the guys and that's just fine. As long as she gets her athletic scholarship to a powerhouse university.
But everything she's ever worked for is threatened when Ty Greeen moves to her school. Not only is he an amazing QB, but he's also amazingly hot. And for the first time, Jordan's feeling vulnerable. Can she keep her head in the game while her heart's on the line?
Thoughts: 
I picked this up at 11:00 p.m. planning to just read for 20-30 minutes because I was getting to the climax of another book and didn't want to be up until 1 a.m. finishing it. Well, I was up until 1 a.m. reading Catching Jordan instead.
I hate calling a book "cute" because it always feels a little demeaning or patronizing, but I'm not sure what else to call this one. It was cute!
Catching Jordan kicks off with a tough talking smart mouth football player bossing her team around - yeah
her
team around. What a way to fall in love with a character! Jordan is awesome. She's driven and serious about her chosen sport - football. She's fiercely loyal and a leader, and somehow still a total girl. I loved it when her tough shell cracked a bit and she had total "girl" moments - like wondering if her crush thinks she's fat after she inhales a ton of food. Her inner dialog about her plain white underwear is hilarious (been there). 
The best part of this book though is Jordan's relationships' with her team and friends. She's not a perfect character at all. She's actually a bit judgmental and a tad self absorbed. She's totally oblivious to what people around her are really going through. When her and her best friend and teammate have a crisis, her other friends are too funny - JJ talking about feelings is giggle worthy for sure.
The one big thing I didn't love about Catching Jordan is her love interest, Ty. Of course she falls for the all-american Texas quarterback (insert eye roll here). Ty definitely isn't perfect and I did like the attempt to make him a little less likable or swoon-worthy, but it still seemed like there were a lot of stereotypes in this book. Even if some of those stereotypes were broken as Jordan wakes up and gets to know people - it was definitely prevalent.
I originally questioned her decision to move so fast with Ty - she went from being afraid to kiss a guy to being totally okay loosing her virginity in three days? Holly 180 batman. The more I thought about it though, it kind of made sense. Since Jordan spends all of her time with guys who don't take the emotional aspects of sex very seriously, it sort of made sense that her thoughts on sex would be more about the physical part - at least at first. 
But enough about Ty - hello, Henry. Totally crush worthy. I loved their friendship and it made me long for those oblivious days when guys and girls could be close friends without anything going on - back in like 5
th
grade. 
All in all, this is a great contemporary. It's fun and emotional with tons of swoon worthy boys - what more do you want? There's even some family drama (cheers for a real family!).

Total love for this book.