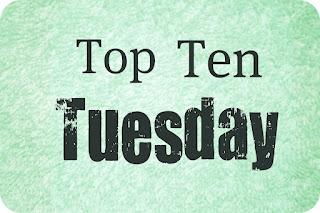 Hosted by
The Broke and the Bookish
1.
R.L. Stine
for writing all those awesome Fear Street books and getting me hooked on books at a very early age. 2.
The Morganville Vampires
for always being able to pull me out of a reading slump. 3. Miranda Kenneally for teaching me to love contemporary. 4. Melissa Marr for making me give Fey books another chance. 5. Vampire Academy for being a totally AWESOME vampire book done right. 6. Anne Rice for helping me make the leap from "kid books" to adult. 7. Eat, Pray, Love by Elizabeth Gilbert 8. Norman Mailer for giving me something to talk to my husband about (and for being cool enough to guest star on Gilmore Girls). 9. J.R. Ward for introducing me to a style of romance novel that doesn't make me want to roll my eyes. 10. J.K. Rowling for an epic series and lots and lots of great memories.