Xiaomi is no more just another brand focusing on budget Android phones, but they are one of the leading Smartphone companies is the markets they operate. Further, the company is expanding its base in Europe as well. While the year 2017 came with a lot of high for the brand, their much-hyped Mi Mix 2 has been well accepted by the market. The company has now started to launch their flagship smartphones out of mainland China, which again a good news for the fans. While the Xiaomi Mi6 was limited to China, we're hoping that the upcoming Xiaomi Flagship Mi7 gets a far better audience.
Xiaomi Mi7 Specifications
As per the market rumors, Xiaomi Mi7 will get a customized version of Qualcomm Snapdragon 845 processor. This will allow Xiaomi to release the phone without facing any production issues. It is said that Qualcomm is already working with the Xiaomi to bring out a highly optimized processor for their next flagship and the Phone will come with a 6GB of RAM.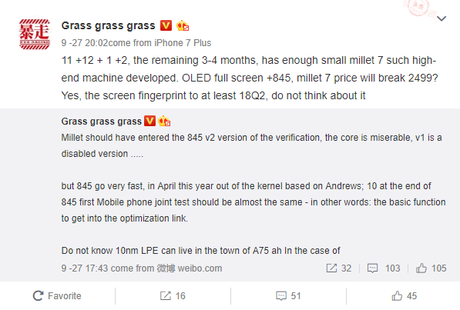 A series of posts on Chinese Social media site Weibo confirms the same. Not much information about Xiaomi Mi 7 specifications is available however, we will keep updating this section as in when news flows in.
Xiaomi Mi7 Release Date
Xiaomi has not announced or hinted about the Mi7 release date. However, going by the Mi 6 release date in China, we can be sure that it will not be released in December as suggested by few rumors. The Mi 7 launch date may be around March or April. A few reports suggest that the Mi7 may be showcased around CES 2018 trade show or MWC 2018.
Xiaomi Mi7 Display
While the 18:9 aspect ratio is in right now, Xiaomi may not opt for this instead will go for an edge to edge 6-inched OLED display. While the Mi7 may have a large display, but thanks to the bezel-less design it would be very complaint is size.  Like the latest iPhone, the MI7 display will also be supplied by Samsung. Xiaomi brought bezel-less phones to the mainstream with Mi Mix hence it is very likely that they now bring this bezel-less display to their flagship phones as well.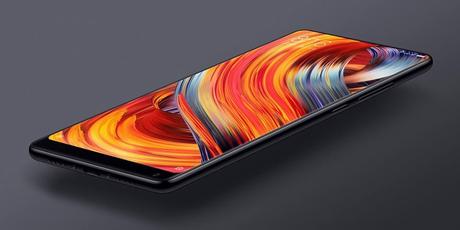 Mi 7 Design Render | Source: Google
Xiaomi Mi7 Features
Xiaomi is known for coming out with phones that are feature rich, high on specs but low on price compared to the competition. The phones from Xiaomi are stylish and design itself is one of their features. Keeping up with the trend, it is said that Xiaomi is keen in implementing an iPhone X like facial recognition technology, however, Xiaomi Mi7 feature set may not include the facial recognition technology because it still needs more work and is not available for mass implementation as yet.
Since wireless charging needs a Glass back, Xiaomi Mi7 may not have a wireless charging option as Glass is fragile and the replacement costs are very high.
Xiaomi Mi7 Camera
Xiaomi is not known for the best camera on phone. However, the company is working towards correcting this small chink in their armory. The upcoming flagship will house an all improved set of optics. On the back, Mi7 will have a 16-mp dual rear camera setup and we can expect nothing less than an 8-megapixel snapper on the front.
Xiaomi Mi7 Price
One thing for sure that we know is that Xiaomi will never make a $1000 phone. They've been making Budget Android phones all along and hence, the Xiaomi Mi 7 will be a value for money premium smartphone. The expected Price of Mi 7 will be around CNY 2699 or around $450. The Xiaomi Mi7 price in India, in case the phone makes way here, can be around Rs. 28,000.
Do let us know what features you want in the upcoming phone Xiaomi Mi7, in the comment section below.