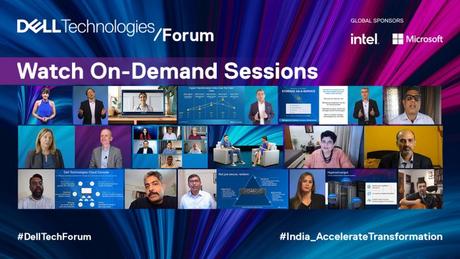 Digital Transformation is not just about reimagining your business in the digital age but also about realizing how you need to invest in the right technologies and bring a cultural change that will make your organization more intelligent, future-ready, digitally-powered, and competitive. And as we all know, the year 2020 has rightly put it that this transformation is no longer a 'good-to-have' but a 'must-have'!
By now, we have understood how one disruption can overhaul the complete world - from how we work to how we live. This sudden shift has not just compelled businesses to accelerate their pace of digitalization but has also helped in repurposing the core objectives - making us look at the bigger picture in the digital future. Investing in digital technologies to build business resilience and designing a robust and flexible IT infrastructure have become prerequisites.
Giving a sneak into the accelerated digital transformation across industries and highlighting the imperatives was Dell Technologies' annual flagship event Dell Technologies Forum 2020. Going virtual for the very first time, the Forum brought in a whole new experience for the attendees with a vault of information, enabling them to explore how technology can be leveraged in a seamless, secure and responsible manner.
THE BIG PICTURE OF DIGITAL TRANSFORMATION, ACCELERATED!
#DellTechForum 2020 underpinned how digital transformation, today, brings forth new opportunities, growth, and business resiliency, enabling businesses to drive innovations and breakthroughs in this new world. It also highlighted why in this age of rapid digitalization, every organization needs a trusting technology partner for world-class and end-to-end solutions to be prepared for whatever comes next. Some of the highlights of the forum are as below:
Insightful keynotes from the leaders
Dell Technology leaders, namely Alok Ohrie, President and Managing Director; John Roese, President and Chief Technology Officer; Aongus Hegarty, President International Markets; Amit Midha, President, Asia Pacific & Japan I Global Digital Cities; Nick Day, Dell Account Director, Intel; and Karinne Brannigan, Senior Vice President, International Marketing - deep-dived into insights on technology driving human progress, Digital Transformation Index in 2020, concerns around digital transformation, areas of IT innovation in the future and Dell Technologies' role in catalyzing digitalization for customers and partners.
[Watch On-demand]
CEO Panel Discussion: Ready for What's Next!
With the world undergoing a huge shift, enterprises are embracing emerging technologies to meet the evolving demands and are also reinventing themselves in the process. In the CEO Panel Discussion at the Forum, hosted by CNBC, CEOs from different organizations expounded upon how their organizations are embracing this shift and planning for the future. Some of the topics touched upon included enabling remote working, making enterprises future-ready with Cloud and Edge Computing, and technology inflection points that will shape the future of enterprises.
[Watch On-demand]
Inspiring Fireside Chat
Keeping the virtual audience inspired was an exclusive fireside chat with host Mandira Bedi and speaker Rahul Dravid. The session gave the attendees a sneak peek into the cricketer's extraordinary career journey and how he became the 'Wall' of Indian cricket.
[Watch On-demand]
Informative Breakout Sessions
Leaders across industries helped the audience look into the impending digital future, elaborating upon 'why' and 'how' they can re-strategize their businesses to forge forward. Each breakout session was an opportunity for the audience to explore future-ready solutions and realize the impact of emerging technologies such as AI, IoT, 5G, Edge and more. The 3 major tracks that were highlighted were:
Designing a Flexible IT - Elaborating the need for a flexible IT consumption model in today's dynamic age and how Dell Technologies brings in a plethora of choices to build an IT that is adaptable, flexible and predictable. The session also brought out the wide range of portfolio that includes products, solutions, and services - all delivered on-demand or as a service, from data center to cloud to devices.
Building Digital Workplaces - The sessions detailed out why businesses need to design a digital-ready and connected workplace and how Dell Technologies can help businesses with its industry-leading application delivery platform. It also focused on the range of secure devices and services and intelligent cloud-based management solutions that can help businesses create a workplace of the future.
Driving Innovation through Data - With the rapid proliferation of data, the breakout sessions helped the attendees discover how they can derive real value from the data pool and use it to take groundbreaking innovations to the future.
[Watch On-demand]
Concluding with some entertainment
The first virtual Dell Technologies Forum, apart from all the information galore, also gave attendees a soulful musical experience with a live performance by fusion singer, Papon. Ending the Forum on a musical note added more enticement to the entire event.
[Watch On-demand]
A VIRTUAL EXPERIENCE - A GLANCE OF THE FUTURE!
At Dell Technologies, we are committed to helping our customers and partners with opportunities to thrive in an ever-evolving digital world. From highlighting how to be prepared for what's next to elaborating upon how technology can be utilized for the greater good of mankind, Dell Technologies Forum 2020 delivered a platter of information on innovations that are designed to change businesses, people and the planet as a whole.
Our aim is to take humanity to a digital future, where everyone is connected and empowered - a world that is sustainable, robust, and viable for everyone. With that, this year's Forum was concluded with a promise for the future.
Experience the event on demand!