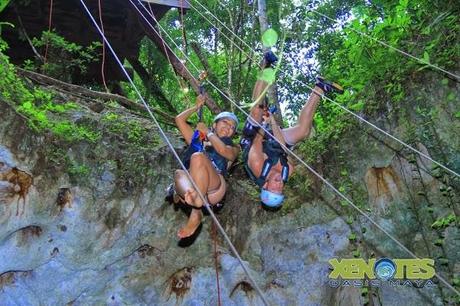 When you're traveling around the Yucatan, there is no shortage of adventure activities, party opportunities, luxury resorts, and Mayan temples.  But what is there to do when you want to get away from all of that and have an experience with nature?  You could easily head to one of the dozens of natural cenotes for a swim, but if you are looking for a secure experience with a hint of adventure, you may want to check out the excursions at Xenotes Oasis Maya.
Four Activities in One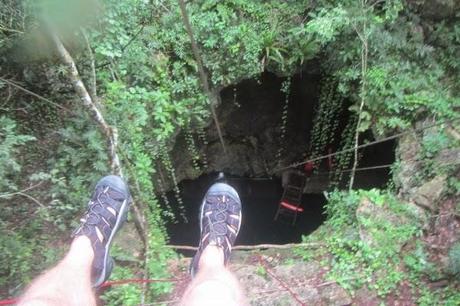 The grounds of
Xenotes Oasis Maya
includes four cenotes where you can experience different activities including rappelling, kayaking, snorkeling, and their unique take on zip-lining.  Each experience is uniquely set into the cenote for all skill levels. 
What can you expect?  Well, the activities go like this:
Rappelling:
  If you have a fear of rappelling, Xenotes Oasis Maya is made for you.  Unlike traditional abseiling, where you control the ropes and the speed of your descent, the rappelling here is 100% controlled by the employees with substantial safety mechanisms built in.  This freedom allows you to just sit back in relax (or do crazy things like me) until you gently land in the ice cold cenote water for a tour of the gorgeous cavern below.
Kayaking:
  Kayaking is a very simple activity where teams of two head out and back through a long cenote with canyon-like walls.  New kayakers will find this spot perfect to learn as there are no currents or other challenges you may find elsewhere.  Expect an abundance of kayakers later in the day; however, as we experienced a significant build up of others while in the cenote.
Snorkeling
:  The snorkeling experience is, in my opinion, a bit lacking and not entirely necessary.  As the cenote is full of freshwater in a semi-isolated system, the aquatic life is limited to a few small fish and the occasional turtle if you're lucky enough to spot it.
Zip-Lining
:  I call Xenotes Oasis Maya's zip-lining unique because it is not what you would think of a traditional zip-line.  Rather than being attached into a harness and zipping through the trees, this one is all about you getting wet!   The zip-line here has two options.  The first is a handlebar setup where you just hold on and zoom down over the cenote before jumping in whenever you'd like.   The second is a chair setup where you sit down and gently glide down into the water of the cenote.  Both are great fun; however, you have to be careful not to let go of the handlebars too soon in the first option as the drop is quite high at the beginning.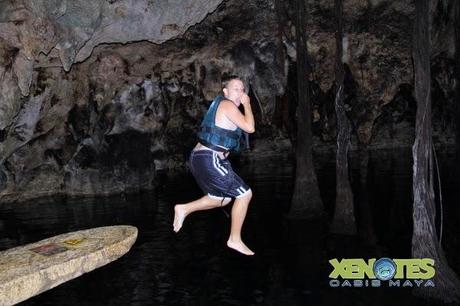 An Attraction for Families, Not Adventure Junkies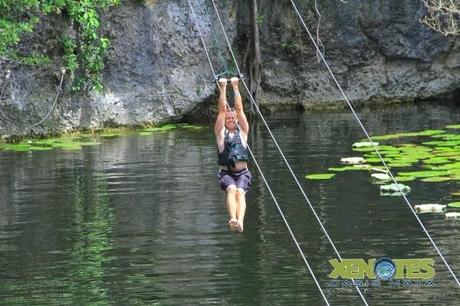 When it comes to exploring cenotes in the Yucatan, you have a few options.  There are the natural cenotes where it may be only you and the incredible wonder, and then there are the tour oriented cenotes like the experiences at Xenotes Oasis Maya where the attraction has been built-up around the natural formations.
For adventure junkies, the latter may be not be so interesting (although I could have spent the entire day on the zip-line).  But for families or those looking for a controlled experience with a new activity, Xenotes Oasis Maya is a lot of fun.
Going in be sure to expect the crowds to build up as the day goes on.  If you can get past this, your time at Xenotes will be quite enjoyable if you've always wanted to try one of the activities but never had the chance (or had a fear stopping you with some of the activities).
For us; however, we crave more adventure, and had no shortage of options elsewhere during our stay in the Yucatan.  But give me one of those zip-lines at home, and you'll make me happy for a very long time.
We'd like to thank Xenotes Oasis Maya for inviting us to experience their cenotes during our stay in Mexico.  As always, all opinions are our own.
Some images featured in this article were taken by the photographer at Xenotes Oasis Maya.