Last Updated on July 12, 2022 by Jeremy
Disclaimers: Our site uses demographic data, email opt-ins, display advertising, and affiliate links. Please check out our Terms and Conditions for more information. Listed prices and attraction details may have changed since our visit and initial publication.
Most trails at Arches National Park in Utah are, for lack of a better word, popular. They are so popular, in fact, that unless you get to the park before permitting hours, odds are good you'll be on the trails with dozens upon dozens of fellow hikers.
But there are still a few trails within the park that most visitors do not attempt, and the trail to Tower Arch is one such hike. We wouldn't be surprised if more than 20 people take the hike on any given day, and that is due to just how remote this particular trail is.
So in this one, let's share a bit more about the Tower Arch hike- what you can see, hiking concerns, and how to get there to begin with!
What You Can See on the Tower Arch Hike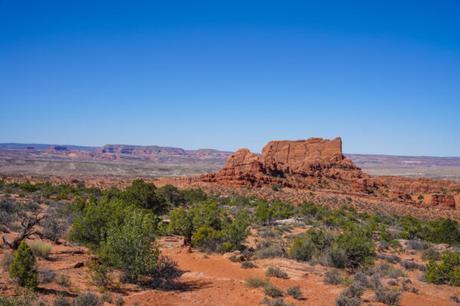 The Tower Arch hike at Arches National Park offered one of the most stunning landscapes we were able to see in the park. Part of this is simply because it is so remote (more on that in our hiking tips section), but also because there really is simply a lot to take in.
Throughout most of the hike, you are simply marveling at the beauty of Klondike Bluffs. Depending on where you are along the hike, rock formations appear and disappear both nearby and off into the distance, and made us want to stop again and again simply to take it all in.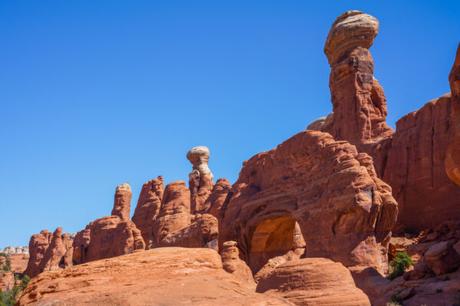 Once you get close to Tower Arch, you start to see the Marching Men- large, almost phallic-looking monoliths that pepper the landscape all around you. While there are numerous formations overall, they also are generally gathered in one small section of the trail around the arch itself. Most of these are hidden behind a large section of rock for most of the hike, and then you hit one particular bend and see dozens of them making for a great payoff at the end of the trail!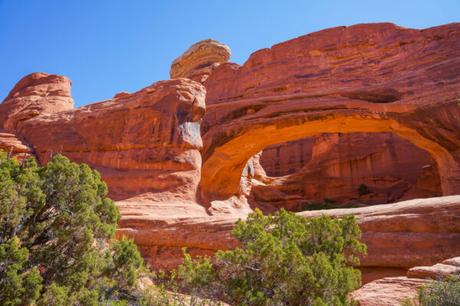 Then, of course, there is the 92-foot wide Tower Arch itself. While certainly not the biggest or longest in Arches National Park (that latter distinction goes to Landscape Arch on the Double O Arch Trail), it is one of the most imposing. The arch is quite wide and is composed of a large volume of rock above the arch overall as you can see in our above photos. As a bonus, you can hike fairly close to this one, but the rocks in front are oriented in such a way that would make it difficult to get underneath the arch entirely.
To put it bluntly, this hike had a lot to see, with changing landscapes throughout the hike, and was simply beautiful! That being said, hiking here (and reaching the trailhead in the first place) has some serious concerns you need to know ahead of time.
Hiking Tower Arch at Arches National Park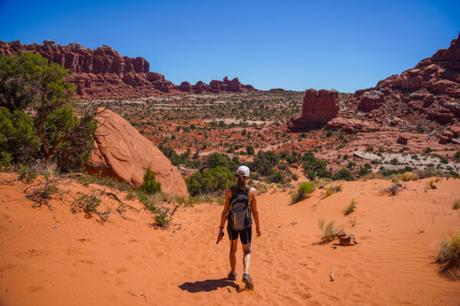 Before talking about hiking conditions on the Tower Arch Trail itself, we first have to talk about reaching the trailhead. It is perhaps the most out-there of all trails at Arches National Park.
You see, Tower Arch is one of the least visited arches because it is in the remote, Klondike Bluffs section of the park. The main, paved road does not reach the trailheads, and the only parking areas nearby are best accessed by vehicles suitable for driving on gravel roads (the road to one trailhead is even rated only for off-road vehicles like Jeeps). As such, we only attempted the roughly eight-mile drive across the desert to reach the trailhead because we had an SUV.
To put it bluntly, we would not have made the drive if we were in a conventional sedan.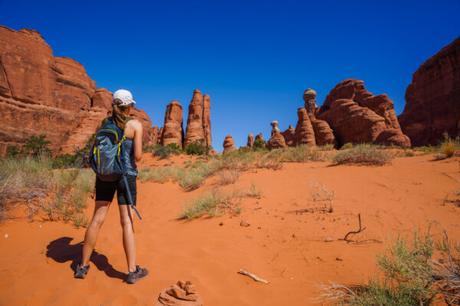 While this road is flat, relatively devoid of potholes (during our visit at least), and the gravel was generally what we'd call small, these conditions cannot be guaranteed. One pothole of a certain size, one rock in an inopportune place, or one car trying to squeeze around you (forcing you slightly off-road) can be a significantly different experience for a sedan over an SUV. If this road was just a mile long and well-traveled, we would have no issue taking the chance in a regular car. But roughly eight? Eh. Getting upgraded to an SUV really helped us make the decision to go for this one.
Once you reach the trailhead, you can begin the 2 1/2 mile hike to Tower Arch, which should take about an hour one way for most hikers.
There is a reason why this trail is labeled "difficult" by all sources, and it is simply because you're going to see all types of terrain imaginable. The trail starts as a climb up and over a hill with a relatively rocky surface. This one is not terrible but makes for a precarious climb down on the return trip (we would not hike this at all if it had rained recently, that is for sure). Once you are over the hill, you wrap around the side of the rock formations and hike down into a valley, back up another hill, and around a large rocky bend before reaching the arch.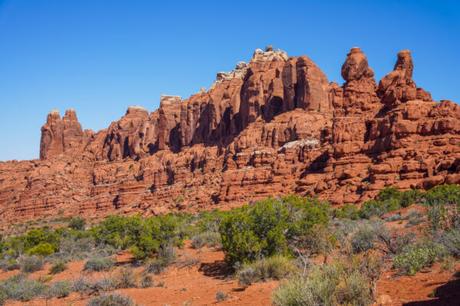 You will hike on big rocks, small rocks, crushed gravel, dirt, loose sand, dried-up creekbeds, and more, several times over, all while being 100% exposed to the sun throughout the entire hike.
Likewise, for most of the hike, there is no obvious path to follow- the foot traffic is so low here that you simply won't be able to tell where other hikers went before you. The wind will remove all tracks in the sand very quickly. That being said, this trail had an impressive number of rock cairns to highlight what direction to head in, and we can count on one hand the number of times we had to stop and look for one longer than a few seconds. In this respect, it was one of the best "marked' trails in Arches at large.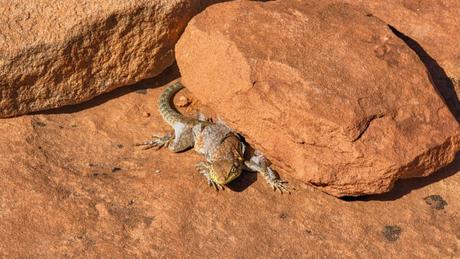 As with most trails at Arches National Park, this one isn't difficult from a hiking standpoint if we are to be completely honest. Climbing up the rocks at the very beginning was by far the worst element from a technical perspective, and those with any sort of issues with the elements listed above should absolutely not take this hike. But doing this hike in the heat, with virtually no one around you, in an area of the park that mostly does not have any sort of cell signal, safety alarm bells should be ringing in your head all the same.
Before you depart on this trail, it will be worth loading up with water and making sure someone outside your hiking party knows where you are heading. You really are going off the grid here despite it being an official trail within the national park.
Overall, while Tower Arch itself is not the most popular hike in Arches, the remoteness of this one really adds to the hike all the same. In all likelihood, it'll just be you and the beautiful nature of Arches National Park throughout nearly all of your hike, and with other trails being quite crowded at times, this one is simply a breath of fresh air.
Show Off Your Travels at Home with Conquest Maps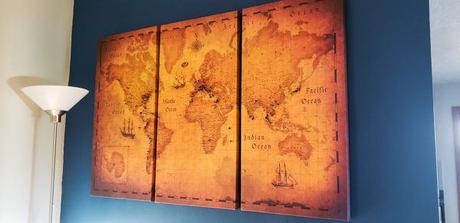 Looking for a great piece of art to showcase your travels at home? Pick up a push pin travel map from Conquest Maps today! This is truly one of our favorite art pieces.
Or, read our full Conquest Maps review here!
Read More from the USA
Tower Arch is located in the Klondike Bluffs section of Arches National Park.
Read More from North America
Looking for an apartment rental during your stay in Moab?
Click here to find some great options!