Last Updated on July 12, 2022 by Guest Blogger
Disclaimers: Our site uses demographic data, email opt-ins, display advertising, and affiliate links. Please check out our Terms and Conditions for more information. Listed prices and attraction details may have changed since our visit and initial publication.
Do you like fantastic views and interesting character when you book a hotel? If you're planning a trip to Berlin, check out the 25Hours Berlin Hotel for a good mix of luxury, quirkiness, and some of the best views around.
I've been living in Berlin since 2015, but my husband and I decided to try out the 25Hours Hotel for a change of scenery. The bar, restaurant, and many of the rooms overlook the famous Tiergarten park, which is the biggest perk of staying here.
Choosing the Right Room at the 25Hours Berlin Hotel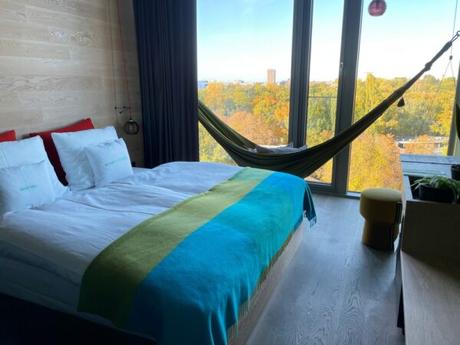 Since this hotel is a bit of a splurge, you want to make sure you book the right room. The rooms come in different sizes, but the main difference is whether you book an Urban room or a Jungle room.
The Urban rooms look out into the city where you can see the Kaiser Wilhelm Memorial Church. And while city views are often really nice, this isn't why the 25Hours is such a great place for a splurge.
The Jungle rooms have floor-to-ceiling windows and look out over the Berlin Zoo and Tiergarten park. You can almost forget you're in a big city, and that view is really amazing. It's definitely something to add to your Berlin bucket list.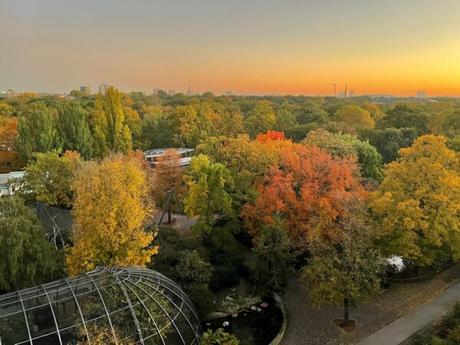 In my opinion, if you're going to stay here, you should really book a Jungle room. You'll pay a little more for the Jungle rooms, but I think it's well worth it. If you're going to stay at this Tiergarten hotel, you want to have that view.
We planned our stay in October when the leaves were different colors, which was such a treat. Mid-spring to mid-autumn is best if you don't want to see bare trees.
About the Jungle Room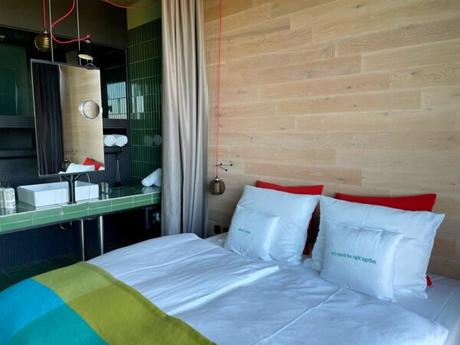 We booked the medium Jungle room, which came with a hammock for relaxing by the windows and taking in the views. There was also a mini-fridge, a small desk with a stool, and plenty of space for storing our bags.
The bathroom was divided, with a separate room for the toilet, and the rain shower and sink looking out into the room. For a little extra privacy, you could close a heavy curtain between the sink counter and bedroom space.
The 25Hours Tiergarten Hotel is also very dog friendly, and for a small fee, we were able to bring our dog with us. The hotel provided water and food bowls, a giant pillow dog bed, and some dog treats.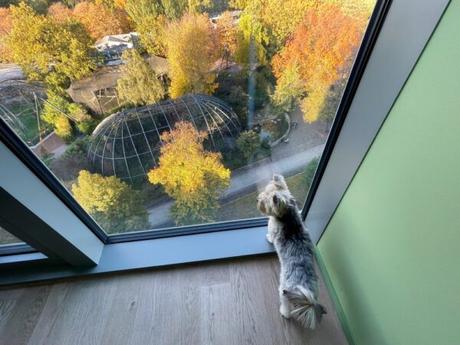 Even the "do not disturb/please make up the room" sign was creative. It was a booklet with several funny options to choose from such as "Police crime scene. Move on." You can tell a lot of thought went into every detail when they designed this hotel.
And of course, our room came with that wonderful view. Look straight down, and you'll see some of the animal enclosures at the Berlin Zoological Garten. Tiergarten stretches out in front of you, and in the distance you can even see the Victory Column in the middle of the park.
As amazing as the view was when we first got into our room, it was even better in the early hours of the morning. The Jungle rooms face north, but you can see off into the east, and the sunrise glow over the park was worth an early wake-up.
25Hours Hotel Bar and Restaurant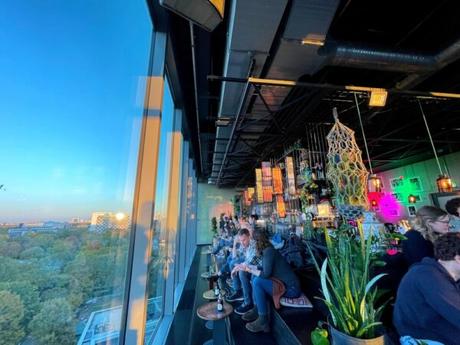 Another great perk of the 25Hours Hotel is the Monkey Bar on the 10th floor. The bar has the same floor-to-ceiling windows on two sides, so you can look out over Tiergarten and the Berlin Zoo while sipping a delicious cocktail.
The bar is open to the public, not just hotel guests, so the line to get in can get long at popular times. I suggest coming mid to late afternoon if you want less of a wait, and weekdays are less busy than weekends.
On the other side of the 10th floor is the restaurant, called Neni. We ordered an appetizer from our waiter at Monkey Bar, and they were happy to bring it over to us in the bar.
Even the bathrooms on the bar and restaurant-level have views over the park. According to my husband, even the men's room urinals have a view.
Nearby Things to Do in Berlin
If you don't want to leave the hotel, you don't have to. Near the reception area, there's a hammock lounge where you can relax. The hotel also has a dry sauna with views of Tiergarten park.
But venture out and explore Berlin. The Berlin Zoo, the aquarium, and the Kaiser Wilhelm Memorial Church just steps away from the hotel. The 25Hours Berlin Hotel is attached to the Bikini Berlin Mall if you'd like to do some shopping.
The S&U Zoological Garten station is also very nearby, and from there you can take a short bus ride to see Charlottenburg Palace, one of the best castles in Berlin. Or you can hop on a Ubahn or Sbahn to other parts of the city to do some sightseeing.
Tips for Your Stay at the 25Hours Berlin Hotel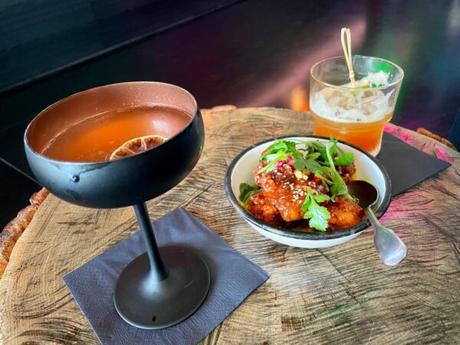 As I mentioned earlier, pay attention to the type of room you book. Not all rooms have a view of Tiergarten, so if that's what you're going for, be sure to book a Jungle room.
If you're flexible, look at different days of the week to save some money. Sometimes Sundays are cheaper than other nights. You could even stay here for one night, and then switch to a more moderately priced hotel for the rest of your time in Berlin.
Breakfast is not included, but if you add it to your stay, you won't be disappointed. The Neni Restaurant on the 10th floor has a big buffet breakfast with just about anything you'd want, plus those spectacular park views again. They even let us bring our dog to breakfast.
Staying at the 25Hours Berlin Hotel is a real treat, and a unique experience to add to any trip to Berlin. To book a room at 25Hours Berlin Hotel, click here.
Book a Train Ticket in Europe
All photos were provided courtesy of Berlin Travel Tips.