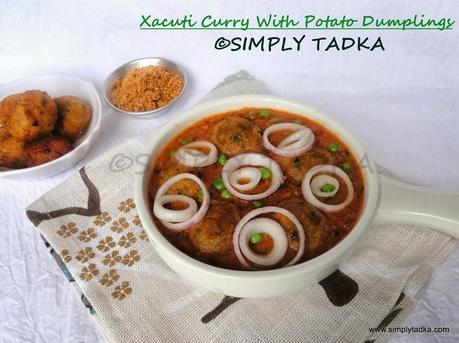 Xacuti curry is classical non-vegetarian Goan recipe, which prepared with xacuti masala and chicken or mutton stuff. But Simply Tadka is vegetarian food blog, so I prefer to prepare potato dumplings instead of non-vegetarian stuff.
Xacuti Curry (vegetarian version) is made with potato dumpling cooked in Gaon flavors of spices, tamarind and onion-tomato paste.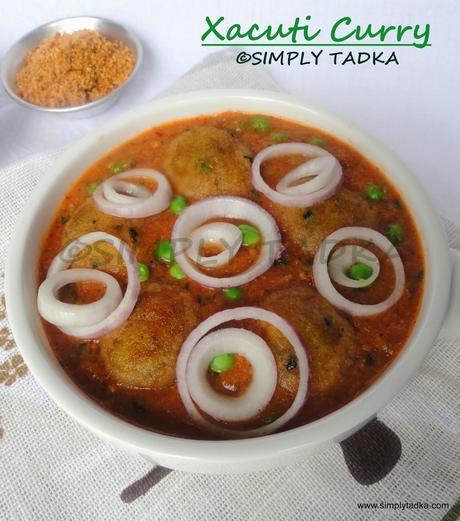 Here is roundup of all six recipes under regional category.
Gatte Ka Saag
Kanchipuram Idli
Urulai Kizhangu Roast
Vendakkai Poriyal
Wheat Rava Adai/ Broken Wheat Adai
Xacuti Curry with Potato Dumplings
Preparation Time: 40 Minutes
Cooking Time: 35 Minutes
Servings: 3
Category: Goan Food
Ingredients:
For Potato Dumplings
4 Potatoes, boiled
1/2 Cup Peas, Boiled
2 Tbsp. Green Coriander, chopped
2 Tbsp. Cornflour
Salt to taste
2 Tbsp. Bread Crumbs
Oil, for deep frying
For Curry
1 Large Onion, chopped
2 Large Tomato Puree
1 Tsp. Ginger-Chili paste
1 Tbsp. Tamarind Paste
3 Tbsp. Xacuti Masala
Salt to Taste
1 Tbsp. Oil
Onion Wedges, for garnishing
Boiled Peas, for garnishing
For Xacuti Masala
3 Tbsp. Desiccated Coconut Powder
2 Tbsp. Sesame Seeds
1 Tbsp. Peanuts
1/2 Tsp. Mustard Seeds
1/4 Tsp. Fenugreek Seeds
2 Sticks Cinnamon
6 Cloves
6 Red Chili- Dried
1 Tbsp. Coriander Seeds
1/4 Tsp. Nutmeg
1/2 Tsp. Fennel/ Saunf
Instructions:
For Xacuti Masala
Dry roast all masala ingredient except coconut in pan and keep aside to cool.
Grind coconut and roasted ingredients together in mixer.
Xacuti masala is ready to use for curry.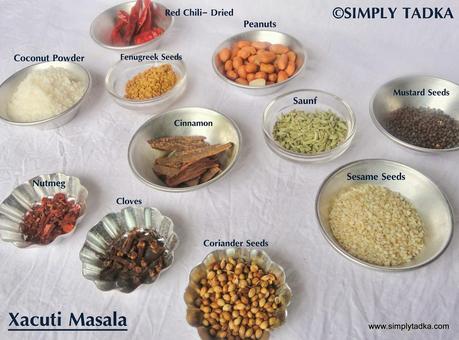 For Potato Dumplings
Mash the boiled potatoes and peas together in large bowl.
Add salt, cornflour, chopped coriander and bread crumbs and knead as soft dough.
If you found dough is moist add enough bread crumbs to prepare smooth dough.
Divide the dough into equal portions and give the round ball shape.
Heat the sufficient oil in pan on high flame and fry them until to golden and crisp on low flame.
Remove the dumpling and drain them on kitchen towels.  
For Curry
Heat the oil in pan. Add ginger chili paste and onion, sauté until to translucent.
Add tomatoes puree and sauté until to start leaving oil.
Add xacuti masala and tamarind paste. Mix well.
Add 1 cup water and boil for five minutes.
Add salt and dumpling, mix well and cook for two minutes more.
Garnish with boiled peas and onion and serve hot xacuti curry with rice or chapatti.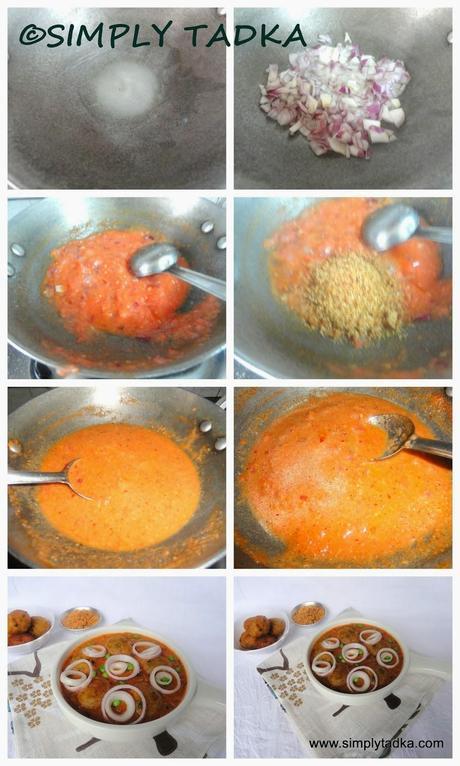 Notes:
For non-vegetarian, you can add meat balls or chicken in same recipe instead of veg balls.
If potato ball starts scattering, roll the ball in bread crumbs and keep in freeze for 10 minutes to set.
Check out the 
Blogging Marathon page for the other Blogging Marathoners doing BM# 32
Enter your email address:
Delivered by
FeedBurner