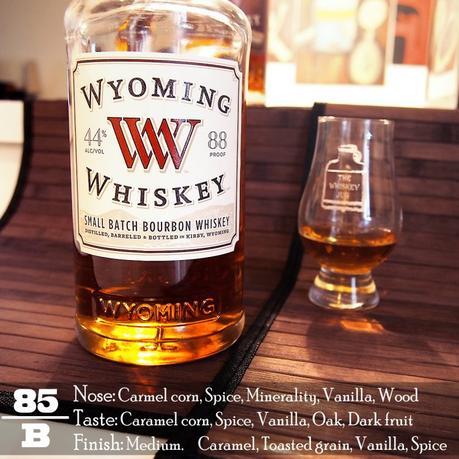 Over the years the good folks at Wyoming Whiskey have sent me different batches of their bourbon to try. It started with their Batch 18 (which I didn't care for), then came their Batch 25 (which I didn't mind) and now before us we have the Wyoming Whiskey Batch 36. I had heard rumors that things have changed quite a bit since batch 18 and 25 so I got on the phone with the owner of the company to see what's happened.
Talking to David I discovered that between the time I tried batch 18 and Wyoming Whiskey Batch 36 a lot has chanced at the distillery. Steve Nally is no longer there, the whiskey in the batches is much older (about 5 years now) and they have a new blender who has helped them balance out their batches.
Nancy Fraley, who is well known in the wine world, is the blender in charge of helping them balance out their 40 barrel batches. Her talents, combined with the more efficient fermentation methods they've developed and stocks of older whiskey, shows promise that future releases are going to keep getting better.
Wyoming Whiskey Batch 36 Info
Region: Wyoming, USA
Distiller: Wyoming Whiskey
Mashbill: Corn, Wheat and Malted Barley
Cask: New Charred Oak
Age: NAS (~5 years)
ABV: 44%
Non-Chill Filtered | Natural Color
Batch: 36
Price: $45
Wyoming Whiskey Batch 36 Review
EYE
Caramel
NOSE
Caramel corn, cinnamon heavy spice, soft minerality, vanilla, wood and light notes of lemon zest, anise, menthol and fruitiness that reminds of melon rinds – honeydew in particular. It's an interesting aroma and it's a far cry better than what it was 18 batches ago.
PALATE
Caramel corn, spice, vanilla, oak, dark fruit and leather is accompanied by lighter notes of menthol, minerality, cocoa, graham crackers, toffee and citrus peels. Yeah… the palate is MUCH better than it was 18 batches ago. Given more time to age and continue the process of dialing in the blending, the Wyoming Whiskey could achieve "Daily Drinker" status for me.
FINISH
Medium fade of caramel, toasted grain, vanilla, spice and mint. Pretty nice ending.
BALANCE, BODY & FEEL
Good balance, medium body and a slick, almost oily, feel.
OVERALL
Wyoming Whiskey Batch 36 is a decent whiskey. To be honest, after batch 18 I thought this distillery was doomed. I would have never guessed that I'd be sitting here holding a glass of Wyoming Whiskey that I actually enjoy. But here I am. Sitting, writing and enjoying. I'm not saying I want it everyday, but on the whole I'm rather pleased with what's happening in my glass right now.
The nose had picked up richer, more complex notes and the palate has done the same but to a greater degree. There's balance and a nice feel to the whiskey and the finish is soft and pleasant. Being a wheated whiskey I think it needs a few more years to "toughen up" a bit. It's still too soft for my tastes compared to the likes of Weller or Maker's Mark, but it's definitely on its way there. With all the changes they've made in the distillery Wyoming Whiskey is definitely one of the craft guys to watch.
SCORE: 85/100 (B)
*Disclosure: This sample of Wyoming Whiskey Batch 36 was graciously sent to me by the company for the purposes of this review. The views, opinions, and tasting notes are 100% my own.