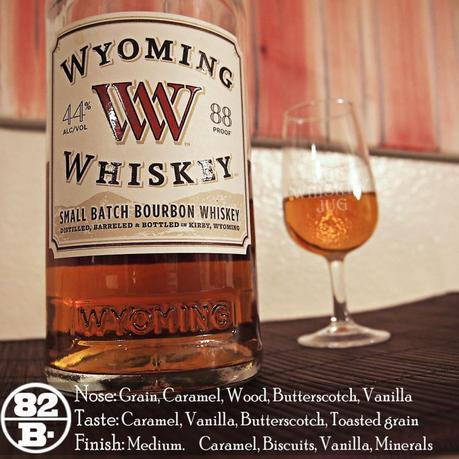 My previous Wyoming Whiskey experience wasn't the most positive so when I got the opportunity to try something from 7 batches later I was looking forward to it. Enter Wyoming Whiskey Batch 25. Apparently there have been some major changes at the distillery between batch 18 and batch 25. The first being that they got a different master distiller and second that they got a new master blender.
I'm not sure if their new distiller worked on the whiskey that's in the Wyoming Whiskey Batch 25, but I do know that their new master blender did. I'm not sure what the raw materials (single barrels) she had to work with tasted like, but it does seem like this is a more balanced bourbon than batch 18. For full tasting notes on the Wyoming Whiskey Batch 25 take a look below.
Wyoming Whiskey Batch 25 Info
Region: Wyoming, USA
Distiller: Wyoming Whiskey
Cask: New charred oak
Age: NAS
ABV: 44%
Batch: 25
Price: $50*
Wyoming Whiskey Batch 25 Review
EYE
Amber
NOSE
Grain forward with notes of caramel, wood, butterscotch, vanilla and a light bit of nutmeg, fruit and acidic sourness. This is much better than the Batch 18 was at the 1/2 way point, but I'm still not enthralled with it.
PALATE
Caramel, vanilla, butterscotch, toasted grain, wood, nutmeg and an acidic bit of sourness, minerality, fruit and a nice biscuity nature that moves into the finish. The nose is better than the palate.
FINISH
Medium fade of caramel covered biscuits, vanilla, minerality, nutmeg and a touch of that same acidic sourness from the nose and palate.
BALANCE, BODY & FEEL
A bit off balance with a medium body and a soft, nearly watery, finish.
OVERALL
Wyoming Whiskey Batch 25 is several giant steps better than Batch 18. There's a bit more character and no overwhelming minerality. This is a whiskey that's getting a bit closer to "drinker" status for me, but does still miss the mark by a hair or three.
There's nice notes of dark sweets and grains, but it doesn't have any of the deep woody richness that even lower end bourbons from some of the major producers put out. I'm missing that woody kick and it ends up tasting young and unfinished. Though like I said above, Wyoming Whiskey Batch 25 is far better than Batch 18 which displays promise that they'll continue to improve and hopefully in the near future put out something that's as bold and rustic as the state it comes from.
SCORE: 82/100
*Disclosure: This was sample of Wyoming Whiskey Batch 25 graciously sent to me by the company for the purposes of this review. The views, opinions, and tasting notes are 100% my own.