Welcome to binNotes: A blog for those who consider wine an art, not just a beverage.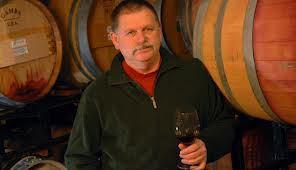 Image: Novelty Hill | Januik Winery
This week's #WW showcases another of binNotes' global tribe of creative spirits 'who consider wine and art, not just a beverage'.
Typically, binNotes' #WW series spotlights many of the musicians at the St. Emilion Jazz Festival –  a natural pairing of wine and music. And a nod to the binNotes' Francophile followers.
 Today's feature breaks with that tradition.
Today binNotes celebrates the reason why wine IS an art, and not just a beverage.
Today, binNotes spotlights follower  Novelty Hill | Januik Winery, showcasing artisan winemaker Mike Januik.
In 2007, binNotes first tasted a Januik wine. Red. A Cabernet Sauvingon, I believe. And it was good. Very good. As in earth-moving, skies parting, thunderbolts striking good. Indeed,  at that moment,  binNotes may have laughed, cried, and became one with the wine. Perhaps even binNotes bent a knee and uttered a prayer or two. And most definately realized – at that moment – that wine IS an art, not just a beverage.
In the ensuing years, binNotes enjoys a consistent quality permeating every Novelty Hill \ Januik pour, regardless the vintage, varietal, or style –  from Januik Cold Creek Chardonnay, to Novelty Hill Stillwater Creek Merlot or Chardonnay, to the always epic Spring Run Rosé.
As artisan winemaker for Novelty Hill's Tom Alberg and Judi Beck, as well as his own Januik Winery, Mike Januik garners top scores, and many kudos from the likes of Robert Parker.  But Mike is just too focused on making great wine to notice all the praise.  To another quiet wine making hero – cheers!
 Copyrighted 2013. All Rights Reserved. 
Follow binNotes:  Facebook    Twitter    Pinterest
 binNotes.com \ Education, Entertainment and Celebration of the Artisan Spirit.
Filed under: Washington State Wineries, Washington Wines, Wine Tasting, Woodinville Wineries Tagged: artisan winemaker, blog, food, food writing, Januik Winery, mike januik, novelty hill winery, travel, wine, wine writing, woodinville destination wineries, Woodinville Wine Country