Annerose Muyombano has managed to create contemporary pieces from a rather unusual material (stainless steel), while cherishing and following in the long African folk tradition in jewelry. We caught up with Muyombano designer to discuss her childhood, mixed background and first steps in the industry; in a truly inspirational interview, Annerose reveals interesting facts about her company and future plans.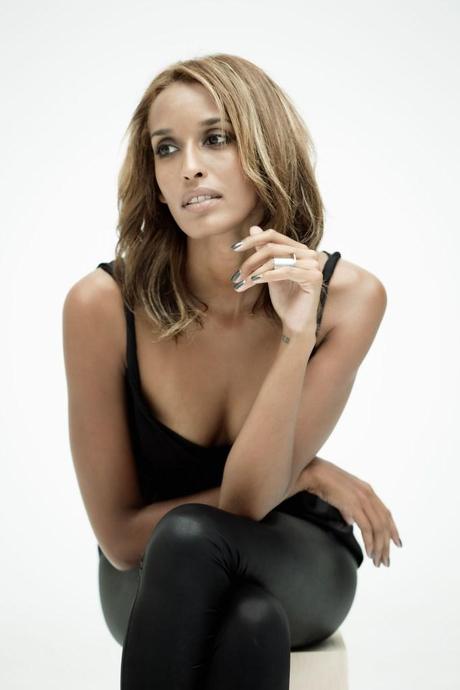 So you started out your career in fashion as a model? What made you decide to switch to fashion design?
I have always felt like an entrepreneur, and wanted to create something special. Having my own business was the best way to do so. After completing my German/American degree in Business Administration and having worked at the Rwandan Embassy in Berlin and other companies, I felt the time was right to step out and do my own thing, and I knew it would be jewelry. My passion for jewelry began when I was quite young, and had the chance to model for jewelry companies in Germany. I fell in love with the pieces and the way they made me feel.
What does Muyombano mean actually?
The name itself does not have a specific meaning, but it stands for a lot of different things like courage, cultural diversity, curiosity, warmth and strength. Basically, this is how I would describe my German mother and my Rwandan father. Their personalities and lives influenced me a lot. We are very close and, to me, they are the bravest people I know. They taught me to never stop trying and believing, to always be thankful and polite, work hard and be happy.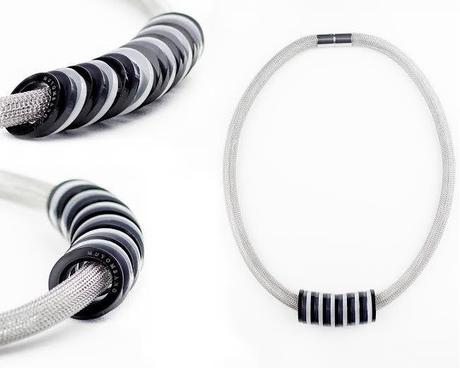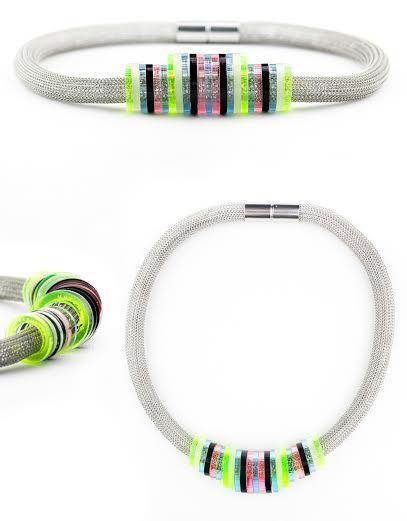 How has your diverse origin contributed to your inspiration?
I grew up and have lived most of the time in Germany – a place of hard work, perfect craftsmanship and love for detail. This is the way I work. It is all about efficiency and perfection. The Rwandan part of me is the one that always keeps me curious and spontaneous.
I came to Germany with my brother and mother. My father joined us two years later. During the 80s in Germany, there were not many children of color, so we had a tough time. At the beginning, it was quite difficult for me to understand "who" or "what" I was, but I learned that being different and not fitting into any box is my biggest advantage.
My life and work reflect the wonderful cultural diversity from which I can benefit. There are no limits in the way I think, work, create or interact with people.
You describe your jewelry as "ethnic;" however, there is nothing traditionally ethnic about it? Could you elaborate?
African/ethnic elements and shapes are my main source of inspiration. However, my goal is to create contemporary pieces. Some of them sophisticated, others edgy and youthful but all of them are always wearable and elegant. I free myself from boundaries because I do not want to create "typical" ethnic or German pieces. My approach is mixing materials, shapes and production techniques in a different way, in order to create special pieces. Take a look at "Pure" and "Candy," for example. Their materials (stainless steel and acrylic glass) are atypical for ethnic pieces. We used laser to unite the elements of "Pure" and engraved the logo or cut out the rings for "Candy," a technique that is not much used in ethnic jewelry. However, when you look at both collections, you realize that the circles are a popular element in ethnic jewelry. Big necklaces and bold bracelets are frequently used by African women to express themselves.
I like the fact that African women consider these two collections as African pieces and women outside of Africa see them as contemporary pieces with ethnic inspiration.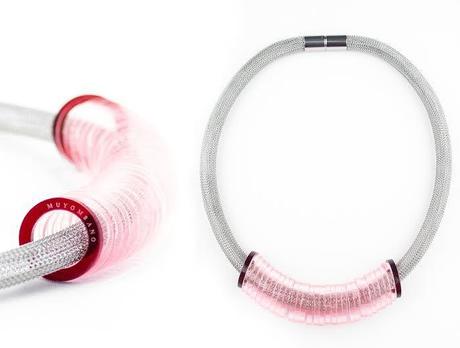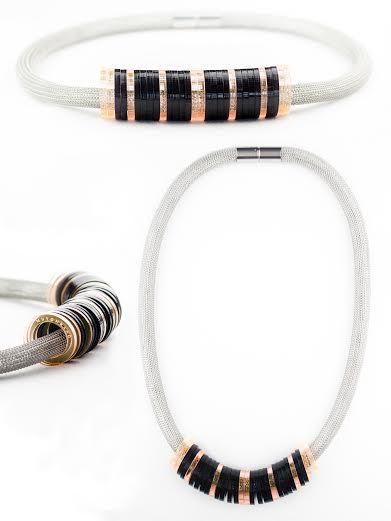 How did you decide to use stainless steel for your collection?
I chose this material because I highly value its typical properties. It is extremely resistant and hard, it does not oxidize, it is easy to maintain and, thus, has a long life span. This way, jewelry can be worn on a daily basis and offer the best possible compatibility. Using different kinds of (technical) coatings and production processes, we can create beautiful colors and effects. This is how we achieve our gold and black colors, giving the pieces an exceptional look. I also learned to appreciate stainless steel thanks to artists like Anish Kapoor and Jeff Koons. When I created the "Pure" collection, I was going through a difficult personal phase and spent lots of time reading. These two artists inspired me and, through their unique design, creativity and excellent craftsmanship, they demonstrated the beauty, diversity and perfection of stainless steel.
During the past months, I came to like rose gold and more discreet shapes, so I will soon release a new collection with raw diamonds and gold.
There is a noticeable difference between the "Pure" and your SS15 collection. You even experimented with materials and pastel colors.
I needed more colors, playful elements, light materials and less complicity. I feel that we are confronted with negative news daily, and with "Candy" I wanted to express joy and a positive attitude. "Pure" with its design and materials stands for strength and power.
You have collaborated with international designers. Could you tell us more about your collaborations?
Within the next months, we are going to release five new collections from internationally known designers like Monica Armani, Patricia Urquiola, Tomoya Tabuchi and Victor Carrasco. Each of them is an outstanding designer and has their own particular style. I admire them as personalities and I admire their work, too.
Having these personalities design jewelry for Muyombano was a big step for me. I knew we would be able to create unique pieces together. I cannot wait for the collections to be released! Monica's collection will be the first one to come out. In the near future, I will also launch collaborations, where I will work more as a designer rather than as a producer. Currently, I am working on a rug collection.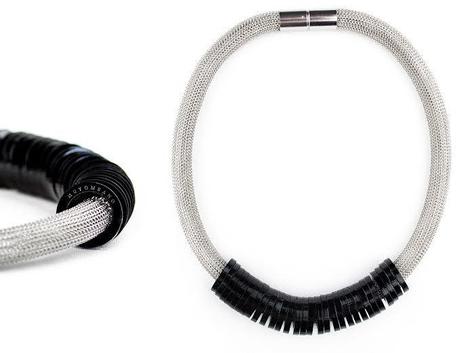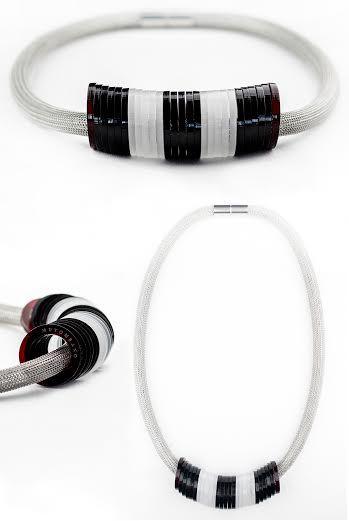 What has been the highlight in your career so far?
Collaborating with Monica, Patricia and the other designers was incredible. I think it is very important for women to work together and support each other, and I feel very lucky to had the chance to do so. We had lots of fun working together and I felt very inspired and encouraged.
Being represented by Luminaire during Art Basel in Miami and presenting the jewelry in Australia and Tokio were just fabulous experiences.
What does the future hold for Muyombano?
2015 will be a great year. We will present a new catalogue, new collaborations, stunning new styles and some surprises. We will get into new markets and expand our e-commerce activities.The goal is to grow and strengthen Muyombano as a conscious luxury lifestyle brand with its own production place in Rwanda for our Muyomabno Jewelry Rwanda Collection – the second pillar of the brand. We have already presented a separate Muyombano Jewelry Rwanda Collection during Kigali Fashion Week in 2014. We will also set up a foundation that will focus on supporting the people we work with in Rwanda on an educational level.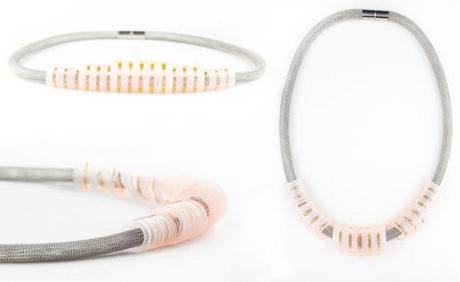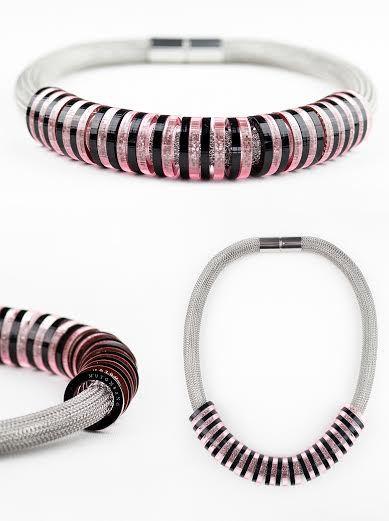 For more information, visit www.muyombano.com.
Candy SS '15 images and Annerose Muyombano portrait courtesy of the designer
A.