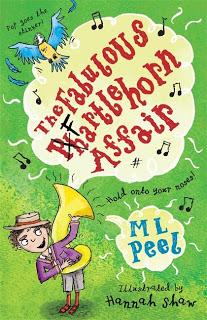 Today at the Hearthfire, we are privileged to be visited by the fabulous M L Peel, author of The Fabulous Phartlehorn Affair, out now from Walker Books and a great fun summer read. Here is a brilliant authorly meditation on laughter and humor in children's books.
The first time my daughter really laughed, she was around five months old. We were in the bathroom blowing bubbles. Pop. Pop. Pop. I burst them with my finger, and each time I burst one, she gave a little giggle. But then, I failed to blow one. Bubble-less, I was left fat cheeked, puffing into the air. My daughter stared in confusion, and then, from deep within her belly, there erupted a gurgling torrent of laughter.
When we had stopped laughing along with her, my husband and I stared at each other in amazement. Our baby could not yet feed herself or even sit up unaided, and yet she had just displayed a fully-fledged sense of humour: she had laughed at the incompetence of her bubble blowing mother.
I finished writing my first comic novel for children 'The Fabulous Phartlehorn Affair' a year before my daughter was born, but it is only since observing her instinctive sense of humour, that I have really stopped to consider just how important laughter is to children's emotional development, as important in its own way as food and water, touch and movement.
Laughter is bonding. It unites a family. Funny books make reading together a shared joyful experience. When reading together is a pleasure, parents will be inspired to do it more often, and children will concentrate for longer. Funny books foster a love of reading in general, a love that will last well into adulthood and be passed down into the next generation.
Even base bodily humor can be educational when it helps to keep children turning the pages. When I wrote my book The Fabulous Phartlehorn Affair, I was aware that the concept of 'phartling' would be off putting for some adults. Many agents rejected the manuscript with a cursory glance at the synopsis. One agent wrote to tell me that "whilst the odd whizz popper may be amusing, a whole book about them will not be." One posh London primary school cancelled my school visit over fears that parents would feel they had put "unsuitable material into the hands of children." (My favorite rejection letter ever…)
In one sense, the agent who wrote to tell me that a "whole book about whizzpoppers" would not be amusing was right. But had she read the book, I hope she would have discovered that whilst it's full of whizzpoppers it's not really about them. Whizz-poppers are the pretext that let me talk about our society's obsession with instant fame, without, I hope, ever sounding worthy or pompous. The farcical nature of 'phartling' allows me to discuss (amongst many other things…) both Mozart's work for opera and stranger-danger, two topics which, in their different ways, would indeed be 'unsuitable material for children' if presented in a more serious context. When I talk to children on school visits, after the initial sniggers, it is rarely the 'phartling' they dwell on: instead they enthuse to me about the parrot disguised as an owl; or the Duke of Phartesia's moustache done up in curlers; or Agent Frogmarch shouting at the spoilt celebrity parents….
As well as being bonding, laughter is sometimes punitive. Anyone who has been a child knows, laughter can be cruel as well as joyful. One thing I have been mindful of when writing is to avoid poking fun at 'easy targets'. I have tried to make the rich and the powerful the butt of my jokes (excuse the pun, I just can't help it…), rather than the weak or vulnerable.
Since my daughter has been born, I have become even more conscious of the way in which girls and female characters are portrayed in children's fiction. My characters are deliberately larger than life and so can sometimes sail close to stereotypes, but I have tried to make sure that I tease men, women and children equally. A few friends have asked if I could put their children into a book, or name a character after them, but since my characters are rarely one hundred percent pleasant, this is a request I have had to decline!
Above all, I try to remember the weird and wonderful things that made me laugh as a child, and to use those memories as my inspiration, (so for instance, the origami loo paper is a standing joke in my family). I also try to make myself laugh as an adult and to include a few jokes especially for the parents reading aloud to their children. Sometimes, I have to sit down to write when I am not feeling particularly funny, but if I haven't cheered up by the end of my writing session, I know I'll probably end up going back and deleting most of what I've written later. If I'm not laughing, why should anybody else be…
What a fascinating post! Thank you so much. 
If this has whetted your appetite for a funny summer read, The Fabulous Phartlehorn Affair is available now.