Breath-taking second installment in YA fantasy series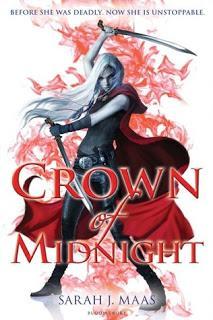 With plenty of action as well as angsty emotional turmoil, this is a great read and is sure to be loved by all fans of the first novel, Throne of Glass. Sarah J Maas has ratcheted it all up a notch and introduced plenty of complications and nasty shocks. She must want to punish Celaena for something - just when I thought one thing in her life was stable and sorted, bam! No such luck for her. But I suppose 'happy ever after' doesn't really work before the end…
I loved Throne of Glass, and the prequel novellas, and this second novel continues in fine form, far surpassing my expectations (which were high enough that I was nervous to start reading in case book one was spoilt). If you've been thinking the same, hesitate no more!
The characters remain rich and textured, and it's easy to ache for Celaena, while simultaneously wanting to shake her for her haughty arrogance and occasional immaturity (but then, she isn't yet an adult!). As a teen protagonist, she is complex and perfectly layered, and is surrounded by a cast of characters who are almost as textured. This world admits no caricatures or stock characters.
This is a fantasy world that I'm happy to spend plenty of time in. As I noticed in the first novel, the world is brilliantly realised and in this installment we see further aspects of it, while the various dangers circle and hover, making it clear that Celaena will not find it easy to succeed in the mission that seems to have been chosen for her.
Ultimately, this is a classic sweeping fantasy, with themes of morality and power, greed and duty. I'd absolutely recommend the series for anyone who has ever enjoyed a 'good versus evil' fantasy story, be it Narnia,
Harry Potter
or Game or Thrones.
Goodreads summary:
An assassin's loyalties are always in doubt.
But her heart never wavers.
After a year of hard labor in the Salt Mines of Endovier, eighteen-year-old assassin Celaena Sardothien has won the king's contest to become the new royal assassin. Yet Celaena is far from loyal to the crown – a secret she hides from even her most intimate confidantes.
Keeping up the deadly charade—while pretending to do the king's bidding—will test her in frightening new ways, especially when she's given a task that could jeopardize everything she's come to care for. And there are far more dangerous forces gathering on the horizon -- forces that threaten to destroy her entire world, and will surely force Celaena to make a choice.
Where do the assassin's loyalties lie, and who is she most willing to fight for?
*************Out now from BloomsburyFind out more at the series facebook pageMy thanks to the publisher for allowing me a review copy via Netgalley