More Tudor Witch romance, intrigue and danger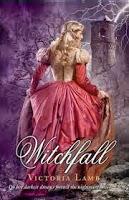 If you enjoyed Witchstruck at all (as
I definitely did
), even the slightest bit, you must read Witchfall. Victoria Lamb has ramped things up for the second installment of her YA Tudor Witch trilogy: more complexity to the romance, more shadowy danger to our beloved protagonist as well as more historical reference.
The settings in this novel are great and beautifully done. The politicised atmosphere at court and the more rustic country setting are both rendered clearly for the reader, as well as the dreadful vision which plagues poor Meg more and more through the novel. Dangers are definitely lurking everywhere, and this is a very tense read.
It's difficult to say much for a sequel without giving away spoilers, but you should know that the plotting in this novel is first rate. The tension is managed exquisitely, and even when you are sure you know what's going to happen next, there are surprises and twists in store. I am also enjoying the cast of characters created in this series and am very much looking forward to seeing how it is all tied together in the end.
I think the second book in a trilogy must be quite difficult to get right and I am always grumpy with a book which leaves too many loose ends. Witchfall skilfully draws together threads that were introduced in Witchstruck without them having felt like loose ends, and also weaves in (and ties off) new ones effectively. There is clearly mileage to explore and conclude in the next novel, but this is no irritating cliffhanger.
Overall, if you enjoy historical fiction and/or witchy books and/or YA romance, I would definitely recommend this series.
Goodreads Summary
London, 1554. At the court of Mary Tudor, life is safe for no one. The jealous, embittered queen sees enemies all around her, and the infamous Spanish Inquisition holds the court in its merciless grip. But Meg Lytton has more reason to be afraid than most - for Meg is a witch, and exposure would mean certain death. Even more perilous, Meg is secretly betrothed to the young priest Alejandro de Castillo; a relationship which they must hide at all costs.
In the service of the queen's sister, Princess Elizabeth, Meg tries to use her powers to foretell her mistress's future. But when a spell goes terribly wrong, and Meg begins to have horrifying dreams, she fears she has released a dark spirit into the world, intent on harming her and those around her.
******************Out now from Corgi Children's BooksVisit
the author's website
for more info or check out this
blog tour interview
from last yearMy grateful thanks to the publisher for allowing me a review copy via NetGalley