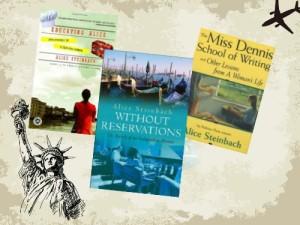 Have you ever read a book and felt a really strong connection of some kind to the author? I have!
A couple of months ago I saw a review of "Without Reservation" by Alice Steinbach over at Captive Reader and immediately requested the book from my local library. A few weeks ago it arrived and within a week ago I had started the book.
Alice Steinbach, an American reporter, divorced with two adult sons makes the decision to take a sabbatical from her job and travel. Her traveling is confined within this book to Paris, London, Oxford and Italy.
Whilst this is not so much a travelogue, it is written in a gentle style and is very much conversational. Alice has a wonderful ability to make friends with strangers and very much embraces the opportunity she has taken to reaffirm her position and life.
Whilst in London, Alice visited the Gertrude Jekyll exhibition that was held in London at the Museum of Garden History. By coincidence I visited the same exhibition, as Gertrude Jekyll is responsible for the gardens at one of my ancestral houses in rural Surrey.
I simply loved this book. I liked the way that Alice was having a conversation with her readers. I loved that she sent herself postcards whilst she was solo traveling and maintained a journal through the experience.
It reminded me of the solo traveling I did in my early 20s and the people that I met along the way and spent time with. Several of those people I am still in touch with, others have fallen by the wayside and yet remain entwined with my travels. It was those travels that probably defined and shaped me in adulthood.
About a third of the way through the book I found that I need a note pad as a few thoughts and book titles came to mind. I found that I wanted to know more about her travels and did she keep in touch with anyone she met on her journey, and what happened to her relationship with Naohiro?
As I sat to write my book review and then this column post, I decided to see what other books Alice had written. I was very sad to see that Alice passed away in March 2012 and I felt a real sadness for someone I had never met or corresponded with, yet we had made a connection through her writing.
It was this profound sadness that blew me away. I felt a deep connection to the book and I guess Alice. In fact, had I not read that she had passed away I would have sought an email address and dropped her, a message of appreciation for such a wonderful book.
As I closed the book and reflected on my jottings it truly felt that I had a lost a good friend, and to me that is what reading is all about, a special connection.
© Julie Goucher May 2013
View Julie Goucher's profile page