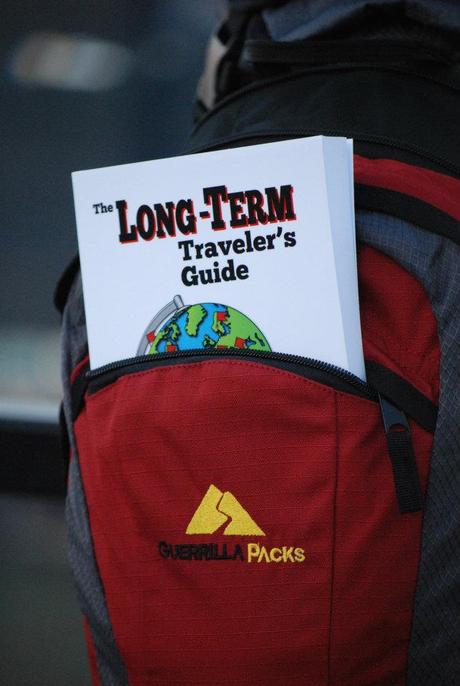 During our time putting together our first self-published travel book,
The Long-Term Traveler's Guide
, we had to spend a lot of time learning about the self-publishing process and the travel book industry in general.  In order to save future author's time and money, this ten-part
Writing a Travel Book
series was born! 
The following is a quick list of the entries into this special feature. To learn more about our book launch and other information associated, please check out the Travel Book sidebar on this site.
Part 1
-  Finding a Niche and Writing
Part 2
-  Editing and Formatting
Part 3
-  Evolution of a Cover Design
Part 4
-  Digital Packages and Special Features
Part 5
-  Developing a Website for Sales
Part 6
-  Distribution Companies
Part 7
-  Pricing Development and Launch
Part 8
-  Affiliate Sales Programs and Tips to Succeed
Part 9
-  The Cost of Writing and Sales Summary
Part 10
- Final Thoughts
Writing a Travel Book Part 4 - Digital Packages and Special Features
Selling a printed book online can have a relatively small check-list: write a book, format it, design a cover, and have it sold through major online retailers via print-on-demand services.  But for
The Long-Term Traveler's Guide
we wanted to go the extra mile, even further than offering the book on digital reader devices like Kindle, Nook, or iPad.
As our book is all about how to plan for long-term travel, the content is designed to be a destination independent planning tool.  Since every itinerary is different, you can imagine that the research phase is always unique to not only the trip, but the person as well.  Although these differences can vary considerably, the thoughts that go behind the research phase are always the same regardless of destination, and the guide was designed to fill this much needed void. 
For the contents of our book, giving every piece of information for all destinations in the world was not practical.  When posed with the thought of a digital package, we knew this restriction was off the table and destination specific planning tools became our number one focus.
Increasing the Offering in a Premium Package
Without the restrictions that accompany a printed book, digital packages are free to have any number of inclusions from programs, videos, pictures, interviews, charts, graphs, to any imaginable format that you see fit.  To increase our offering, we determined that the logical progression for the guide's digital package was to start expanding on some of the features that were rather limited in the book itself and started focusing on major destination specific planning tools to help make the research phase a smoother process.  The trick in making these tools worthwhile, as we came to find out, was that they had to answer one simple question:
How is my digital package better than a Google search?

The
key reason many digital products fail
shortly after release is that their included content is no more advanced than what a simple Google search can turn up with the right keywords.  
If the entire contents of your product can be found with a few minutes of effort, there would be no reason to expect anyone to pay for it, let alone pay a premium that most digital packages charge over a printed counterpart.   To overcome this obstacle, a good digital package must satisfy
one of three requirements
for the purchaser:
To save time
To save money 
To entertain - (not covered in this feature, for obvious reasons)
As it turns out, developing tools to hit one or more of these categories while being better than what is already available on the internet or already included in your printed book can be a very, very difficult task.
Products Designed to Save Time
There are, for lack of any good measure, about half a billion websites on the internet in early 2012.   Cut out the spam, broken domains, half finished websites, and other services and there will still be millions upon millions of useful sites out there.  While Google's search algorithm is quite impressive and works wonderfully 99 times out of 100, there is a lot of mess to sort through. Users still have to read dozens of websites on any specific topic to find the information they require, and a digital resource for a specific topic that combines everything into one package can sometimes justify the cost.
How did we tailor our digital offering of
The Long-Term Traveler's Guide
to save our readers time?  Two examples are outlined below:
Example 1: Weather Planning Charts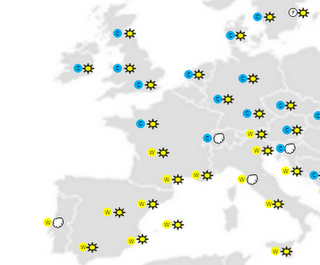 The weather planning charts that were developed for the digital package of
The Long-Term Traveler's Guide
contain no new information on our part.  Historical weather patterns in nearly every city around the world can be found for free and relatively quickly from hundreds of websites.   The problem for those planning a long-term trip comes in the time required to search for each city's weather conditions on their personal itinerary.  Short of searching every city individually, an easy-to-use resource did not exist.  So we did all the work and made a simple resource for over 200 of the most visited cities around the world, over all four quarters of the year, and included both temperature and rain patterns to make the feature a comprehensive resource.  With one glance at our generated maps or listed table, the entirety of the world's historical weather patterns can be understood for any itinerary, at any time of year, thus saving countless hours of time.
Example 2: City Planning Guides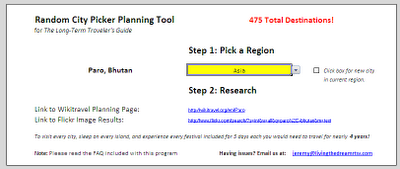 Publishing a planning guide for a specific city or country has been done countless times and will continue to be done until the end of time.  As with everything, reinventing the wheel is a pointless endeavor.  The problem with these online planning guides; however, lies in the fact that most people quite simply do not know what all is out there.  How does someone know what cities to research if they never heard about it in the first place?  To help out with this, we built a random city picking tool that captures 475 of the world's top destinations that travelers often visit, searchable by continent, and links to open source planning websites and image directories.  With one click the user can be reading about what there is to do in a city they've never heard of before and seeing what it looks like in another.  This tool not only satisfies the time saving requirement by providing links to great resources, but also removes the fear of missing a great destination that all long-term travelers have experienced at one point.
Products Designed to Save Money
Not all digital packages must be developed to save the end user time, but outside of use through personal enjoyment the second most pressing category a product should address is
money
.  A viable way to save your customers money is always a great starting platform for a digital product.  The problem with these is that most products developed with the primary goal of money saving either fall flat on their promises, are inherently limited to a very small group, or are elaborate scams.  If your product overcomes these pitfalls you may be on to something.  But what if you don't have a breakthrough product to save people money?  Don't worry!  Many products can save money even through the simplest of mechanisms.
The following are two features we included in our digital package aimed to save our readers money while planning their long-term adventure.  The more money a person can save, the longer their adventure can be!  A win in both categories.
Example 1: Planning Spreadsheets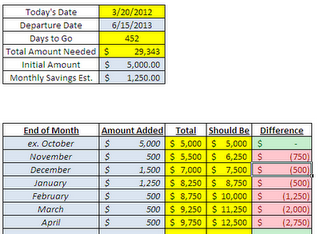 The printed edition of
The Long-Term Traveler's Guide
highlights several ways to monitor savings and spending while traveling as way to make your budget go further while on the road.  To help facilitate this money management practice we built a very integrated spreadsheet as a way to monitor pre-trip savings as well as on the road expenses in a number of categories.  When filled out, historical patterns become visible and drains on the budget can be addressed as they pop up.  It may not seem like much, but catching a few extra late night drinks over the course of several months
can take off weeks
of a long-term trip, and finding these small expenses sooner rather than later can ensure the last leg of the planned itinerary can still happen - all through money management.
Example 2: Personal Planning Advice
One of the top inclusions in digital packages, especially those that are travel related, is to offer your own personal help with whatever topic your product is about.  This inclusion saves quite a bit of money for those who wish to utilize it as even the simple task of answering a few emails could cost quite a bit when working with a consultant or, in our case, a travel agent.  We may not know all the answers, but we have planned a long-term trip before and know all of the intricate details that fellow travelers will run into.  For those who purchase our digital package, we offer our services for route critiques, answering questions about the planning process, giving recommendations for destinations we have visited, and finding the best answer for all other questions from our network of several thousand fellow long-term travelers.   Letting our years of networking work for our customers? 
That cost savings is immeasurable.
When considering the release of your book in the digital marketplace, a premium package with extra tools can be a fantastic idea.  As distribution costs in the digital marketplace are minimal, added tools are the only thing standing in your way between increased profit and a basic digital download.  But for the sake of everyone else out there, if you are creating a digital package just to raise your cost,
stop now
. The internet is already full of useless junk, and there is no need to waste your time contributing to it without adding any value.  Your potential customers will notice and sales will remain flat. 
If you can get past this hurdle and think you have the perfect idea that will save your readers time, money, or just flat out entertain, run with it! 
The digital marketplace is at your fingertips.
-----------------------------------------------------------
This ten part feature on writing and self-publishing a travel book is based on our experiences with our first book, The Long-Term Traveler's Guide, and is provided free of charge for those looking to write a book or e-book themselves. Other authors typically charge a modest price for an e-book that contains this information in such a fashion. Rather than requiring a purchase for this information, if you like what you have read please Reweet, Stumble, or 'Like' this post, use our affiliate links when registering for the companies we've recommended, or purchase a copy of The Long-Term Traveler's Guide to help us out! 
Thank you for your support and happy travels!