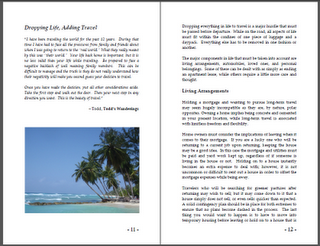 During our time putting together our first self-published travel book,
The Long-Term Traveler's Guide
, we had to spend a lot of time learning about the self-publishing process and the travel book industry in general.  In order to save future author's time and money, this ten-part
Writing a Travel Book
series was born! 
The following is a quick list of the entries into this special feature. To learn more about our book launch and other information associated, please check out the Travel Book sidebar on this site.
Part 1
-  Finding a Niche and Writing
Part 2
-  Editing and Formatting
Part 3
-  Evolution of a Cover Design
Part 4
-  Digital Packages and Special Features
Part 5
-  Developing a Website for Sales
Part 6
-  Distribution Companies
Part 7
-  Pricing Development and Launch
Part 8
-  Affiliate Sales Programs and Tips to Succeed
Part 9
-  The Cost of Writing and Sales Summary
Part 10
- Final Thoughts
Writing a Travel Book Part 2 - Editing and Formatting
Editing and formatting a 200+ page book may take just as long as writing it does, or even longer depending on what level of detail you are looking for.  We read through
The Long-Term Traveler's Guide
at least five times during the editing process and had three proofs delivered through our distribution company (Part 6 of this series) to make sure everything was up to specification.   Suffice it to say, once a draft of your text is finished there will still be several months of polishing before a final edited edition is available.
Edit, Check, Repeat.

There are several editing checks that you should watch out for when publishing a book.  If you are less skilled in the art of grammar, this step should be one of the most important in the entire publishing process.  When editing, it is important to perform the following checks to ensure your book is of highest quality:
Read for Grammar - Dedicate a whole read-through solely to picking out grammatical errors.
Read for Consistency - Dedicate a whole read-through to catching continuations grammar nuances that have multiple popular uses.  Think of common phrases like  "in to" or "into"; ", however," or "; however," and make sure they are consistent chapter to chapter.  Do all quotes have their respective end quote?  Are all pages fully justified?  Do you have continuity in spacing as you would like? The find feature (Ctrl + F) is a great tool to quickly search your entire document for these common changes.
Read for Comprehension - Does a word choice make sense?  Are you repeating the same phrase several times per chapter or, even worse, per sentence?  Is a chapter missing or should an included chapter be located somewhere else?  Overall, does the book read the way you want it too?
Enlist a 3rd Party - Have a set of fresh eyes look over your work for the previous three criteria.  While a close friend is free, a professional editor will find these subtle differences and may be worth the extra money.
Read the Proof Copy - Dedicate a whole read-through to your first printed proof as a safety net to catch all issues that were not noted above.  We found just under 30 minor issues that were changed from the first proof to the published copy as a result of one more read-through.
I will be the first to admit that my grammar skills are lousy in most instances as I just do not have reason to care about the choice between a comma or semi-colon.  When I read through for grammar, I become very particular in every word choice and spend quite a bit of time fixing these mistakes.  I enlisted the help of my soon-to-be wife for this grammar check as she is quite obsessive about proper grammar and is pretty good at making the necessary changes.  Even though this is a no-no in most professional circles, it got the job done with a smaller budget.
After reading the manuscript several times there comes a point where edits must be sufficient and formatting begins.  Whether this is after reading the book two times, five times, or a dozen; you should know when you are ready.  Any uncertainty is likely caused by a particular reason, and this is the best time to address all concerns.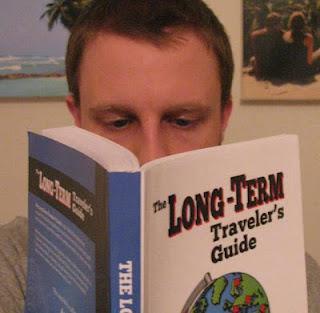 During this process we found that it was quite easy to get lost in the text after thinking about tiny word choices for hours upon hours. We highly recommend taking frequent breaks and resuming the editing process with a clear head anytime you become removed from the effort.  A focused attention upfront saves needless changes in the future.
Format Once to Avoid Headache
The formatting process to release a book can provide quite a bit of grief for those who do not get it right the first time through.  A minor change in formatting could alter the layout of the whole book and make a visual inspection of several hundred pages necessary for even the tiniest modification.  After doing this three or four times for
The Long-Term Traveler's Guide
, we can safely say there is wisdom in the statement of doing it right the first time.
The following are some of the major components you should know before diving into serious formatting of any book:
The Size - The size of your book is important to know upfront as all changes will alter every aspect of the formatting process.  Be sure to confirm your publishing company offers the size you like before committing.  When sure, change the layout of your manuscript so all pages will adjust accordingly.

We used 8.5" x 5.5" (half the size of a piece of paper) as a unique size that still fits the standard views of a pocket book.  This choice came about as our desired size was not available on CreateSpace and required significant formatting after-the-fact to accommodate.

The Font -  Not all fonts are created equally.  Some are too tight while others are too tall.  Some look better when larger while others look more professional when small.  It may take several iterations to find the best one.

We used Palatino Linotype (size 10) for the body as the serif font adds a sense of professionalism to the text.  With your page size, your text will look good if it is 50-60 characters per line and has adequate spacing between letters.

The Style - Pick a style for chapter titles, subtitles, sub-subtitles, and page numbers.  
The Layout - The most important thing with formatting a layout is consistency. 

All text should be justified to wrap from edge-to-edge.  In the case of long words or certain symbols this may produce some unappealing aesthetics and need to be dealt with manually. 
The Index should be properly spaced and page numbers match all chapters. 

The Minor Details - The rest of the details are up to your personal taste.  You should be able to answer the following questions as a good start.

Does the text start on the same line in each page?  A break between paragraphs may push the start of the text down one line.
What symbols will you use for bullets or other commonly used items?  Some fonts will not convert well when you change formats of the book, so keep these in mind when doing reviews.
Do you break a paragraph between pages or push the whole paragraph to the next page?  Or a mixture of both?
What do you do about the white space?  Filling white space with photos is great, but remember that all photos are recommended to be above 300 dpi; however, most will look fine in black and white if at 200 dpi. Give your images a check with your home printer to see if there are any major issues. (Note: Microsoft Word automatically converts all files to a maximum of 200 dpi). 
Don't be discouraged with photos, even some low resolution, high noise photos still turn out great when printed!

Formatting eBooks for Kindle and iPad
One of the most frustrating things about the formatting and publishing process to us was the lack of useful tools to convert a fully formatted book into Kindle or iPad formats.  Yes, tools do exist to do these conversions, but one tiny flaw is missing:
you cannot convert directly from a PDF file!
The best tool for conversions to eBook formats is universally considered to be
Calibre
.  This tool was designed specifically to take one file type and convert it to another with negligible loss of functionality.  The only time this fails is, you guessed it, with PDF files.  After countless hours of fighting with the software, and limited search results on Google, we
found this great post
by
Benny the Irish Polygot
that had the solution we were looking for: convert your
Word file to a Word HTML document first, then convert with Calibre.
Once you convert to a Word HTML file; however, it is back to formatting you go as the entire process is unique to the individual files you are putting together!  We recommend starting with the Word file as your index, headers, and sub-headers will retain most of their functionality as it is incorporated into the eBook format.
View your file in "Outline" style - Outline style illustrates bullets for each new line of text.  This lets you easily find many formatting issues that will pop up in the final file.  Stored images are not shown in outline view; however, the space holder is present with a large gap between bullet points.  Don't delete them! 
Remove all Page Breaks from your original format - It is likely you added some page breaks in unusual spots when formatting your book for print.  Outline mode does not display all pages breaks by default, so you must prompt Word to do so by going to the Start Button (windows logo) -> Word Options -> Display -> Show all formatting marks.   Delete page breaks as necessary.  (A full walk-through can be found here). 
Develop your new spacing parameters - Settle on standard spacing between chapter titles and the beginning of text, between section breaks, and any other special spacing your book requires.  We chose three rows between title and text as it was easy to count three bullets down while in the outline format and one row between paragraphs.
Add Page Break after each chapter - After all page breaks have been removed, putting them back in is rather easy.  Remember, embedded page breaks are a necessity for the software to force the next chapter on a new page, rather than with the end of a previous chapter. Give your book a good look over when finished to be sure you didn't miss any.
Convert with Calibre and preview the generated file - With luck, you may only have to go back and make changes a few times between the preview file and the output file. Convert to a .mobi file for Kindle and .epub for Ipad.  
Review your file on the device it is formatted to - This may be one of the most difficult steps, as you could quite possibly not have the device in question to check to make sure it looks good.  Find a close friend and reward them with a free copy of your book for checking out.  We spent many hours looking at the iPad version of our book on an iPod Touch to get around this minor headache.
When editing your book for reader devices, use this image as reference for major concerns to look for.  Note that the large white space between bullets is where a picture resides and is not displayed, and that a page break follows that you may or may not want to be there. 
Be very careful when deleting!
  When in doubt, switch back to a standard preview to remind yourself what you are looking at.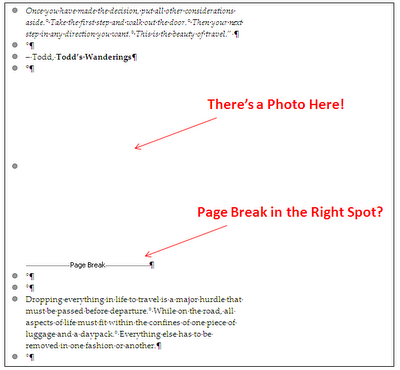 These are just the basic formatting tips that we have discovered while writing
The Long-Term Traveler's Guide
.  It may not be necessary to do all of these for your book, but it is recommended to have a plan of attack to get it right the first time through.  Any subsequent change to the format could significantly alter all pages that follow and will require a visual read through to catch the minor changes that occur down the line.
After doing this a few times, you will be just as frustrated as we were.  But in the end, your final product will be stellar and the extra effort up-front will be worth every second.
Do you have a tip on editing and formatting a self-published book?  If so, let us know by commenting below!
-----------------------------------------------------------
This ten part feature on writing and self-publishing a travel book is based on our experiences with our first book, The Long-Term Traveler's Guide, and is provided free of charge for those looking to write a book or e-book themselves. Other authors typically charge a modest price for an e-book that contains this information in such a fashion. Rather than requiring a purchase for this information, if you like what you have read please Reweet, Stumble, or 'Like' this post, use our affiliate links when registering for the companies we've recommended, or purchase a copy of The Long-Term Traveler's Guide to help us out! 
Thank you for your support and happy travels!