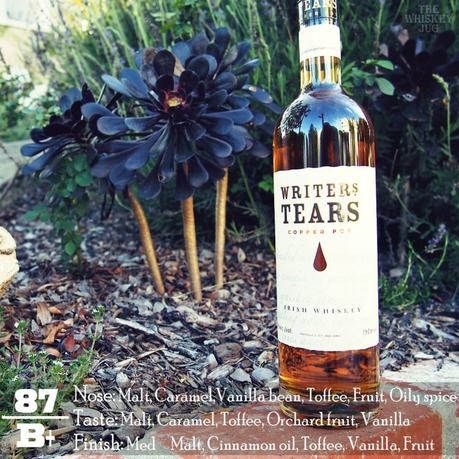 Writer's Tears Irish Whiskey is a brilliant whiskey… I just wish that it was fuller and richer and they messed with it less. A combination of rich, buttery, fruity and copper Irish Single Malt and Single Pot Still whiskey it's a thing of beauty. Truly, it is… or at least it could be.
In Walsh Whiskey Distillery's Words: Writer's Tears
"Writerṣ Tears" is a unique old Irish Pot still Whiskey. It is a vatting of Single Malt and Single Pot Still whiskeys. Distilled from 60% malt and 40% pot Still (No Grain). Writers Tears is triple distilled, non -peated and matured and aged in American Oak bourbon casks.

A gold Medal winner at the International Spirits Challenge in London and one of the highest rated Irish Whiskeys in Jim Murrays Iconic "Whiskey Bible" "Altogether a very unusual Irish Whiskey , a throwback to the last century where spiced Pure Pot Still whiskey was married with Floral Single Malt" –Jim Murray . It has also been added to Ian Buxton's publication "101 Whiskeys to try before you die."
Ok, maybe I was a little harsh with the "could be". As you'll see in the Writer's Tears Irish Whiskey review below I think it's a good whiskey. I just think it could be even better if it was treated properly and delivered in a closer-to-natural state. Keep all those lovely oils and I bet this whiskey would sky rocket into the A- and above range without even glancing behind it.
Writer's Tears Irish Whiskey Info
Region: Ireland
Distiller: Midleton
Bottler: Walsh Whiskey Distillery
Mashbill: Irish Single Malt & Irish Single Pot Still (60% Malted & 40% un-Malted Barley)
Cask: ex-Bourbon
Age: NAS (3+ years)
ABV: 40%
Price: $40
Writer's Tears Irish Whiskey Review
EYE
Apple juice
NOSE
Malt, caramel, vanilla beans, toffee, fruit, oily spice and a bit of copper. It might be a bit limited in scope, but the richness of what's there is quite nice.
PALATE
Malt, caramel, toffee, orchard fruit, vanilla, dynamic dark sweets, creamy vanilla and some copper with a bit of lemon and hazelnuts. I'm a bit surprised by the richness.
FINISH
Medium fade of malt, cinnamon oil, toffee, vanilla and fruit.
BALANCE, BODY & FEEL
Good sense of balance, medium body and a feel that's heavier and oilier than I'd expect for 40%.
OVERALL
Writer's Tears Irish Whiskey is remarkable. I was not expecting to like a 40%, young, chill-filtered whiskey as much as I am. The blend of Irish Single Malt and Irish Single Pot Still creates a richness and depth that blows past my expectations and has me sitting here smiling like an idiot while typing this up and sipping on a glass.
Rich and heavy it has layers of sweeter fruity flavors and darker malty and candy flavors and aromas that balance each other out quite well. I can't even imagine what the Writer's Tears Irish Whiskey would be like at cask strength. I saw that they put one out so I guess I'm going to have to do some hunting.
SCORE: 87/100 (B+)