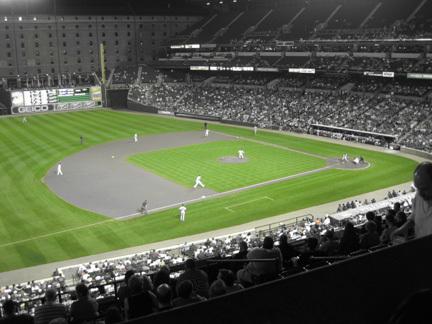 After I finished writing my first independent novel, I was already working on a second, a growing-pains love story. It has a lot of potential, but midway through, I stopped and had an epiphany: Why am I not writing about something I know about? Why am I not writing about working in baseball? I tabled the other novel, and I'm over 40,000 words into my next piece of fiction. About baseball. I can't wait to finish it.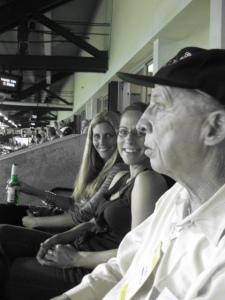 The stories my friends and I have to tell!

Reconnecting at Camden Yards.
Having spent a chunk of my life working for a professional baseball team, I decided to put those experiences into a work of fiction. Is it biographical? Parts of it. Is it based on reality? Parts of it. As a writer, we use experiences and stories we've experienced or our friends have experienced, and put them into fictional stories.
As you can probably tell, I'm a little giddy about the project. Thoroughly inspired by Erin Morgenstern's "The Night Circus" and her beautiful, melodic prose and structure of her story, I am in the midst of my story. When I read Morgenstern's bio and how she writes, she stated that she wrote segments of the book, and not always in order. She'd write one part, then another, and then at the end, she pieced it all together.
I'm writing this similarly. I've never written this way before, and it's enlightening not to write in a linear way. I'm sort of curious to see how the puzzle all fits together when I am through. I'm writing in two voices, with flashbacks that occur throughout the novel.
Enough.
Here's a glimpse into that non-linear writing, and an excerpt of what's to come.
An Excerpt/Copyright 2013, Stephanie Verni
 S t r i k e   O u t
Little Dave Unger used to come and knock on your door to play ball. He knew you loved baseball almost as much as he did, and he didn't mind that you were a girl. He'd show you his trading cards and his pennant collection, and sometimes, if he went to the game and got an autograph from a player, he would get one for you too. He was a good friend.
That was until you struck him out during the neighborhood kids game on July 4th. All the families in the neighborhood got together for an elaborate picnic, replete with baseball, hot dogs, apple pie, and illegal fireworks. It had become tradition that there would be a kids game, with an adult game to follow.
Somehow, you got talked into pitching an inning.
You didn't know why, because you weren't a stellar pitcher. You were more comfortable playing outfield. You could run pretty fast for a girl, and had better than average agility always anticipating where the ball would go. Pitching, on the other hand, was just unnerving. You believed the toughest job on the field was being the pitcher. It was constant stress, and you were required to be relatively consistent. Throw the ball over the plate, you would tell yourself. Focus and pitch. It's not that hard.
But it was. Pitching was hard. It was tough work.
Little Dave Unger came up to the plate. You thought it was ironic that people put "Little" in front of his name, because Dave was anything but little. He was a big kid, the biggest on his team, and definitely one of the largest 6th graders in school.
Little Dave Unger stepped into the batter's box. You pitched to him.
Strike one. Looking.
You pitched again.
Ball one.
You pitched again.
Strike two. Swinging.
You pitched again.
Strike three. Looking.
Little Dave Unger threw his bat down and marched off into his team's dugout, making the last out of the inning.
He never talked to you after that.
When your father asked why Little Dave didn't come around anymore, you told him you thought it was because you struck him out in the kids' game.
Your father told you not to worry, that boys don't like to be shown up by girls, and that it takes a big man not to let it bother him.
"You had a job to do, and you had to do it the best you could. Don't ever sacrifice your own integrity, talent, or brains to make someone else look better," your dad said. "You just have to be who you are, and if a boy can't deal with that, well, then, you don't want to play with him anyway."