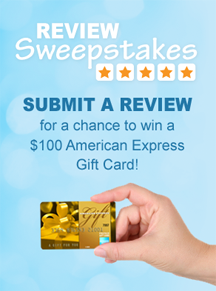 Product reviews are an important aspect of e-commerce that help both the consumer and the seller. That's why Just Health Shops is offering a $100 American Express giftcard to one lucky winner who writes a product review – positive or negative – on one of the company's 16 online medical stores, including National Incontinence.
To enter the sweepstakes, you must find a product you've personally used and fill out the Review Form found on the Details section of the product. You'll need to provide a headline, a rating out of five stars, useful comments, a nickname, and your location. The product Pros and Cons section is not mandatory, but it would really help others who are searching for the best incontinence protection. The product you review does not have to be bought specifically from any Just Health Shops sites. The more reviews you submit (up to five), the more chances you'll get to win. If you are the winner, you will be notified by email.
Knowing what you like and don't like will not only help us provide you with the best incontinence supplies, but it'll also help make it easier for other consumers to find the right product for them. So if Attends Underwear is your favorite, why not leave a review? If you prefer a type of Tranquility brief, let other customers know.
The giveaway, which is open from now until Feb. 28, is open only to U.S. residents, aged 18 and older. For more information on the sweepstakes, please click here.
We really appreciate and look forward to what you think about products. Good luck!