Recently, I have been following a local yogi, Ashley Josephine, for her stretching and wellness tips. She has a studio nearby called Breath Yoga, but have yet to visit it!!
I subscribed to some of her video demonstrations, and this week she sent one demonstrating wrist stretches for pain. She explained that they are great for people who spend a lot of time on the computer or writing, but I also found them to be valuable for improving certain lifts! A lot of the time when I do front squats, power lifts or even push-ups, I am shaking out my wrists in between from discomfort because they are being stretched beyond their flexibility.
Improving flexibility in your wrists would not only help stretch them out from long days on the computer, but would also relieve discomfort and improve range when lifting!! The best apart about these stretches is you can do them anytime anywhere!
See for yourself: Ashley Josephine's Wrist Stretches
A Sweet Share
Ashlin, from One Sweet Heart, shared a recipe for Dark Chocolate Chip Cookie Dough Truffles on her blog a few days ago, and I made them last night! Yumm! Mine were a little different because I was missing some ingredients, but it was virtually the same thing and tasted delicious!! Check out her blog for the recipe: One Sweet Heart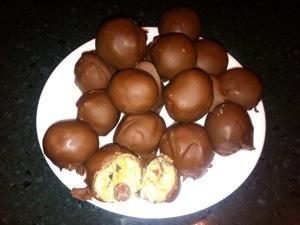 These are the ingredients I used, and am confident they were equally as delicious!
1 1/2 Cups Whole Wheat Flour
1 1/4 Cups Old Fashioned Oats
3/4 Cups Butter
3/4 Cups Splenda
1/4 Tsp Salt
1 tsp Vanilla
1/3 Cup Almond Milk
3/4 Cups butter (1 1/2 sticks)
1/2 Cup Dark Chocolate Chips
5 Squares Chocolate Almond Bark (melted for dipping)
Have a good weekend!!