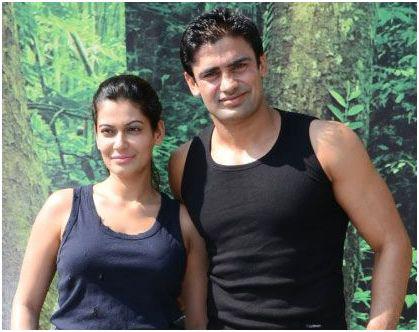 Well- known Indian wrestler Sangram Singh was offered a huge amount of 1 crore to participate in 'Veena Ka Vivah'- VeIena Mallik's Swayamvar to be aired on Imagine. But he turned down the producers of the show for his lady love Payal Rohatgi.
Sangram Singh is also a participant of the reality show 'Survivor India' aired on Star Plus. His love Payal Rohatgi is also a contestant of the show. Just to prove his love and loyalty towards Payal, he turned down the offer. The wrestler fell in love with Payal during the shoot of the adventure reality show Survivor India.
When Sangram was asked about it, he said: "I feel very strongly for my girl Payal. She is the one who got close to me in a very short span of time. I love the way she is and it doesn't matter how much money the show has offered me. I didn't want to go to a show which would create a bad image of mine infront of Payal's family".
Flattered by Sangram's decision, actress Payal Rohatgi said: "I have not met someone like Sangram so far. He is a genuine guy and I see the love in his eyes. Rejecting the show was his decision and I respect him for that. He is a loyal guy and a very down to earth person. Which girl would not want to be with someone like him! I am happy that we got each other".
Wrestler Sangram Singh is happy over his decision and has no regrets.