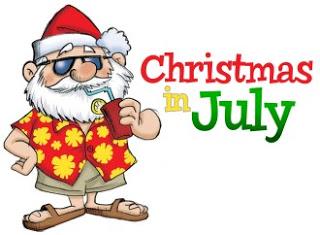 What's better than the warm weather and cookouts that normally make up the month of July? Christmas in July!! No, that's not a typo businesses all over are now celebrating Christmas in July and as I sit here sipping my Peppermint White Chocolate Mocha from Starbucks I thought I would share this joy with all of you!!
What is Christmas in July?
Christmas in July is a time where Christmas-like activities happen during the month of July. This was started because winter is during July in the Southern Hemisphere, so people in places like Australia can spread some holiday cheer while it actually feels like Christmas. Along with people doing things in their homes to celebrate, but stores and restaurants have all kinds of special deals and sales as well. I have compiled a shopping and activity guide for you below.
1. Jersey Mike's Wreath's Across America:
This event will be held through July 29th and will allow Jersey Mike's to fund raise on a national level for
Wreath's Across America
. During this time customers can stop into any Jersey Mike's location and present a tear off donation sheet at the register. The donation minimum is $1.
2.
Starbucks: 
To appeal to customer's celebrating Christmas in July Starbucks has placed some of it's holiday themed coffees back on their summer menu. You are now able to get things like an Iced Peppermint White Chocolate Mocha in the middle of July.
3. Christmas Lane:
Stores like
Kmart
and
Sears
have set up an online Christmas Lane, for shopper's to begin purchasing Christmas lights, ornaments, gift wrap, etc. Both stores are also offering free shipping on orders over $39.
4.
OldNavy:
From July 23rd to July 25th OldNavy will be offering an in store back to school sale, where students and teachers who show ID will get an additional 25% off.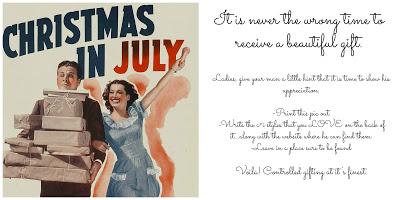 5. Chloe+Isabel:
Chloe+Isabel is having a promotional sale geared towards men. Encouraging men to surprise the special lady in their lives with some of their beautifully hand crafted jewels. All orders over $100 include free shipping.
6.
Nordstrom Anniversary Sale: 
While this is not actually a Christmas in July special, it does start on July 19th. In Nordstrom's annual anniversary sale, you can get steals and deals all over the store. This sale ends on August 5th.
Whether you celebrate by stopping into Starbucks or by convincing your significant to other to buy you something pretty from Chloe+Isabel, make sure you celebrate!! July is definitely the month to shop for all of you frugal summer shopaholics!!!!!