I woke up early on a Friday in July to buy tickets to see Drake's massive Would You Like a Tour? in Cleveland at Quicken Loans Arena. I was on the Q's website well before 10 AM, the official time tickets went on sale. I was so early that I managed to get floor seats in one of the first sections, and I began my countdown to October 13, which I had (kind of obnoxiously) dubbed "the night that would probably be the best night of my life."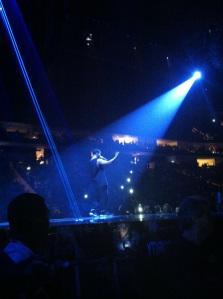 Drake performs "Too Much" during the opening night of his Would You Like a Tour?
That was until the middle of September, when Drake rearranged his tour stops and pushed all of the dates back – canceling Cleveland and moving his only Ohio show to Columbus in December. Waiting until December wasn't really an option, so I bought general admission pit tickets to see Drake's first stop of the whole show, which was at Pittsburgh's Consol Energy Center.
It was the most fun I think I've ever had at a show. Drake brought out OVO-signee PARTYNEXTDOOR to start the night right at 7, and he blew through a quick set that paved the way for Future. There was some confusion in the pit following PARTYNEXTDOOR's set, with one stage worker mistakenly telling us that they were setting up for Miguel, not Future. It looked, for about three seconds, like that kind of beef between Future and Drake was real.
However, the lights went out, Future took the stage, and Pittsburgh erupted. He played cuts off of Pluto and Pluto 3D, including "Tony Montana," "Turn on the Lights," and "Neva End" – during which he made all of the girls in the audience (the vast majority of the audience, let's be honest) sing Kelly Rowland's parts. The best part of Future's set? When he decided to rip into his hook on Ace Hood's "Bugatti (Remix)," which caused the entire audience to lose their minds.
The hop from Future to Miguel was seamless, with the tiny singer taking over the stage to sing songs off of his acclaimed Kaleidoscope Dream for just under an hour. Album cuts like "Do You…" and "Use Me" resonated through the audience, and the sexual tension was turned to 11 as Miguel told the audience how to touch him and asked if it was okay if he touched them, too. He sang his part off of J. Cole's colossal "Power Trip," as well as Mariah Carey's "#Beautiful" (unnecessary hashtag and all). Cool moment from Miguel's set? A slight remix of "How Many Drinks?" featuring the hook from Kendrick Lamar's "Swimming Pools (Drank)." Miguel delivered a powerful set, all smiles and adorned in feathers, indicative of his growing dominance as a performer who won't be an opener much longer. And of course, he closed with "Adorn," which left just about every girl screaming for more.
And then Drake took the stage. Opening with "Tuscan Leather," the 26-year-old (about to be 27) rapper stuck mostly to tracks off of the hugely successful Nothing Was the Same, released in September. "Tuscan Leather" was split into two parts, sandwiching "Headlines" and "Crew Love," off of Take Care. And that was the theme for most of the night: NWTS tracks with Take Care highlights and a few guest verses.
It was exactly what you would want and expect from one of the most hugely successful – and polarizing – rappers right now. Everyone wants to make fun of Drake for being emotional, and there's this ongoing feeling that Drake is easy to hate (and everyone does). You couldn't sense any of this in Consol Energy Center, as Drake walked around the stage, with full confidence, dancing like a complete good through just about every song and rarely losing the smile on his face.
Every girl around me swooned. Drake knows exactly what he's doing, and 20,000 fans supported his every move.
Following "Furthest Thing" and "Wu-Tang Forever," Drake took a break from NWTS tracks to tear into "Pop That," which he guests on with French Montana. He preceded this by asking the Pittsburgh audience if they came to party – which was probably an understatement. He also broke out his verses from tracks including DJ Khaled's "No New Friends," Migos' "Versace" and A$AP Rocky's "Problems."
Of course, those weren't all of the tricks Drake had up his sleeve for opening night. Future came back on stage, walking out as he sang "Love Me," finally erasing the remnants of whatever beef might have existed. He did "Honest" and "Same Damn Time," with Drake cheesing and dancing around the stage. Jhene Aiko came on stage to perform "Come Thru" and "From Time," one of the highlights of the night. And Drake even catered to the Pittsburgh audience, bringing "the closest thing I've ever seen to a hometown hero" out – AKA a blunt-smoking Wiz Khalifa to perform "Black and Yellow."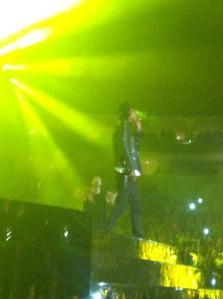 Drake and Wiz Khalifa hang out on stage in Pittsburgh, bathed in black and yellow lights for Wiz's anthemic "Black and Yellow."
Would You Like a Tour? was so fun, and there's a lot to be said for night that's fun. Drake was rarely reflective, his banter mostly leaning toward audience shout-outs and "Are you ready to party?" demands. He didn't bury himself in dispelling rumors or justifying his music – which he could have easily done given the platform and the audience. Instead, Drake focused on his new album and kicking off a huge tour that's going to take him around the country over the next two months.
So, would you like a tour? Yes, definitely.
Drake played a 27-song set, plus his DJ played a string of hits from So Far Gone and Thank Me Later. All of those are here, in this setlist. The only song missing is "Too Much," not currently available on Spotify. Drake's whole set list, in playlist form: