Instead of another year-end list with rankings that feel arbitrary at best and pretentious at worst, I decided to use a new tool in culling my favorite songs of 2014. I went through data from my Last.fm listens and pulled the 18 (because why not) songs I actually listened to the most throughout 2014. These aren't the songs I want you to think I liked a lot or that I'm trying to prove something by including in my list. These are the actual songs I just kept playing (number of listens included!) over and over again.
Granted, because this list is based off of Spotify almost exclusively, this doesn't account for listens in my car's CD player (which would favor Spoon and New Pornographers) or in my living room with my record player (which would bump up Interpol and Karen O. considerably). No, these are the songs I listened to digitally for the better part of 2014 – whether getting ready for a night out, traveling around the world or sitting in my new office at work. I didn't change anything; I didn't even factor in release time differences (songs that came out in October vs. songs that came out in February) because I think, based on the numbers, I do a lot of binge listening.
And, honestly, none of it is that surprising if you know me even a little bit.
(These were listens as of December 19th. I have already listened to most of these songs again since writing this.)
18. Panda Bear, "Mr. Noah" (13 listens)
If Panda Bear's forthcoming album, Panda Bear Meets the Grim Reaper, is 45 minutes or so of music in this vein, it's going to be the best album of 2015. I really believe this.
17. Young Thug feat. A$AP Ferg and Freddie Gibbs, "Old English" (13 listens)
Young Thug had a pretty solid year, and enlisting the talents of the Hood Pope and Freddie Gibbs certainly didn't hurt in building up the rapper's growing brand.
16. Azealia Banks, "Ice Princess" (14 plays)
Broke with Expensive Taste finally came out and, in a best-case scenario for all of us, 95% of it delivers on the promise of years of record label strife. An araabMUZIK beat seals the deal on this track for me.
15. Twin Shadow, "Old Love/New Love" (16 plays)
I've never played any of the Grand Theft Autos, but I'm eternally grateful for their ability to pull in some of the best talent for their soundtracks. To giddily feel all the feels, stream this song about, you know, balancing old love and new love. (I know, this is technically a 2013 track. But.)
14. Dum Dum Girls, "Evil Blooms" (16 plays)
Synthy goth pop fronted by one of the coolest women in music right now? Done. If there is a song that is stereotypically me, it is this one. "WHY BE GOOD, BE BEAUTIFUL AND SAD" is the best lyric of 2014.
13. Caribou, "Silver" (16 plays)
If you couldn't tell, this recently released Caribou album is a majority of my binge listening. I can't get enough of it, and nothing gets under your skin like this slinky second track.
12. Spoon, "Do You" (16 plays + 3,000 plays in my car)
This song is what happiness sounds like. I don't care what you think.
11. Ty Dolla $ign feat. B.o.B., "Paranoid" (17 plays)
There are far too many reasons why I played this song so much. A few of them involve my love for Ty's Beach House EP. A few of them are reasons I can't list here.
I imagine enjoying a track with B.o.B hurts my credibility in some circles. I'm okay with it.
10. Future feat. Pharrell, Pusha T and Casino, "Move That Dope" (17 plays)
This is my favorite Future song of 2014, my favorite Mike Will Made It song of 2014, my favorite Pusha T guest spot of 2014, and, OH YEAH, THE BEST THING PHARRELL DID WITH HIS 2014, "HAPPY" ASIDE.
9. YG feat. Drake, "Who Do You Love?" (18 plays)
It's not exactly a surprise to anyone that I love Drake, but I ended up overly invested in YG and My Krazy Life. It was the soundtrack to my final days in college and, as a result, I played this song frequently just about everywhere.
I had my fair share of pre-bar drinks with this song playing.
8. Grimes, "Go" (18 plays)
I love Rihanna. I would've loved to hear her do this song and know that Grimes had written it. However, I have to believe the world is better with Grimes performing this – it's perfectly weird, plenty poppy and arrived just in time to soundtrack the summer. (And helped with the wait for her new album… as Visions, released in 2012, was one of my most played albums this year…)
7. The War on Drugs, "Red Eyes" (19 plays)
I kept seeing the War on Drugs ranked at the top of all of these lists, and I was like, "Oh, interesting." Then, when I looked at my own plays, I was kind of surprised to see that I had listened to this album a lot. All of a sudden, it makes so much sense that it's ranking so high. Steady, sneaky staying power.
6. Cloud Nothings, "I'm Not Part of Me" (19 plays)
Angst sounds better when you're from Cleveland. I know these things. Listen to this song and punch a wall – but with some glee from the release.
5. Avey Tare's Slasher Flicks, "Little Fang" (20 plays)
Panda Bear and Avey Tare in one list – yes, I'm going through Animal Collective withdrawal. Doesn't matter. "Little Fang" is one of the catchiest songs this year, with one of the best videos. Bonus points for weird sound effects throughout both.
4. Kevin Drew, "Good Sex" (21 plays)
In a year without new music from the National, Kevin Drew filled a void for me – a void that mostly needed an older dude to make music about being miserable and lovelorn (usually at the same time!). This is peak lovelorn, feel-all-the-feelings music for four minutes.
I also think I cried over the music video once. It's pretty.
3. Run the Jewels, "Blockbuster Night Part 1" (23 plays)
I love Killer Mike and El-P. I saw them for the first time this year at Governors Ball, and it was one of the best things I did. Run the Jewels 2 is one of my favorite releases this year. Part of why this particular track has so many plays is because it was the first one released from RTJ2. I compulsively played this waiting for the end of October to arrive.
If you punch a wall while listening to this song, your fist WILL go through the wall. It's cool.
2. Future Islands, "Seasons (Waiting on You)" (23 plays)
I saw Future Islands for the first time in October 2013. I was blown away by what I saw, even though I wasn't sure at the time that I fully comprehended it. The first time I heard "Seasons" was on a Saturday morning after a cold night out a few months later. A friend had tweeted the video to the song, and I couldn't stop playing it.
I was only a few weeks into 2014, and I knew I was listening to something that was going to matter all year.
I've written about "Seasons" before (see the link above) because it's been so important to me. It's not just that it's an incredibly well-written pop song, with the right hooks and right sounds at the right times; but it's also a story about progression and moving on, an anthem that resonates on so many personal levels.
"Seasons" is an important statement from 2014.
1. How to Dress Well, "Word I Don't Remember" (24 plays)
I drove two hours to Columbus on a Thursday in September to see How to Dress Well at A&R Music Bar. The show was sparsely attended; caught right in the center of the often culturally confused Midwest, How to Dress Well, aka Tom Krell, ended up playing to only about 40 people. The vibe was weird; you could tell he was used to bigger audiences, more accustomed to seeing people who were willing to take a risk on his version of pop. That kind of risk-taking rarely happens here. But still, he sang his heart out for those of us who made the journey and put on one of my favorite performances of the year.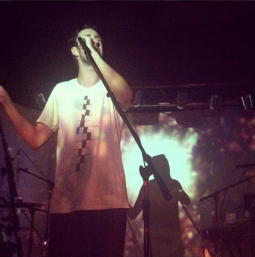 How to Dress Well performs at A&R Music Bar in Columbus, September 2014.
"Words I Don't Remember" is off of What Is This Heart? It's an album that takes plenty of twists and turns, an album that captures despair and hope, utter joy and complete angst. You both completely understand Krell and totally don't get him. "Words I Don't Remember" is all of those things. It plays tricks on you; the first verse makes you feel safe, like everything between Krell and his subject will work itself out. But the second verse strips a lot of that away, and includes another great line of 2014: "So what is trust but knowing when to let you have your silence?"
ARE YOU KIDDING ME WITH THAT? A+ writing.
Anyway, I have played this song nonstop throughout the year. I've made it apply to approximately 47 different situations in my life, and it's never let me down. It's buried on mixtapes in my car and embedded in almost every Spotify playlist I've made. I can't get enough of it.
And, as a bonus, I met Krell after that show in September. He was easily the nicest, most interesting person I've had the chance to meet. We talked about the state of music today with my dad (for real), and I got to tell him what an impact Total Loss had had on me.
It was a great, weird Thursday night in the middle of an unaware city.
A few other notes… So, of course, I listened to plenty of music that wasn't released in 2014. If this included songs not released this year, Crystal Castles and the Knife would be incredibly overrepresented (though still not at the top). I didn't know how else to cope with their respective break-ups. I also listened to an insane amount of early Interpol in preparation for a.) seeing them at Governors Ball and b.) waiting for El Pintor to arrive. Grimes' 2012 album Visions makes up a shocking amount of what I listened to once "Go" came out, and there's also a lot of old St. Vincent ("Digital Witness" was just out of my top 18) and Animal Collective.
In case you were wondering.