I think about the first time I went to London… more than frequently. Relics from the trip are scattered throughout my days, including a giant Union Jack that hangs in my room and the rings I wear (almost daily) that I bought from a Brick Lane street market. There are plenty of little reminders of that first time I flew overseas in May 2012 and what I experienced while there. I have so much to show from the UK – pictures and purchases, of course, but also the work I did and the research I produced.
I took it upon myself, while visiting London and performing research on the music industry, to attend at least one show. I was already trying to take advantage of London's music scene as much as possible by conducting in-depth interviews and exploring local record shops ("research"); some kind of show really only made sense for the sake of my project. (Duh.)
The first Friday night I was in London, then, I went with two other girls in my class to the city's giant O2 Arena to see Kanye West and Jay-Z perform the first of five Watch the Throne shows. Yep, I went that big. I didn't just go to one of the pubs near our flats or wander into one of the storied clubs I had previously read about. Nope. We found two international superstars – from our own country.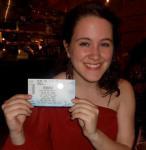 I was clearly stoked to be holding this ticket, which came from the most efficient will call process I've ever gone through.
Kanye and Jay were a great time, and they actually contributed a substantial amount to my research (you can learn a lot about customer relationships from concert venues and the shows they host). But the following Friday, I found another show to go to – and this one was a much more authentic British experience.
That second show was the Horrors, headlining Brixton Academy in southern London, touring in support of 2011's Skying. I convinced one of the classmates from the Kanye show to join me for this one, too, and off we went for round two of London concert-going.
The thing is: I love the Horrors. I also love Kanye (irrationally so), but I love the Horrors in a totally different way than I love Kanye. I started listening to the Horrors when I had a MySpace page as far back as 2008; "Count in Fives" was the song that played when you landed on my page for a lot of my high school career. Something about the Horrors made them stand out to me when I was 15 or 16 and otherwise completely enmeshed in the Warped Tour scene; I knew they were different from the other black-clad bands I was listening to. I listened to Strange House and dug it… and then, for a time, I kind of forgot about them.
The fall before I went to London, I was living in the dorms at Kent State. I was beginning my sophomore year, but I was also in the process of enrolling in the journalism school's dual-degree program so I could earn my graduate degree. It was around this time that I started reading Pitchfork daily, and the Horrors came back into my life as a result of Pitchfork's coverage of Skying. I remembered listening to the Horrors a few years before and wondered if this new album would have the same resonance that their older work had had.
I played Skying (on Spotify!) once the whole way through, and I thought I kind of liked it. "Endless Blue" was an especially breathtaking track, so I figured I was onboard.
I decided to play it again.
And again.
And again.
I'll never forget how I was sitting when I realized that I had listened to the album for an entire day. I was sprawled out in the middle of the floor of my shared dorm room – my roommate was gone for the day, as always, and I was reviewing the math section of the GRE for the 3,000th time. I had just received a text from a friend informing me that she was coming to visit me shortly, and I texted her back and told her I had to talk to her about the album I was listening to.
That was it. The Horrors were 100% back in my life, and Skying became one of my absolute favorite albums of 2011 (and maybe of all time, but we'll see).
When I saw that the Horrors were headlining Brixton Academy at the same time I was in London, I knew I had to go. I also realized, as we arrived at the venue and then watched the opening acts, that this wasn't going to be a casual observational exercise for the sake of research. As opener Toy left the stage, I knew that I was too invested to be anything less than a fan.
So we made our way to the front of the stage for the whole Horrors set.
Seeing the Horrors at Brixton Academy is one of my favorite things I have ever done. To a lot of people, it's not impressive; it doesn't really matter. More people are interested in hearing about Kanye and Jay-Z and what the crowd was like for that show (it was fun, trust me). But the Horrors were incredible, and the fans were people just like me – but with better accents.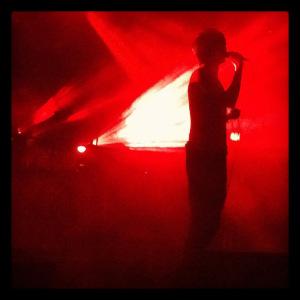 Faris Badwan, the Horrors' lead singer, awash in red at Brixton Academy, May 2012.
What I distinctly recall from this show, and what I was thinking about recently, was the bracelet I wore that night. My flat in particular spent a decent amount of time shopping (decent being a horrific understatement) while we were in London, and my roommate had bought a bracelet set that included one she didn't particularly care for. She asked if I wanted it so it would still get some wear – and I said I did. It was a plain braided black cord, with a few weird charms hanging off of it, and hooked around my wrist with relative ease. I wore it that night, not realizing that it would attach itself to any and every surface it could.
One of the charms – a fake, oversized diamond – had a hook hanging off of it because it wouldn't clasp fully into place. Through the evening, the bracelet hadn't caught on anything because no one had been in close proximity for me to realize that it was hungry for attention. Yet the minute we were inside Brixton Academy, anyone who walked by me was fair game for the bracelet to cling to. Throughout the evening, I would get hooked on random concert-goers who happened to be walking by. For the most part, this wasn't a big deal – everyone who came to see the Horrors was friendly and forgiving. I tried to spin the bracelet toward me, so it could hook to its owner, but it kept spinning away.
Yet none of this was that big of a problem until.
Until.
The girl standing next to me when we were finally in the front row happened to be wearing a white lace dress.
Lace.
We were doomed from the start.
The minute the Horrors took the stage, we all jumped up – but my right arm was caught on the back of her dress. I wriggled a little and was free, but I knew it was only a matter of time before we were caught again.
Of course, I knew throughout most of this that I should just take the bracelet off. I really should. But I had to know how far I could take it. How long could I last? For the sake of fashion!
It wasn't long. The Horrors played songs off of Skying and Primary Colours, and every single song induced the crowd into fits of dancing – me included. This also meant that my risk of being tangled in the white lace dress just kept increasing.
It was about midway through the set when I couldn't take it anymore. We had both gone to jump, and my bracelet caught the back of her dress. We were caught so badly that I actually debated leaving the bracelet attached to her – sacrificing it right there for the sake of the Horrors and so I could just watch this concert and enjoy myself. Because, throughout all of this, she never noticed. She was so into the Horrors, so absorbed in the experience, she never noticed me tugging at her or yanking myself off of her. This tiny girl in the white lace dress was so completely fulfilled by the Horrors that she had no sense of the crazy American almost shredding her outfit next to her.
I could have ripped the dress off of her back, and I don't think she would have stopped dancing nor would she have wanted to.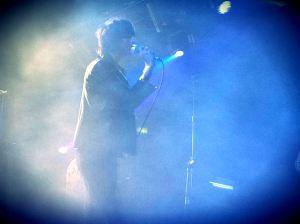 You may recognize this as this blog's background image. Again, Faris Badwan of the Horrors, live at Brixton in May 2012.
And I thought that was pretty awesome, actually. I took my bracelet off and decided to be that girl, too. I left that night completely exhilarated, fawning over the Horrors down the whole Victoria line. I bought a beautiful vinyl edition of Skying from a record shop before leaving the city, and the Horrors have remained an important staple in my music library. (Luminous, released earlier this year, is a personal favorite from 2014.)
Meanwhile, I found the bracelet in my jewelry box the other day, in some late-stage unpacking in my apartment. I hadn't taken it out of the box in at least a year. I wore it to work a few days later; it got caught on everything, true to form.
I still wore it all day.