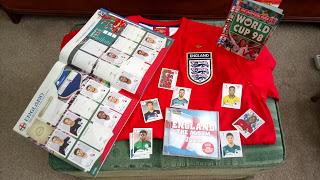 A few World Cup memories.
  I was there in sixty-six. By 'there' I mean sat on the floor doing some artwork with my World Cup Willie colouring set, in front of a black and white television witnessing my mother go through every emotion. Eventually, someone on tv said, 'They think it's all over, it is now' and my mother was ecstatic. I must have inherited my love of football from her, and my maternal grandfather. We were in our upstairs sitting room in the pub on South Promenade. No big screens in pubs back in the sixties and no colour television for us at that time. Sport in pubs was limited to snooker and darts.
I didn't follow the 1970 tournament. We were still in the same pub. I was sick of hearing 'Back Home' filtering upwards from the jukebox. My mother had passed away the year before. Life was hard and things were changing.
In 1978, my most significant World Cup memory is Archie Gemmill's brilliant goal for Scotland against Holland. It was breath-taking and is still up there with my favorite goals of all time.
The 1990 World Cup didn't have my full attention. It was there in the background while I sat at the sewing machine making wedding outfits for my page-boys and a tiny bridesmaid dress for yes, a tiny bridesmaid, my baby niece. There was cheering, beer cans being snapped open and I found myself singing Nessun Dorma a lot. England had fourth place. Now it was time to concentrate on our wedding.
I can still feel the sorrow from 1998. David Beckham and that petulant kick at Diego Simeone – I still can't believe he was red carded, as he was fouled by Simeone in the first place and I can hardly type it, twenty years later. Football is such a passionate game. I was so upset that England lost out to Argentina on penalties and the first World Cup that our son was old enough to take an interest in ended for England the way it did.
Fast forward to 2014 and as always in our house, we have a chart up on the wall, flags flying from the windows and cars, England shirts at the ready and a Panini sticker album. It was a non-event, for us anyway. My husband was ill in hospital, though well enough to don an England shirt and watch a couple of matches in the day-room. By the time he was recovered enough to come home, the World Cup was all over for England.
So, here goes for World Cup 2018. In a few hours it might be all over again, but hopefully not. I'd like to see Gareth Southgate do well and I'd like to see this young, talented team progress. I'll go and have a word with the three lions on my shirt.     I'm With These 2018 Heroes   The kitchen floor needs mopping And the beds are left unmade But I'm not doing housework While there's matches being played.   Look at the perfect pitches, Neatly mowed and lush and green, Ready for the world's finest To give us the best we've seen.   So bring it on, DeBruyne, Ronaldo and Messi, too. Fellaini and Suarez I'll be watching all of you.   A huge shout out for England, For Harry Kane and the boys, I've taught my grandkids to cheer And to fill my house with noise.   Fav'rites Rashford and Lingard, And my 'Broadway' Danny Rose, I'm loving every moment With these 2018 heroes.   It isn't just the World Cup, There's tennis going on, too. I'm sharing the time wisely, It's the only thing to do.   So, come on Kyle Edmund What an impressive young man! Wimbledon and I salute you. Keep giving the best you can.    Pamela Winning 2018.       Thanks for reading, Pam x     
Email This
BlogThis!
Share to Twitter
Share to Facebook
Reactions: