Working in travel industry is indeed like two sides of the same coins. In one side,  the opportunity to explore the "unseen before things" would be much bigger, since you don't need to pay for anything and even you are paid for doing so. However on the other side, it doesn't mean that you are freely able to spend the whole time you have.
Thofan has proven that working while traveling is somewhat challenging. Europe and some Asia countries are way too mainstream if you found out that he has visited several magnificent destinations like Antartica, Kenya, even Amazon river! He knows how to enjoy his life and fill his travel passion needs while working on cruise ship! And by the way, he has published his first book entitled [email protected] which telling a lot about his first year working as cruise crew!
Without further ado, I present you, Thofan the [email protected]

Working at Cruise ship is a blessed job for any traveler, so that you can travel anywhere for free, what do you think?
At the beginning, I thought that it was a blessed job. And indeed it was, it is and it would always be! But nothing comes entirely for free. Frequently I had to fight against the time to enjoy each city visited. Running, rushing, facing the angry boss when getting late to work, being exhausted and even starving when working. Once, I gotta get hospitalized for being too tired. But, the bright sight was, being hospitalized was a great way of hibernating, escaping from all routine, lols.
Is there any difference between traveling as a cruise crew and traveling as a traveler?
Yup! absolutely different! As a backpacker, I do enjoy every single seconds and keep the comfy aside. Riding on the bus without getting rushed and manage the spending wisely. But as a "[email protected]" or as a cruise crew who has less time to travel after "office hour", I had to spend more for every safety, comfy and organized tour package tour I took in order to spend the limited time efficiently.
How do you manage your spare time when having off time and exploring the city?
Sleeping, exploring the city and for sure partying are three essensial activities while in the off time. Extra free lunch time given sometimes would be a longer break that I gonna use to explore the whole city. And when the ship is docking over night at a port, that would be a perfect time to party and enjoy the night, baby!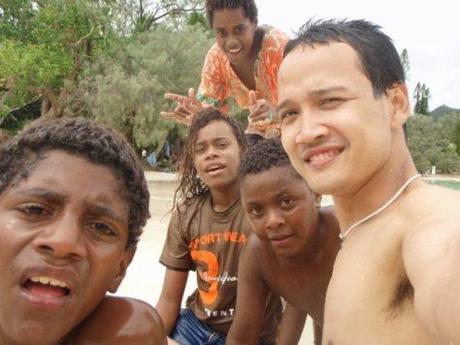 Nouvelle Caledonia with some local kids
Have you met a flirtatious passenger? How to handle them?
I'd report it to the manager as a backup if the passenger tries to mess around. Some "naughty" guests love to seek for opportunity to complain any tiny thing in order to get more compliment as management apology. Besides, I always keep a distance off crew-passenger romance stuffs, although I also have to treat them affectionally.
Passenger's most stupid request ever during the cruising?
Request? Hmm.. more like an invitation, i suppose. Imagine, there was a flirty old man tangibly invited me to his cabin to have fun! What the #### (me: No kidding??!)
Your longest and most boring cruise ?
Grand voyage world cruise 2009 was the best moment ever. It was approximately  114 days almost with the same guests. Starting from San Diego, USA to Hawaii, then crossing to Australia, Asia (including some islands in Indonesia), Eropa, Afrika, and touched down in New York USA. It was fun, though. However, some long tedious moment when the ship was surrounded by the ocean for weeks and you got nothing to see but water was really torching. You got nothing to do, all the cycle happened was working and sleeping all day long, and of course serving the guests who were getting more demanding
What do you say about "your self in Cruise crew uniform"?
Awful! not sooo fashionable, really look like a peasant, lols…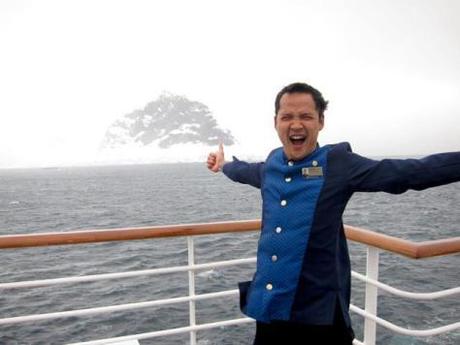 Antartica, yeahhh!!
The best city that must be visited more than one time?
Barcelona! It never failed me every times I went back!
In three words, what kind of traveler are you?
Fun, Free and Easy going.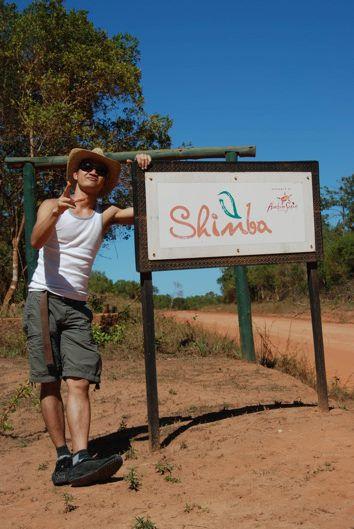 Safari Park in Kenya
Must things to bring inside your backpack /suitcase?
Some important documents like passport and other supporting docs, payment tools (cash, credit card and ATM card), smartphone, and SAROONG! :D (Me: Ah, saroong is also a must for me!)
Give me a name that you'd like to travel with and why?
Someone i would call wife. She's the one i want to spent the rest of my life with and to share all the moments with…
Road trip or by plane?
Both!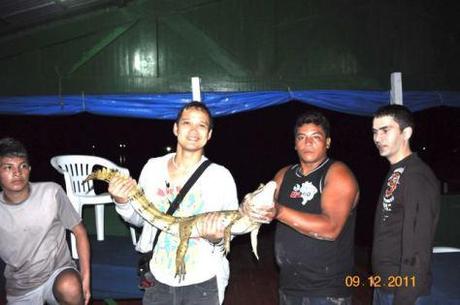 It's Amazon cruise baby!
How about a crush when traveling?
Crush? Hahaha… Alot! But never fall in love.
Dorm or private room?
Both! As a solo traveler, dorm would be the first option, unless when I need some more privacy. And as a couple traveler, for sure the private room is somewhat undebatable,  hahahaha…
Mountains or beaches?
I am a son of a beach! :p i cant swim, though… So, i literally stay put on the beach, most of the time. :D (Me: viva beach boooy!!)
Which city that becomes your dream home to spend your entire life?
Alright, as a youth, I'd rather pick some countries where I can make money as much as possible, like Australia, Norway or Canada, which, I also think, they have gorgeous scenery. And when getting older and retired, I'm going back Indonesia, build a house near seashore in Bali… How perfect it would be!
Near future trip plan?
Some tickets to Ternate, Morotai, Raja Ampat and Biak are already in hand for next April. But I wish on February I could visit Nepal and Tibet although I haven't had the ticket yet :D