Excellence is one of the vital elements of influencing skills and The difference between perfection and excellence is being faultless is perfection and continuous improvement process to reach faultlessness is excellence. Perfection is a destination while excellence is a journey. Some of you might be wondering what is the need of Excellence journey, here are some thoughts:
Broadly, the intention behind excellence can be classified as:-
1.    Effectiveness: the quality.
2.    Efficiency: Achieving quality utilizing least time and resources.
So once you understand the difference, you will be able to deliver customer service excellence and sales excellence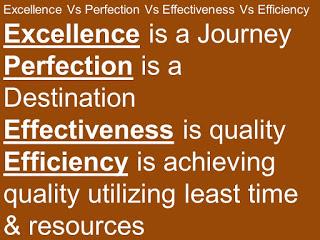 Excellence Vs Perfection Vs Effectiveness Vs Efficiency
Examples of Effectiveness in Everyday Life situations
1.    Tracking the regular food habit and changing it into a better balanced food habit. You can list the food that you take regularly, find alternatives by changing, eliminating or substituting certain daily intake of food is an example of effectiveness excellence.
2.    Quality of thoughts: What does your mind think all day? Does it think optimistically, pessimistically, or empathetically (trying to solve everyday problems rather than worrying about it). By tracking your everyday thoughts and replacing these thoughts may improve your quality of thoughts.
3.    Relying on experts to complete certain skilled tasks will not only yield good quality but also saves lot of time and effort.
4.    Spending quality time with family and friends is yet another example of effectiveness excellence.
Efficiency is to see how to complete a task with shortest time by using minimum resources and to reduce the effort and save the physical and mental energy of people
Examples of Efficiency in Everyday Life Situations
1.    Mapping all the possible to routes to commute office and exploring a new route that can save your time and fuel is an example of efficiency.
2.    Buying one multifunctional spanner instead of buying many spanners of different sizes for your home improvement tool kit is an example of excellence.
3.    Coding a macro on Microsoft excel that can save repetitive task of an associate is an example of effort excellence.
4.    Selling your old motorcycle to buy fuel efficient motorcycle is yet another example.
How Personal Excellence Helps us to lead an Interesting Life
Understand our various life roles better
In fact, consciously or subconsciously, we strive towards excellence in our day-to-day life. Excellence can be applied in our regular simple day-to-day activities. All that you have to do is track your daily chores to find how that activity could be done in a better way, in the shortest time by using minimum resources and you are already in line with excellence. Let us Cherish our excellence journey by tracking them regularly. So, trace them, put them in writing and you will be surprised that you have been contributing towards the journey of excellence. Share your excellence journey and contribute towards effectiveness and efficiency.