Work in Dubai for Poles, In Dubai, the weekend starts on Thursday and ends on Saturday.
The weather is hot and the salaries are like from a Fairytale of 1000 and one night.
Work in Dubai is a hot topic, but we will skip the scandals and focus on practical, proven information.
If you are interested in working in Dubai, then from this article you will learn:
how much money you earn in Dubai
who can get a job in Dubai
What are the taxes, prices and living conditions in Dubai?
Are you applying to work in Dubai? You need a very professional CV.
Do not rely on Word and your own experiments, because your CV must be not only impeccably formatted but also written in correct English.
Use the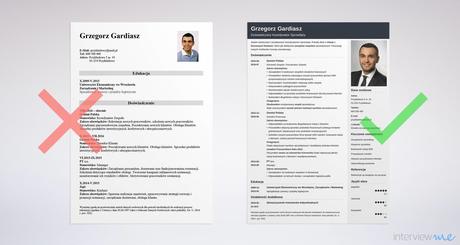 credit: https://interviewme.pl/blog/praca-w-dubaju
See other designs, create a CV and cover letter and download PDF documents here
CV wizard and you won't have to worry about the quality of the document.
I got a great job very quickly thanks to such a great CV and letter!
Work in Dubai
Working in Dubai is a dream of many inhabitants of our continent and a mecca for everyone who wants to earn big money.
This is because the United Arab Emirates rely primarily on highly educated Western European staff.
Mainly in sectors such as:
Also, representatives of the medical and construction industries find work here, as well as engineers, architects, IT specialists, real estate agents , specialists in law, telecommunications, the oil sector and managerial staff.
Moreover-
Almost all commercial companies in Dubai are run by foreigners.
Local entrepreneurs provide them with the required license - of course for a specific fee ( PLN 15-20 thousand ).
Is getting hard in Dubai difficult?
Yes.
Companies invest huge amounts in the recruitment process, which includes visa costs, flights, medical insurance, and employee housing benefits.
Therefore, if they choose someone, it will probably be the perfect candidate.
So before you apply to work in Dubai, make sure you really want to move here.
Make sure you confirm and translate all your documents, especially university diplomas, because they are usually required in the visa process.
Get ready financially to be able to survive in Dubai for your first payday.
How to look for a job in Dubai?
Many employees come here because they get an assignment from their European employer.
If you want to work on your own and get a job in Dubai by sending a CV, you will have to work hard.
See how to deal with the matter professionally.
Third - check the following pages with job offers in Dubai:
First of all - create a profile on LinkedIn , because this portal is a great tool for establishing professional contacts.
Secondly - get help from an employment agency. You can try:
Fourth - networking.
Here you will find a list of employment agencies that will help you not only find a job in Dubai, but also negotiate salary.
If not in Dubai, maybe you'll find a job in another country outside of Poland? Check out our article: Work abroad - how and where to look for it? Where to go
To start with , bayt.com , which is very popular among candidates for work in Dubai.
Other useful pages with offers are:
Dubai is known for employing employees internally and through reference programs. If you have business knowledge, your chance of getting a job increases by 6.6% .
Work in Dubai for Poles
arrival to UAE
residency visa
medical insurance for all family members
private school education of the employee's children,
furniture, household appliances and other expenses related to moving to Dubai.
In Dubai, it doesn't matter if you are from Germany, Great Britain or Poland.
If you are fluent in English and have great professional qualifications, then definitely your chance for a career in Dubai is considerable.
However, many employees come here for a contract (it lasts on average for 3 years and can be extended).
If you are in this situation and you have been posted by the head of Dubai, be sure that your employer will cover the costs:
Of course, the higher the position, the more benefits an employee can count on.
The general rule is that the entire amount given to you at the beginning of the contract is non-refundable as long as you have completed the contact.
Otherwise, you will have to pay back about ⅔ of the sum you received for development.
Poles in Dubai
About 2,000 Poles reside and work in Dubai.
If you join this group, you will probably want to establish contacts with your compatriots.
Poles working in Dubai benefit from Facebook groups, where they exchange practical information on life in the city, organize joint events, and advertise their workplaces.
You will need to read this text: Certificate in English: FCE, CAE, CPE (exams and passing advantages) .
Here are the links:
Work in Dubai without a language
The general language in Dubai is Arabic, but everyone can speak English here.
The average salary in Dubai is AED 130,000, or PLN 134,400.
This is because almost 90% of Dubai's residents are visitors .
You don't need to know Arabic, but high-level English will be necessary.
Earnings in Dubai
There are legends about how rich you can be working in Dubai.
In addition, they are all true.
Almost.
But about this soon.
These amounts apply to very well-educated and experienced specialists, because an employee with average qualifications has no chance of getting a job here.
A good programmer will earn up to PLN 50,000.
Stewardess at Emirates - PLN 9,000 + accommodation on site.
A financial analyst can count up to PLN 27,000 a month.
Speaking of money, you may be interested in the advice of our career expert in the article: How to negotiate salary? 13 tips on how to talk about money.
Earnings of waiters, bartenders, hostesses range between 2-4 thousand. Euro per month.
I can already see your pupils taking the shape of dollars, but-
Each coin has two sides.
Unfortunately, Dubai has its dark face, which is rarely written about.
It is a cheap workforce that serves well-off residents of the city, working on construction sites, delivering food or cleaning.
Such classes are mostly performed by employees from India, Bangladesh or Pakistan.
Asians do a lot of physical work here for salaries that do not completely satisfy Europeans.
They commute to work from a distance, and after the shift is taken, they get on buses and go to their homes, far beyond Dubai.
They are poorly paid and invisible, because everything that is uncomfortable and does not match the image of the wonderful city of the rich, carefully erased from the landscape.
Living in Dubai
Everyone knows what Dubai looks like - glass skyscrapers with a surprising form, blue sky, palm trees and the waves of the Persian Gulf glistening in the sun.
That is where it is Dubai , it is rather obvious, because you can see in the picture above also dressed in white kandury Arab businessmen.
basic dinner (with drink) - 61 PLN
McDonalds set - PLN 29
liter milk - PLN 6
12 eggs - 15 PLN
1 kg of tomatoes - PLN 7
half a kilo of local cheese - PLN 30
1 kilo of apples - PLN 11
a kilo of potatoes - 4.69 PLN
0.5 l of beer from the supermarket - PLN 25
a bottle of high-quality wine - 107 PLN
2-liter Coca-Cola - PLN 7
bread - 4.96 PLN
a pair of Levi's jeans - PLN 311
roll-on deodorant - PLN 16
shampoo - PLN 21
toothpaste - 16 PLN
renting a large apartment in an expensive district - around PLN 8,000
renting a large apartment in a regular district - approx. PLN 6,000
monthly rent for an apartment approx. 85 m2 - approx. 747 PLN
men's haircut - 68 PLN
Plus modern luxury, fun and zero signs of poverty.
Dubai is a waking dream - a city that was founded 60 years ago and enriched immediately after the discovery of oil deposits.
Today it is a global center of trade and tourism.
How is life in this city?
It is hot throughout the year - from 24 degrees in January to 41 in the summer.
The time in Dubai is shifted 3 hours ahead of the current time in Poland (you can check it here ).
Currency in Dubai
This currency has a value similar to one zloty, so you won't have a problem calculating your fabulous earnings.
Prices in Dubai
The following table shows the prices of products and services in Dubai. Given the amount of earnings, life here seems soooo comfortable:
Dubai - what is worth knowing?
United Arab Emirates is a different culture.
Although no one is surprised by the lifestyle of Europeans, but you still have to take into account the local principles that determine religion and customs.
Once a year, there is Ramadan, during which you do not eat or drink until sunset. Europeans also have a duty to comply with this right.
Polish citizens do not need a visa to enter the territory of the United Arab Emirates (PZEA) if they go for a maximum period of 90 days every six months for tourist, cultural, scientific, family and friends visits.
At other times, you can consume alcoholic beverages, but only for people over 21 years of age.
Unfortunately-
Beer or wine is in vain to be found in the store.
Alcohol may not be consumed in public places. The ban does not apply in hotels and restaurants.
You can even get behind bars for drunk driving.
by establishing a company in the UAE
by owning property or investing in property in the UAE
through employees or a staff contract.
Anticipating the question-
It's safe in Dubai . This is the opinion of as many as 97% of the residents of the Arab Emirates, asked in the survey about whether they had an unpleasant incident here.
The lack of a criminal sphere is very easy to justify. After all, neither a tourist nor an employee wanting to make a career here would risk bad behavior because he loses what he came here for: vacation or work.
Visa to Dubai
As we read on the website of the United Arab Emirates embassy:
The case is a little different for people who come to Dubai for work purposes.
To get an employee visa, you must first have a valid passport for a minimum of 6 months in advance. The document should contain a current color photograph (not black and white).
To get a resident visa, all you have to do is get a job in Dubai.
Of course, in the company which is based in Dubai. The company then becomes the so-called The employee's "sponsor" and carries out the visa procedure so that the person can become a resident of Dubai / UAE.
You can get a residence visa in 3 ways:
Working in Dubai sounds like a dream, but it's not the only way to have a fascinating professional life. Read this article: How to get a job in paradise on earth? Real life ideas and stories.
After all, you compete with the best specialists from around the world.
Remember to include a professional summary in your CV. It's a standard in the West, you can't skip this section.
Answer the requirements of the job offer. The key to successful recruitment is matching your CV to a job offer .
Show that you can do more than other candidates. To achieve this effect, avoid generalities. Describe your CV skills in a language of benefits and convince your employer how much he will gain by hiring you.
Present professional experience in your CV in a professional manner - without listing your duties in the form of banal passwords. Try to describe them in the first person to start the first dialogue with the recruiter.
If you are asked to send a cover letter, you must sound like an Arab sheikh in it.
And finally-
Take care of the appearance of your documents.
You don't need to know graphics programs if you use the CV Creator . The tool will format a professional document for you.
Unfortunately, if you lose your job in Dubai, you automatically lose your visa. If you don't find a new job, you have to go home.
Dubai - interesting facts and very useful facts that you need to know before you start working
1. There is no concept of citizenship in the UAE. There is also no state health and social insurance.
2. There is no income tax in Dubai .
And this means that your salary affects the account in full, without giving a specific part to the state.
Bankier.pl: Let's start with the fact that you have to pay for your stay in Dubai. As for Polish conditions - quite a lot. However, the procedure does not cause any problems?
Pursuant to the agreement between the Polish government and the UAE government, wages, salaries and other benefits resulting from employment in the Emirates are taxable only in that country.
You've been living here for some time. However, I suppose that it is still difficult to get used to certain financial rules. Which of them should be mentioned here?
So you will bring all the money you earned in Dubai to Poland (if you don't spend everything there).
Cars, however, given the fact that there is no analogy with VAT in Dubai, should they be cheaper?
3. The rule is that the employer once a year pays the employee a home ticket. In many cases he also pays for his accommodation.
You can save 80-90% of your income in this way!
This lack of VAT is felt in everyday shopping?
4. Couples who are not married will have big problems accommodating in the same apartment. The only way out is a quick wedding before leaving for Dubai.
You once wrote on a blog about how the sheikh of the emirate froze the prices of 400 food products for several years. The market sticks to it?
To get a job in Dubai, create an impressive CV!
"The most lonely place in the world".
Polish women tell us about the backstage of work in Dubai
They say dairy - milk and yogurt are disappointingly expensive.
Dubai is not a place for old people and young companies. I think it's true - says Małgorzata, one of the women who agreed to talk about living and working in Dubai. A city so specific that it is difficult to comprehend for the average European.
What else do you think are more expensive than in Poland?
Huge skyscrapers, endless desert, rich sheikhs, luxury cars - these are probably the first associations that Polish readers think about when they hear the word "Dubai". From the outside, work in this city may seem fairy-tale. In fact, under a thick layer of wallpaper, the real face of Dubai hides many imperfections.
Behind work to Dubai. How much will you earn, how much will you spend?
If the monthly salary reached tens of thousands of zlotys and the whole would affect the account, without paying tax and retirement contributions, if the cars were much cheaper and the employers financed health care and private education for the child, it could mean that we are in Dubai.
When comparing prices, do you assume a ratio of about 1: 1?
According to data provided by Bankier.pl , more than 2,300 Poles are permanently living in the United Arab Emirates. The Gulf region has become an attractive professional haven for many specialists.
The difference is that for a Dubai payment you could buy a lot more products than with Polish salary. How much do specialists earn in Dubai?
There are a lot of rumors about Dubai - from the value of subsequent megain investments up to the conditions of everyday life of the inhabitants. Is the average salary of an engineer or manager in the Emirates sufficient to maintain in a place where you do not pay taxes, but also do not receive a pension in old age? Answers to these questions are given in an interview with Bankier.pl by a Polish woman , well-known vlogger Marcy Shan .
Marcy Shan: A 30-day tourist visa to Dubai costs around 500 PLN. There are many agencies that mediate this procedure, and when flying with Emirates airlines, after purchasing a visa ticket, you can apply online and it comes out cheaper (approx. PLN 390). After a maximum of a week, we receive a ready visa promise by e-mail and we can fly to Dubai.
It is a country that tempts with a chance for big money, but those who would like to emigrate for physical work here would not get it?
There is a ban on eating and drinking in the subway - you get a 100 AED ticket, you can't chew gum! There are also no personalized license plates like in Poland, so the smaller the number of digits on the registration (e.g. B 123) or the more repetitive the number, the higher the price. Every year, such auctions are organized and prices reach dizzying amounts - up to several million zlotys. Having such a board is a way to stand out from the crowd, after all, for luxury cars hardly anyone here notices. Income from these auctions usually goes to charity accounts.
Dubai has become an icon of a career forge, where young and independent live the best. On the other hand, maintenance is to be considered more expensive when the family grows. Is school costing?
It all depends on the model and brand, but it is assumed that cars are cheaper by about 30%. The biggest difference is with luxury cars from Europe (e.g. Porsche), as well as with Japanese brands like Toyota, Nissan. Cars from the USA are also very cheap (Infinity, Acura, Chevrolet or American Ford). Even if the price will not be significantly lower, we will get a higher equipment package than at a similar price, for example in Poland.

"Contrary to appearances, Dubai is not only tall skyscrapers. Everyone will find something for themselves", photo: Thinkstock
Medical care is also payable.
Interesting facts: some cars can be almost half cheaper - for example, very popular among residents of Mitsubishi Pajero, in the richest version with a 3.8-liter gas engine, V6 in the Emirates costs PLN 120,000 (for this we will get free insurance for a year, free inspections for a year and warranty for 5 years), when for a similarly equipped model in Poland, but with a diesel engine we will have to pay about 220 thousand.
How much do other basic medical services cost - a visit to an internist or a tooth treatment?
It all depends on what and where we buy. Electronics in large chain stores can cost more than in analogous chains in Poland, but if we go deeper, we can buy a dozen or so, several dozen percent cheaper. Interesting again - Apple brand equipment costs almost exactly as much as in the US, and sometimes it can be even cheaper.
Let's stay in the hospital climate for a moment. In Dubai, in a car accident in which there were fatal victims, the culprit pays to the family of the deceased so-called blood money reaching up to 500 thousand dirhams. Is it true that if you do not have such money, you can go to jail?
The fact that the Emirates economy is regulated from above is a great plus for all private individuals.
Will the insurance cover this cost?
Sheikh has frozen prices for basic foodstuffs, household chemicals, fuel, water, electricity and probably many other products that we don't even realize. So, for example, rice, some vegetables and fruits, milk, and items for newborns have been a fixed price for several years.
Since the United Arab Emirates did not provide for the institution of retirement, part of the household budget is left at its own discretion in favor of old years. Are any specific banking and insurance products promoted here?
Not so much dairy, but everything that is imported, especially by air. Fortunately, some products are also produced locally, in the Gulf region and the consumer has a choice. Yogurt imported from the US can be bought for the equivalent of PLN 20, and local yogurt for PLN 2.
Expensive raspberries, blueberries, currants and everything that can not be produced in the area - due to transport costs.
There is no pension contribution, but what about other social benefits? Any part of the remuneration is transferred to other purposes?
It is similar with vegetables - if we want to buy vegetables imported by plane from the US, for example, we will have to pay more, but if we are satisfied with local ones, which are not lacking, prices can be surprisingly low. For example, for a kilo of tomatoes we will pay the equivalent of 2 to 20 zlotys, depending on the country of origin.
Service flats are also a standard among those coming to work in Dubai?
Pork is also quite expensive, especially the one coming from Poland (all the biggest meat producers from the country are present here), but we have access to great beef Wagyu / Kobe, so we don't eat another one.
High, modern skyscrapers ... It will be an exaggeration to say that there are no houses here outside the city, because everything is a city here?
You could say. Dirham is rigidly related to the US dollar, so depending on the latter to the zloty, there may be slight differences. I usually subtract 10-15% and know how many zlotys. However, I often round up and treat dirhams the same way as zlotys, it is really a lot easier.
Palm Islands - the famous palm-shaped investment on the water, photo: ThinkStock
To conclude - apparently there are only two mobile and internet operators in Dubai? Prices - for such a situation - abnormally high?
Salary ranges are large, but the fact is that, like everywhere in the world, specialists earn the most. Engineers, architects or managerial staff can earn 20 or 40 thousand zlotys a month and no one is surprised. Of course, there is no upper limit, directors of large companies or the public sector earn hundreds of thousands of zlotys a month.
When it comes to the ratio of earnings to expenses, it really depends on what level you want to live on. It is easy to find out that as our salaries increase, we start spending more because we can afford better apartments or cars. However, if we want to save money for the future, Dubai gives us big forums.
Exactly. Physical work is mainly performed by immigrants from Asia. The salary will not satisfy the European, so there is no place to look for employment without much qualifications. The ratio of earnings of lower-level employees (e.g. construction workers) from Asia to the earnings they would have in their country is more or less the same as in the People's Republic of Poland, when Poles eagerly went to saxes and bought houses for construction money in Poland. Nowadays it would be completely unprofitable for us.
In the United Arab Emirates we have no taxes, hence - education is private. The choice of schools and colleges is huge. You can choose among English, American or even Australian schools. After finishing such school, we get the same diploma as if we were studying or studying in the country of origin of a given university. Tuition increases with the child's age, on average it is about PLN 30,000 a year, but good Western schools can cost up to twice as much. Sometimes the tuition is paid by the parents' employer.
There is also a free Polish school at the Polish embassy. Classes on history, Polish language or social studies take place on weekends and from what I've heard they are popular.
Yes, and the employer has a legal obligation to provide basic insurance for all employees. Before planning your offspring, you should check whether pregnancy and childbirth are included in the insurance option, otherwise you can expect a high bill. It is worth mentioning that with most insurance you will not pay for medicines if they were prescribed by a doctor. The whole is refunded by the insurer.
The prices of visits are very varied, hospitals and clinics are cheap and very expensive, it all depends on the staff, equipment, location, etc. The tooth can be cured privately for two hundred zlotys in a normal clinic, as well as for several thousand in a luxury clinic, where we sit watching in the armchair movie or listening to relaxing music.
Yes, that's true, but the amount is about 200,000 dirhams, if we are talking about one person. Diyya or other compensation must be paid to the victim's family when we cause a fatal accident or when we cause permanent damage to health.
You should check that the insurance covers such an expense. When you buy a new car, this is usually the case. When you insure yourself, without a car dealership, you should pay attention to what is guaranteed in the insurance.
There are no pension contributions or an office that regulates it in some way. For this there is a law that guarantees the employee the payment of some form of thanks for each year worked in one company. The amount of compensation depends on the number of years worked and reaches a maximum of one monthly salary for each year worked, if we have worked for at least 5 years in a given company. It is something like a pension, only without paying contributions.
Of course, we can invest in pension and savings funds both locally and abroad.
The entire salary affects our account. We do not pay any contributions - for example to ZUS in Poland. The employer usually guarantees health insurance, transport - e.g. in the form of a salary supplement, which we can use to buy an installment car - and sometimes even food.
The employer must provide accommodation. Depending on the position held, this is a specific salary supplement that allows you to rent a flat or a house. Sometimes companies have their own buildings and lodge their employees there.
Contrary to appearances, Dubai is not just tall skyscrapers. Everyone will find something for themselves. Apartment in a fashionable district, with floor-to-ceiling windows and a beautiful view of the city or the sea or a house with a garden located in the center, by the beach, under the city or in the desert. Work in Dubai for Poles it is worth to move there for sure.
There are also intimate low-rise housing estates, reminiscent of those from many European cities. Prices depend on location, standard, area. The span is large, but in a cool neighborhood for a 2-room apartment with a size of 90 m 2, on average, 55-75 thousand. PLN per year.
Telecommunications services are monopolized. Both operators (Etisalat and Du) belong to the state. This is mainly because there are no taxes, and the Arab wants to have regular budget revenues.
When it comes to prices, if we compare them with Poland they are very high, for example a 16mbit bandwidth costs PLN 265, for a 100mbit band we will have to pay about PLN 800. Internet for companies is even more expensive. Remember, however, the difference in earnings. I have not met anyone who would complain about internet prices when he pays PLN 1.5 per liter of gas.
Work in Dubai. Sheikhs are looking for cheap labor. They found her in Poland
"Work in Dubai and experience the adventure of a lifetime!" - encourages Tempo Group company responsible for recruitment to the largest amusement park complex in the United Arab Emirates. Will Dubai become a new direction of economic emigration of Poles?
Hotel Mariott at the Warsaw "Okęcie" airport. The first conversations with those willing to experience a "paradise adventure" in Dubai are scheduled for 7.30. Some arrive several hours earlier. They came here from Kołobrzeg, Hel, Zgorzelec, Wrocław and Silesia. Everyone went through the first stage of recruitment, i.e. a telephone conversation eliminating people who do not know English even at a basic level.
Dumai is an Amazing Place!
Candidates are invited to the conference room, after a short presentation of the Dubai Parks & Resorts complex being built. The momentum of the project impresses everyone. The presenting person, the Portuguese Renato, for a dozen or so minutes offers a vision of the wonderful opportunities that await those who manage to undergo the recruitment process.
Several theme parks are expected to be built there by 2020. The largest project is the complex, which includes a project referring to the hit movie "The Hunger Games" and the Bollywood park. In addition, the Arabs built five other parks that were designed in collaboration with Asian film studios: Bollywood Films Studios, Mumbai Chowk, Hall Of Heroes and others.
No experience welcome.
Most offers for Poles come from three sectors: sales, gastronomy and attraction services. "Experience is not required, and a predisposition to work with children is welcome , openness, friendliness, good command of English, secondary education, valid passport" - these are the qualifications that an applicant should have "Assistant to Attractions (Attractions Attendant). " There are not much more demanding requirements than the Team Leader or waitress (here you need at least a year of experience in a similar position)
Until 17:00 talks with the employer, i.e. a group of managers from specific sectors in the park, are ongoing. Of the over one hundred people who appeared at the hotel, almost 90 percent of those willing were accepted. Only extremely poor English speakers were sent home, a few people quit after leaving the interview.
Earnings worse than ... in Poland
enthusiasm of future cashiers, waiters or "team leaders" fades a little when they learn about financial conditions. It turns out that in some positions salaries are worse even than in Poland. For example, a cashier employed at Dubai Parks & Resort will earn 2,000 Dirhams net or about 2,100 zlotys. In Biedronka as a cashier, the salary is PLN 2,500.
Work in Dubai for Poles
But there are also pluses. As you know, the United Arab Emirates is a tax haven, so the account receives a hundred per cent salary. Once a year, the employer provides a 30-day vacation and also sponsors a return ticket to Poland. Basic prices vary. For example, for a litre of milk in Dubai we will pay about 5 Dirhams or about 6 zlotys, a roll is about 1 Dirham or 1.5 zlotys. It is best to buy local products, the most expensive is food imported from Europe.
The recruitment company also informs employees about their future life in Dubai. One of the main rules - public alcohol abuse is severely punished (including deportation), openly showing affection is also not welcome. However, public transport is much more pleasant than in Poland - Dubai has the most modern metro in the world, and the streets are run by ... Polish Solaris. Rather cheap, you can also rent a car - gasoline prices are much lower than in Poland - but beware of driving under the influence of alcohol, immediate deportation awaits.
Conclusion: Why Poles?
Until now, mainly immigrants from Asia performed physical labour in the Arab Emirates, for whom the conversion rate was several times higher than in their countries. So far, mainly middle and senior specialists have travelled to Dubai. - This is a rather surprising direction for me and I don't know how to relate to it at the moment - comments Andrzej Kubisiak, head of Work Service press office. - Our research shows that unemployment in Europe still remains at a similar level, and Poles declare emigration rather within the European Union. But nothing happens for a reason ...
Please select a valid form