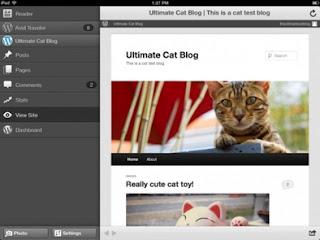 An
update
which long-awaited app finally comes to
WordPress
for iPad and iPhone. Through version 3.1 allows you to swipe the screen to display a
sidebar
that offers a variety of features of the application.
On the iPad, the
interface panel
can work well, providing a view of some parts of the application. Some other features are the 'post formats', this support can show a preview post on the iPad, dashboard access, and landscape support.
Not to forget the 'improved performance' is also one major update application. Wordpress promise is already approaching the next major release, with a visual editor. But while this Wordpress users can download the visual version on the App Store.
origin source 9to5Mac, The Verge via teknoup