For anybody curious about the theme of the blog, it was chosen in deference to Blackpool's Festival Of Written Word which has been hosted by Blackpool Arts & Libraries across three days and four sites this week. It's the 11th annual
Wordpool
event and has been hugely enjoyed by all who have participated. If you're intrigued to see what you missed, check out this link:
www.wordpoolfestival.co.uk
When it comes to the correct use of words, I'll admit to being a bit OED! If I were ever cast away on a desert island, I'd happily swap out a copy of The Bible for a good dictionary (Oxford English for preference). I derive great pleasure from words and love discovering new ones. This week's new word is
anabiosis
:
the ability to regain life after apparently dying (from desiccation or drying out) - just add water! I've woven it into today's poem.
I suppose a love of words goes hand-in-hand with a love of books and reading (or being read to) which I've enjoyed for almost as long as I can remember. I have two people to thank for that: the wonderful Miss Griffiths, my Infants' School teacher (when I was 6/7 years old), who used to read to the class for 20 minutes every afternoon; and my Dad who enrolled me at the same age at my local library in Peterborough. It probably also helped that we didn't possess a television set until I was nearly 11! Reading was a constant thrill and I can still recall the pleasure I got from The Young Detectives (R.J. McGregor), The Future Took Us (David Severn), The Silver Sword (Ian Serraillier), The Woolpack (Cynthia Harnett), Moonfleet (J. Meade Faulkner), all of the Swallows & Amazons books (Arthur Ransome), The Thirty-Nine Steps and Greenmantle (John Buchan). They paved the way to Austen, Dickens, Eliot, Hardy, Huxley, Woolf, Orwell and beyond.
I read English and American Literature at Warwick University and then taught English and Drama in a north London comprehensive school for a number of years. I promised the kids I taught that I would write them a book one day - a promise still to be fulfilled! (The closest I got was writing the scripts for staff pantomimes and adapting a selection of Canterbury Tales for a school play.)
Getting back to this week's Festival Of Written Word, the highlight for me was listening to Ben Aaronovitch on Thursday evening talking candidly and very amusingly about the trials, tribulations and occasional pleasures of being a (best-selling) novelist. I've really enjoyed Aaronovitch's Rivers Of London series of books - six to date with a seventh on the way - which he describes as a mix of urban fantasy crime, folklore and myth. It was interesting to meet him as a person and useful to hear the advice he had to share with anyone wanting to get a book out of themselves and into the world. As you might imagine, many novels are written but few are chosen (published)... nevertheless, I shall  give it a go when I can free up thinking and writing time from my responsibilities within Blackpool Supporters' Trust and our ongoing campaign for regime change at our football club.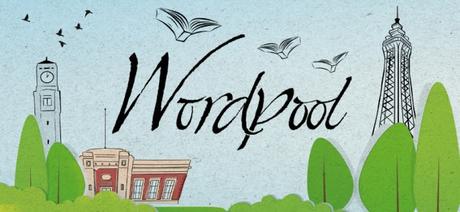 Artwork for Blackpool's Festival Of Written Word
One of the reasons I started blogging nearly three years ago was as a compensation for not having the time to devote to novel-writing. Finding a few hours a week to write a blog (and a poem if I'm particularly inspired) had to be an easier task than finding the several hours
every day
to wrestle the words of a novel into being.
I'd like to finish with a few thoughts about the creative process as a segue into the poem. I've been writing (off and on) for the best part of fifty years and what happens when it 'clicks' is still something of a mystery to me. One takes a bunch of words and phrases, some concept of a framework to employ them in and then one of three things happens: worst case nothing worthwhile results; very often perspiration and craft triumph (after a fashion) and something workmanlike and reasonably presentable, entertaining and perceptive emerges; just occasionally inspiration huffs its intangible magic into the enterprise and a very special piece of prose or poetry is forged almost without or beyond conscious effort. Today's poem, although it probably falls into the middle ground of workmanlike, presentable and perceptive, tries to encapsulate what happens in that magic process beyond conscious effort - in the wordpool...
Wordpool
Throw down dry words
and desiccated thoughts
without constraint
and let them fall, fall, fall,
all a tumble and a jumble
into the chaotic whorl
of the wordpool.......and wait.
Focus for a while elsewhere.
Enjoy a scratch, sink a beer.
Ignore the sign that says
'Nothing is original anymore'.
In the anabiotic depths,
out of the swirl and hubble-bubble,
who knows what subtle
alphabetical phosphorescence,
what striking metaphysical concordance
is preparing to break surface
and make perfect sense?
Thanks for reading. Have a tremendous week, S ;-)
Email This
BlogThis!
Share to Twitter
Share to Facebook
Reactions: