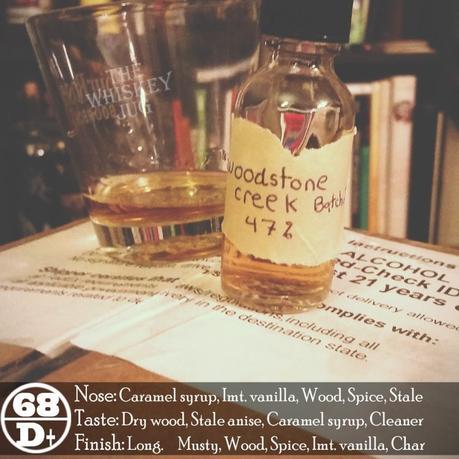 Woodstone Creek Bourbon comes from Ohio's first licensed microdistillery. What exactly does that mean? Well in the state of Ohio that mean the folks at Woodstone Creek can't make more than 500 barrels worth of spirit per year, which is a tiny fraction of what the big guys are continually pumping out when you consider Jim Beam fills about half a million barrels a year. Something else that sets WC apart from the big guys is they use a direct-fired potstill instead of the more popular column still… and then there's the mashbill.
To make the Woodstone Creek Bourbon the WC folks started with a mash that's at least 51% corn so it could be classified as a bourbon and the rest is malt and the combination of corn and malt account for five different grains. Perplexed? WC uses two different types of corn and three different types of malt. I can't find anything about which strains of corn they use, but their malts are malted barley, malted rye and malted wheat. That is definitely among the most unique mashbills I've heard of.
Woodstone Creek Bourbon Info
Region: Ohio, USA
Distiller: Woodstone Creek
Mashbill: 2 Types Of Corn (51%+), Malted Barley, Malted Rye, and Malted Wheat
Cask: New Charred Oak
Age: At least 2 years old
ABV: 47%
Non-Chill Filtered | Natural Color | Single Barrel
Barrel: 2
Price: $130
Woodstone Creek Bourbon Review
EYE
Light caramel
NOSE
Caramel syrup, imitation vanilla, wood, weak spice, an old dusty room and a weird stale anise-like note that's clashing and stomping about my nostrils. It's sharp and unattractive, really not enjoying the smell of this whiskey.
PALATE
Sharp like the aroma it cuts across the palate with razor blades of dry wood, stale anise, dust, kitchen cleaner, cardboard, caramel syrup and a stale baking spice followed by a light sandpapering of a weird / off herbal note before it dovetails into the finish.
FINISH
Hideously long, musty and peppered with notes of wood, stale spice, imitation vanilla and burnt cardboard.
BALANCE, BODY & FEEL
Off balance with notes clashing left and right, thin and watery and runs hotter than a 47% should.
OVERALL
I don't know if the sample I got was tainted or if it always tastes like this; all I know is that I absolutely did not like Batch 2 of the Woodstone Creek Bourbon. It was harsh, off, dry and just all around unpleasant from beginning to end. By far one of the worst bourbons I've had and definitely the worst craft bourbon I've ever had. While this assessment makes me stare at that $130 price tag in complete and utter dismay, at least I can add it to the list of $100+ bottles I won't be tempted to buy!
SCORE: 68/100