Spring Break has finally arrived! It's very late this year because of the holiday schedule, and I'll only have a month left of classes when I go back to school next week. Hard to believe I'll have my Masters so soon!
Brien and I decided not to take any "big" trips during this time, but still wanted to do something special. We did a visualization exercise in class a little while ago… you know the kind, where you close your eyes and think of your "happy place." My "happy place" is apparently our friend Stewart's house in Woodstock! We usually go in the fall around my birthday, but because we're getting married the week before (!) we probably won't be able to make it then. Stewart was kind enough to let us use the house this past weekend, and it was positively glorious.
The last time we visited, Stewart's yard looked like a golden forest! This time around, the trees were recovering from a harsh winter. It's still beautiful, isn't it?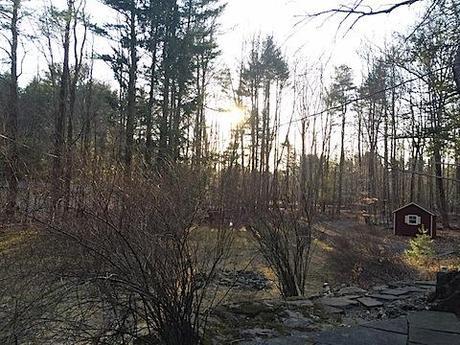 On the way up, we stopped for dinner at Rock & Rye, a restaurant in New Paltz we discovered last October. If you're ever in the area, I highly recommend you try this farm-to-table restaurant. It's located in an old inn, and the room we dined in had a roaring fire! The menu is interesting, the cocktail list extensive, the wine delicious yet affordable. And- major win- each dish has a "v" or "gf" to let you know if it's vegan or gluten-free. Why doesn't every place do this?! We shared everything: charred octopus with quinoa salad, hand-cut fries with aioli, quinoa-crusted soft-shelled crabs (the first of the season!).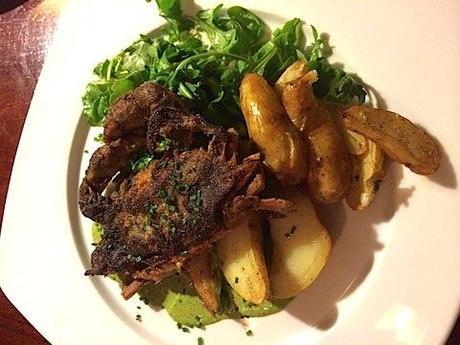 After dinner we drove to the house and went to bed early, just to be sure we were nice and rested for our lazy day ahead. After sleeping in (which for us means 8:30), we headed out to Oriole 9 for breakfast. They always have amazing specials, and I love that you can order individual French press coffee! Their forest mushrooms skillet is to die for.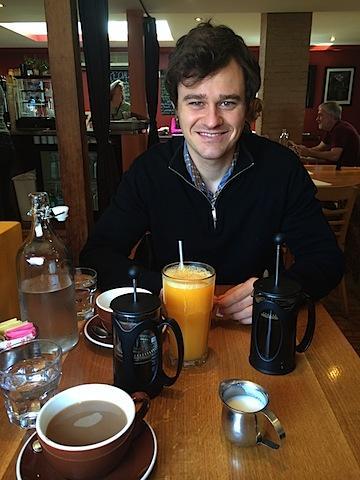 We hit up our usual shopping spots in town: The Golden Notebook for books, and The Tea Shop for tea. Then it was back to the house, for a few cozy hours reading.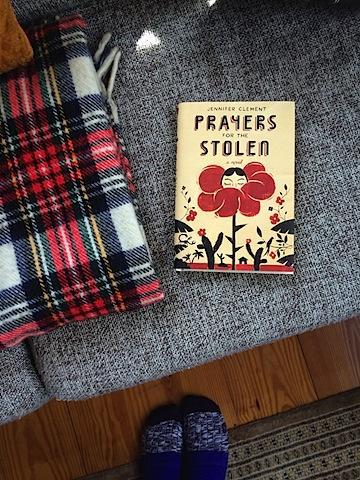 Lunch was a special treat: Stewart, Andy, and Stewart's mom drove up from the city to have lunch with us at The Phoenicia Diner! (Don't be fooled… this is no ordinary diner.) We had a lovely meal (shrimp, grits + poached egg skillet) and even better conversation.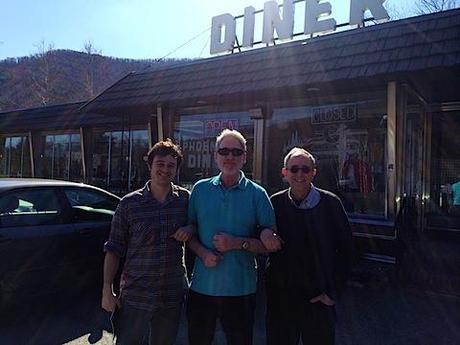 After saying goodbye to our friends, Brien and I set up a couple chairs and enjoyed a glass of wine on the porch.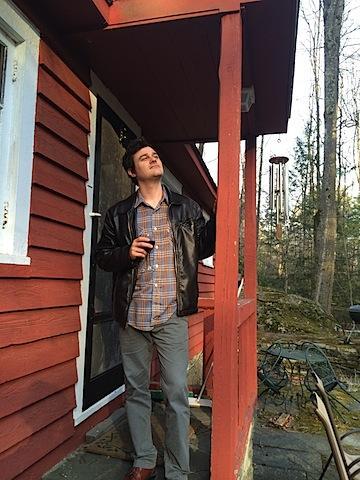 It was a beautiful day, and was such a treat to sit outside. We saw hawks, woodpeckers, and a family of deer in Stewart's woods!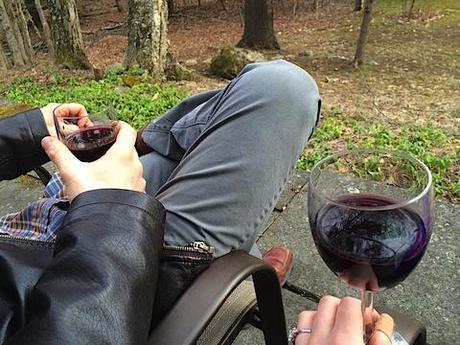 We'd originally planned to have dinner in town, but the thought of a cozy TV dinner was too appealing to give up. We picked up some curried tofu + vegetable soup from a nearby market, and settled in to watch Gravity in our pajamas.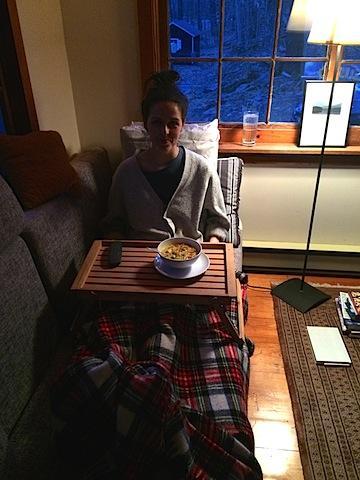 We hadn't quite had our fill of The Phoenicia Diner, so the next morning we went back for more eggs. We shared huevos rancheros and the Arnold Bennett skillet, which is a mixture of smoked trout, crème fraîche, and scrambled eggs. So good.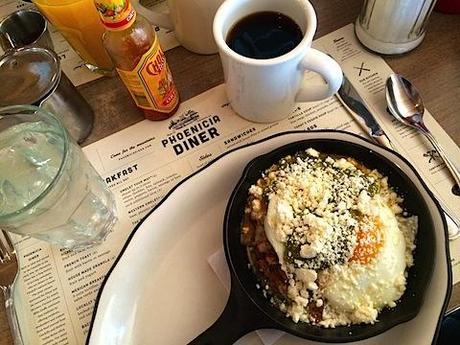 We'd planned to spend Sunday hiking, but again, the pull of a lazy day reading outside was too strong.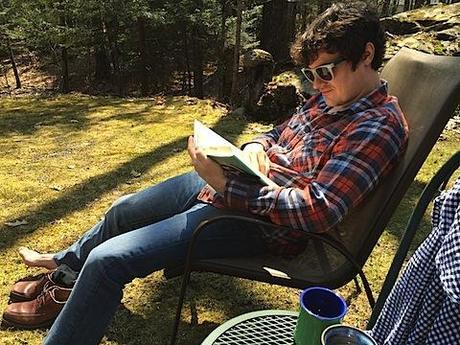 Even better: lunch al fresco! Our meal of up broccoli rabe, Greek salad, red pepper + red wine felt très européen.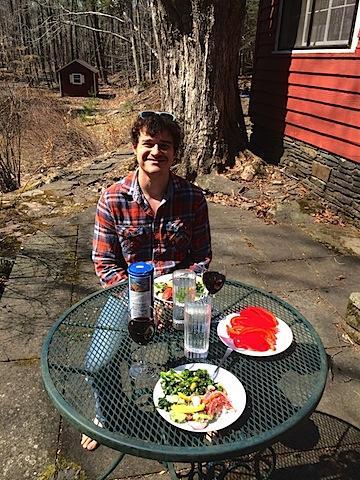 Our visit was short, but so very sweet. Just the Spring reset button we needed.