For this bourbon review, we're getting into the darker side of rye with the Woodford Reserve Chocolate Malted Rye Bourbon. Part of the Master's Collection, which is a 2x yearly limited release of experiments, this whiskey takes the traditional rye component of Woodford Reserve and replaces it with chocolate malted rye.
Chocolate malt is well known and used in the beer world (porters and stouts), but it's rather rare in the whiskey world. To make a chocolate malt you heat/kiln the malt longer than you would for pale malts. To make a rye malt you just soak rye grain to get the malting process started instead of doing it with barley. Chocolate Malted Rye is the combination of the two processes.
Woodford Reserve Chocolate Malted Rye Bourbon Review: Details and Tasting Notes
"Woodford Reserve Bourbon has a complex and balanced flavor profile that includes a hint of chocolate. Chocolate Malted Rye takes those cocoa notes to a new level. Everything we do at Woodford Reserve goes back to our core belief that flavor is everything."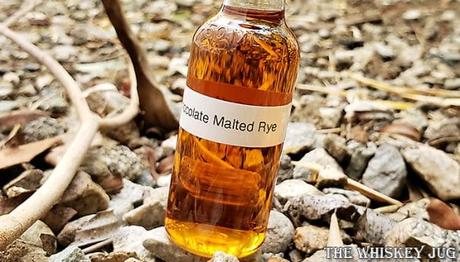 Details (price, mash bill, cask type, ABV, etc.)
Region: Kentucky, USA
Distiller: Woodford Reserve
Mash Bill: 70% Corn, 15% Chocolate Malted Rye, 15% Malted Barley
Cask: New Charred Oak
Age: NAS
ABV: 45.2%
Price: $130*
Tasting Notes
EYE
Oaky brown
NOSE
Chocolate covered cherries, wax, orange peel, wood, leather, nutmeg, vanilla and nuts.
PALATE
Woody, nutty, metallic, oxidized cocoa, burnt popcorn and a touch of cardamum pods and Good & Plenty.
FINISH
Short -> Coppery/metallic, burnt popcorn and nuts.
BALANCE, BODY & FEEL
Not balanced, medium-light body and a light watery feel.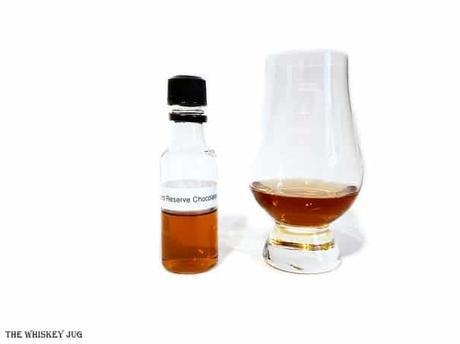 Woodford Reserve Chocolate Malted Rye Bourbon Review: Overall and Score
Aroma is a soft dessert-sweet profile with some rustic hints that struggle to be noticed; Palate has a raw essence to it that reminds me of far too many of the not-so-great craft distilleries; Finish is short, harsh and metallic. Can't say I like the end result, but I like that it exists
I like the spirit of experimentation and willingness to try new things that drives the Woodford Reserve Master's Collection. On the whole I think that the Balcones Rye was a much more successful use of a chocolate rye, but this Woodford Reserve Chocolate Malted Rye Bourbon was interesting to try.
SCORE: 1.5/5
*Disclosure: The sample for this bourbon review was graciously sent to me by the company without obligation. The views, opinions, and tasting notes are 100% my own.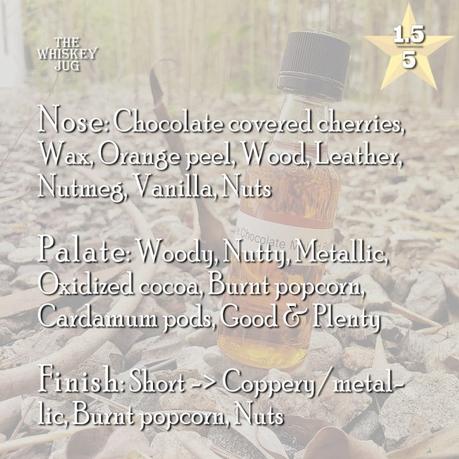 Woodford Reserve Chocolate Malted Rye Bourbon Review
$130
Overall
1.5
Nose

(2)

Palate

(1)

Finish

(1.5)

BBF

(1.5)
Sending
User Review
0

(

0

votes)
Comments Rating
0

(

0

reviews)

Woodford Reserve Chocolate Malted Rye Bourbon Review Summary
On the whole it comes across with a bitter metallic cocoa and saw dust profile. I think it was a great experiment but might need longer to mature and mellow, or it's possible the chocolate malted rye just doesn't work here… at least for me anyways.
''…''…''…