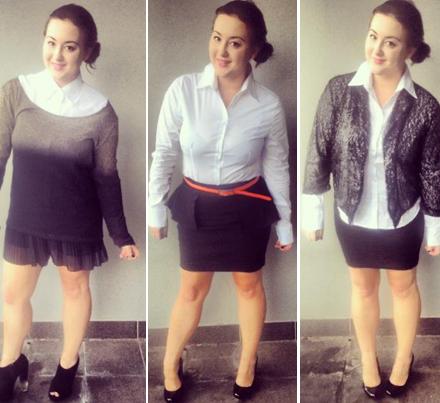 It's not often I get my money's worth when I'm shopping. I have a tendency to pick up the shiny neon bomber jacket over the fitted black blazer that I would get 100 million bagillion times more wear out of. I'm not great at choosing staples, I'm even less skilled at finding items that I can wear a myriad of ways – the bargain hunter in me figures that those kind of buys cost too much – and I get my thrifty thrill-shop on instead. I literally have a scarf in every color and pattern except black. Not because I don't like black, I love black – and I would wear the pants off a black scarf – the colours just always draw me in (and then never go with a single thing in my closet.)
It wasn't until I walked into Target Bondi Junction with a clear mission, that everything changed for me wardrobe-wise. I was asked to find a single item that I would wear five ways. The angle was 'work wear', and I knew this would be (more than) a bit of a struggle for me, being the type to always prefer buying five bargain pieces that in no way relate to each other, over one piece for the same price that would go with absolutely everything. I'm not all that great with money you see. I tend to splurge when I should be saving – and I knew that I needed to change that, stat.
So when I stepped into Target, what did I see?
Well, many casual and work-appropriate tops, skirts and blazers – which were all quality-looking garments, just not all that inspiring when it came to something that could be worn 5 different ways. I began to sweat, just a little.
Then. I saw it. I'd never owned a 'proper' white work shirt before – but after seeing Carrie Bradshaw don one with a belt in a particularly memorable episode of SATC, I had always wanted to. It was in the 'Hot Options' section of Target and retailed at around $31. Can you say bargain?
It was the perfect white shirt. It nipped and tucked in at all the right places, featured a strong collar, crisp white cuffs and was just one of those quality wardrobe staples I knew I'd be wearing for years to come. (Unfortunately I couldn't find the exact shirt in the Target online store – but this white shirt is even more summer appropriate – and totally cute.)
So did I manage to come up with five different, work-appropriate ways to wear it? Scrap that – I came up with SIX!
Look one: Open sesame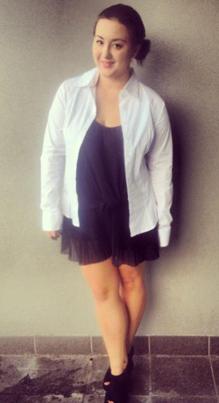 For this 'casual Friday' look I teamed the opened white shirt with a black singlet that was subtly tied to one side with a pair of black Zara shorts and some black ankle boots. The introduction of the white shirt brought a slightly corporate edge to the ensemble.
Look two: Mind your manners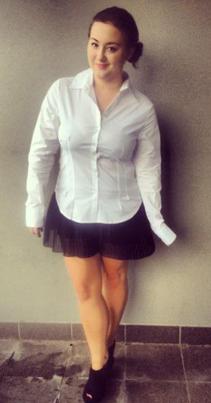 I called this look 'mind your manners' because I feel a little as though I resemble a naughty school child. The buttoned-up shirt says business up the top and the floaty shorts say party down below. The perfect summer outfit for anyone in a slightly more arts-related work place.
Look three: Prim and precious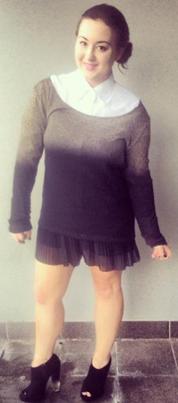 Probably my personal favorite of the bunch. I love that this look is a little tomboy-ish and a whole lot cute. The faded Evil Twin jumper is a perfect frame for the buttoned-up shirt. I buttoned it all the way to the top to give the outfit a corporate edge. It's very old school headmistress, and makes me more than a little excited for the cooler months.
Look four: Madame mistress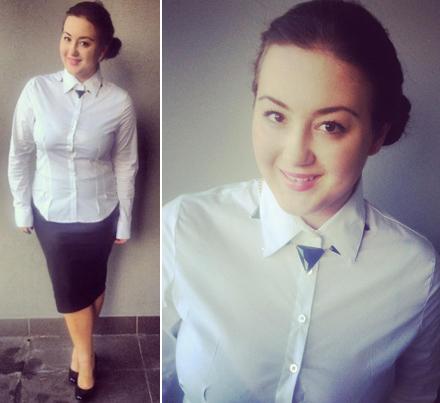 I feel as though this is what Lady Gaga may have worn to work if she had a desk job. It's a fashion-forward version of the iconic white shirt/pencil skirt duo. To break up the block of black and white , I added this awesome Target black triangle necklace around the buttoned-up collar. It gave an interesting twist to the ensemble and teamed up nicely with the leather River Island pencil skirt.
Look five: Posh and peplum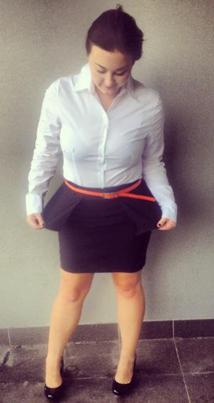 Do you all remember this skirt? It's the peplum skirt I picked up on my first foray into Target. I love it! It's so versatile. I even paired it back up with my favorite Target reversible belt and the black patent leather pumps. Yep, the WHOLE outfit is from Target. Pretty nifty eh? This outfit is sure to impress – in fact, it's the perfect interview ensemble, if any of you were looking. It's also Mr. NQC's (aka my fabulous photographer) favorite look of the bunch!
Look six: Jacket-up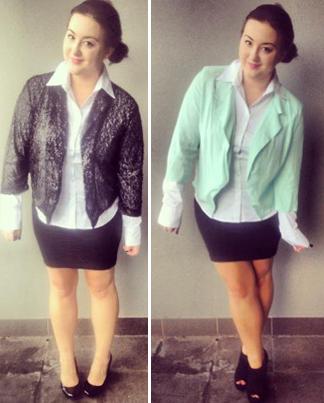 For this look, I really wanted to experiment with layering and show you how easily you can change the look of the shirt with just the simple addition of a jacket. The black sequin jacket on the left is the perfect partner to take you from desk to drinks, and the mint jacket on the right shows you just how easy it us to inject a little color into your ensemble and still look sharp as… well, you know.

NQC x
So my little NQC-ers, which look is your favourite? 
Which look are you most likely to wear?