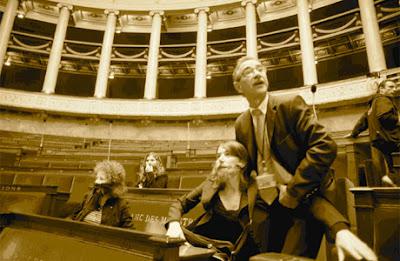 What should women do at 'The Masters'?



With no women members allowed for the past 80 years at Augusta National Golf Club. This year they have a gender dilemma at board room level. Usually the CEO's of their main sponsors; Exxom Mobile Corp, AT&T Inc and IBM are all invited to join.

Certainly the previous four CEO's of IBM have all become members; however will Ginni Rometty be given the same honor

 this year?
Solution; women at Augusta should wear beards and shout 'no women here'.
Just like the scene from Monty Python's 'Life of Brian';
Mother - Ah, how I hate wearing beards.
Brian - Why aren't women allowed to go to stonings, mum?
Mother - It's written, that's why.
Beard and stone seller - Psst! Beard, madam?
It sounds absurd. But so does golf in the 21 st Century allowing a major championship to be held at a club who prevent women becoming members.
-----------------------------------------