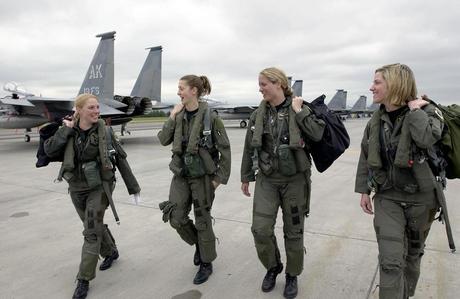 Women have traditionally been excluded from warfare, usually left at home for the men to protect them. There have been noted exceptions throughout history (think in terms of women like Deborah and Jael, Cleopatra, Joan of Arc, etc.). Most modern militaries, including America's, have welcomed women since the 1970s.
The United States Air Force has been open to women for almost 20 years; women currently make up about 16% of the force. (An interesting side note is that historically, there are many women associated with flying, like Amelia Earhart and the WASPs.) One March 30, the first all-woman Air Force unit embarked on a mission to Afghanistan. However, the American government may soon endanger many of the brave women that serve in the Air Force.
The Air Force is currently on the verge of purchasing a new fleet that will probably be used as the backbone of the war effort in countries like Iraq and Afghanistan. There are two companies that manufacture the desired aircraft type: American-owned Hawker Beechcraft and Brazilian Embraer. Ignoring the fact that the American military should certainly be fighting in American-made planes, the Hawker Beechcraft model's design has been updated within the past decade, while the Embraer planes have not been recently upgraded.
One of the many updates that the Embraer aircrafts lack is a low-impact ejection seat. This deficiency puts pilots of smaller stature in more danger. According to the Center for Military Readiness and common knowledge, women tend to be shorter and lighter. As a result, the Embraer model puts most women serving in the Air Force, as well as smaller men, in jeopardy. This is clearly discrimination that must be stopped before it happens. This is not just a matter of philosophy or politics, but of actual lives.
The women and men who protect us in the skies, risking their lives on a daily basis, need our help. I urge you to write the following message, adapted from a message Emily M. sent to me, to your representative and senators (who can be found at the links included above):
My name is [insert name here] from [insert hometown here]. Women pilots have been flying combat missions for the Air Force for 18 years now. However, it is gravely concerning to find out that they might not be as well protected as their male counterparts. The Air Force is preparing to buy a new fleet of Light Attack and Armed Reconnaissance fighters from either the American company Hawker Beechcraft or the Brazilian company Embraer. The ejection seat in the Embraer aircraft yields an extremely high impact, which poses a significant safety concern for pilots of lower height and weight. This disproportionately threatens the safety of female pilots, as they are typically of smaller stature than male pilots. Because of this, I ask you to lobby against the Embraer model's purchase. The brave women in our Air Force take to the skies to protect us; don't we owe it to them to make sure they are protected? 
Since today is Memorial Day, I figured I would post something about women in the military, and this came to my attention. After you've taken a few minutes to help out women and men in the Air Force, have a good Memorial Day break!