From MK Mouse license plate to Mickey Mouse Ferris wheel, woman's Disney collection has it all | MLive.com: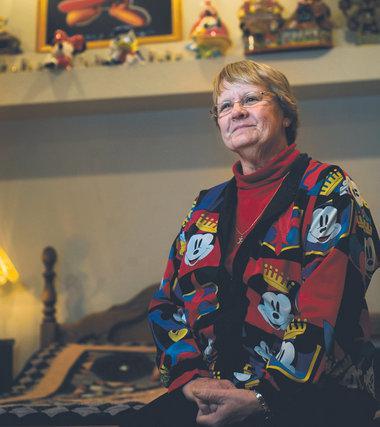 "For Pam Murdock, it was all started by Snow White and the Seven Dwarfs. Murdock received the hand-painted 12-inch tall set from her daughter, Kim Ann, 18 years ago, and she has been collecting Mickey Mouse and Disney items ever since."
Here are a few of the highlights [of her collection]: A Mickey Mouse-shaped hot water bottle, a child's radio with a wax roller that turns to play music, lamps that have Mickey and Goofy turning the light on and off while speaking; 6-inch tall Mickey and Minnie toys stuffed with sawdust; hand-carved and poseable wood Mickey and Minnie figurines from Mexico; a complete set of the 101 Dalmatians in a felt-lined carrying case from a McDonald's restaurant; a statue featuring one of the bears like those in the Country Bear Jamboree attraction at Walt Disney World in Orlando, Fla., (it was back-ordered and they didn't think they would get one); and Tiffany-style lamps with metal character bases and silhouettes that are revealed in the shade when the lamp is turned on.