I'm not a country music fan, so I hadn't even heard of Jason Aldean or Florida Georgia Line till the press release for Wolf Moon Bourbon showed up. I had no idea I was signing up for yet another NDP celebrity bottle, but at least this one had some info on the site and the bottle, which is a nice change.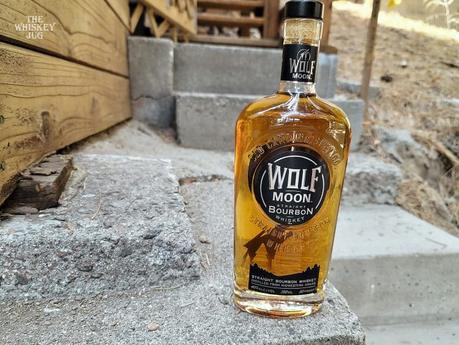 The back of the bottle says it's "Proudly Distilled and bottled by Old Camp Whiskey, Lawrenceburg, Indiana", but when I do some looking, it seems like this is sourced from MGP and that's about it. It's totally possible it could have been contract distilled. Though what that contract distilling actually means is something else entirely.
Now, let's get to drinkin'!
---
Wolf Moon Bourbon – Details and Tasting Notes
Whiskey Details
Style: Bourbon (Straight)
Region: IN, USA
Distiller: Undisclosed (likely MGP)
Producer: Old Camp Whiskey Co.
Mash Bill: "2/3 Corn, 1/3 Rye and Barley" (75% Corn, 21% Rye, 4% Barley = MGP Bourbon mash)
Cask: New Charred Oak
Age: 4+ Years
ABV: 40%
Wolf Moon Bourbon Price: $30*
Related Whiskey
Elvis Rye Whiskey
Elvis Tennessee Whiskey
Walking Dead Bourbon
JR Ewing Bourbon
Trader Joe's Bourbon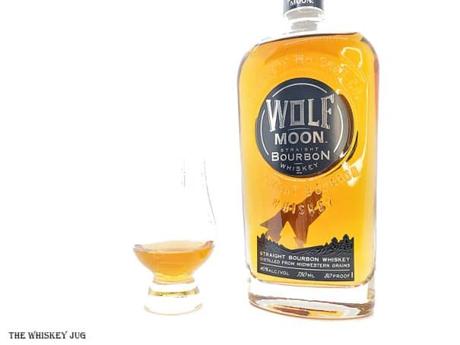 "Born on tour with Florida Georgia Line, Wolf Moon Bourbon is a tribute to epic performances on the road and a toast to shared glasses of whiskey along the way." – Wold Moon Bourbon
Wolf Moon Bourbon Tasting Notes
EYE
Light amber
NOSE
Caramel corn, oak, baking spice, dried fruit and some nuttiness.
Decent, standard, bourbon aroma.
PALATE
Caramel corn, vanilla, orange peel, dried fruit, nuttiness and some baking spice.
Again, standard, nothing too amazing
FINISH
Medium -> Caramel corn, vanilla taffy, oak and spice.
BALANCE, BODY and FEEL
Ok balance, medium-light body and a soft light feel.
---
Wolf Moon Bourbon – Overall Thoughts and Score
In a nut-shell, this seems to be just another MGP bourbon with a celebrity name on it and bottled at 40%. It tastes fine, it smells fine, I'm sure it mixes fine, but I don't really see the point, besides the obvious one of this being for fans of the country music celebrities involved.
It's not something that stands out in the market. It's not something that stands out on the shelf. It's not something that stands out period. The shelves are flooded with mediocre-to-good 4-year-old 80 proof bourbons. Many of which are also sourced from MGP.
If you're a fan of the folks involved, then maybe Wolf Moon Bourbon is up your alley. If you're just looking for good bourbon Wild Turkey 101 and Evan Williams Bonded are always available and carry more flavor for a bit less coin.
SCORE: 3/5 (above average, worth checking out ~ B- | 80-82)
*Disclosure: The bottle for this bourbon review was graciously sent to me by the company without obligation. The views, opinions, and tasting notes are 100% my own.
Wolf Moon Bourbon Review
$30
Overall
3
Nose

(3)

Palate

(3)

Finish

(3)

BBF

(3)
Sending
User Review
0

(

0

votes)
Comments Rating
0

(

0

reviews)