All of the photographs are taken by my lovely friend and English Wedding blog sponsor ARJ Photography.
Scottish wedding inspiration board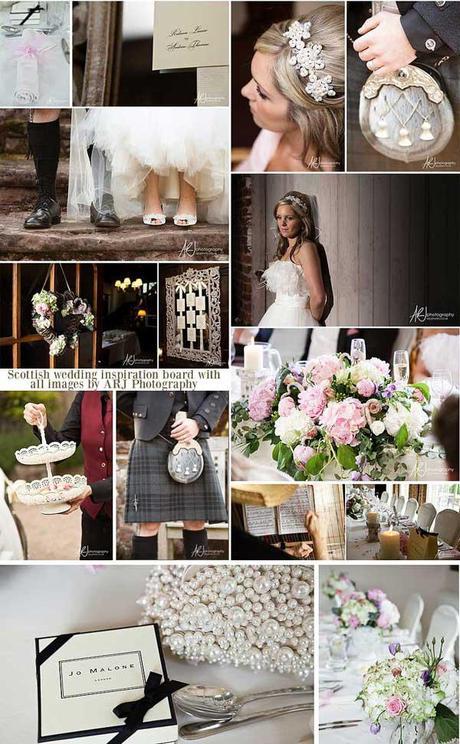 Scottish wedding blog inspiration board by ARJ Photography
Andy and Bec's wedding theme mixes soft pastel pinks and purples with a real flavour of Scotland.
table napkins are tied in baby pink ribbons
stationery is elegant with romantic calligraphy scripts
Bec wears an intricate hair accessory with pearls and crystal
Andy and his best men are in Scottish formal dress
Bec wears a beautiful dress with lots of romantic detail and her bridal shoes have more lovely pearls
the willow heart decoration with flowers which hangs against the door of the reception room sets the tone for the celebration – one of my favourite details
Andy and Bec's wedding table plan is elegant and a little bit different with an ornate framed mirror being the perfect background for the table lists
the top table centrepiece has dozens of gorgeous flowers: pale pink peonies, roses, freesias and lots of trailing ivy
Classy wedding favours for the ladies from Jo Malone are a lovely idea (and the boxes look so special on the tables)
A harpist adds a romantic soundtrack to the wedding reception – a nice contrast to the bagpiper outside! (I love bagpipes!)
the reception feels beautifully romantic and charming, and a perfect reflection of the bride and groom's personalities – which is how these things should be.
Thanks again to Adam Johnson of ARJ Photography in Cheshire for sharing his gorgeous images with us.
See more real weddings by ARJ Photography at www.arj-photo.co.uk/blog