Films:
Licorice Pizza
Format: Blu-ray from DeKalb Public Library on rockin' flatscreen.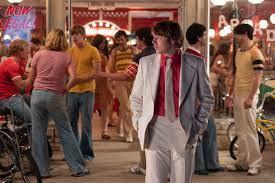 I looked forward to Licorice Pizza for some time, so when I saw it on the shelf at the local library, I snatched it up. I expected a great deal from this movie and the reviews would seem to back up that expectation. Four stars is by far the most popular review on Letterboxd, and the IMDb average rating is above 7 out of 10. Well, I've watched Licorice Pizza now, and I genuinely wonder what everyone sees in it. I don't seek out movies where I disagree with almost everyone else. Sometimes, though, it just happens.
I'm probably not going to do a significant rundown of the plot of this movie because there really isn't a great deal of plot. It's very similar to a character study, except that it's not a character study for one person but a relationship. A great deal happens in Licorice Pizza, but it all feels episodic. We're looking at a series of unrelated events over the course of a year or so in the life and relationship of a couple of people.
Before I get into specifics, I feel like there are a couple of things that I need to address here. The other day, I came across something that someone had written about the idea of entrepreneurship in the U.S. (I promise this is relevant). The author likened it to that carnival game where you throw darts at balloons. The average middle class person in this analogy gets the chance to throw one dart. They hit, they miss, every once in a while someone scores the big prize. The wealthy, though get multiple tries and have the luxury of failing. They can keep throwing those darts until they hit the big prize and then they probably get to tell people about the value of hard work and persistence. The poor kids? They're the ones working the carnival.
What does this have to do with Licorice Pizza? The fact that one of our two main characters, Gary Valentine (Cooper Hoffman) is that rich kid in the analogy above. He's 15 at the start of the movie and a successful child actor. At this age, still in high school, he rents out a storefront for a waterbed business. When the oil embargo in 1973 causes the vinyl market to dry up and his business to go under, he starts a pinball arcade the moment pinball becomes legal in Los Angeles. This is a 16-year-old high school student who at one point literally has the conversation where he suggests that the world literally revolves around him and his projects. What happens if the pinball arcade fails? Gary gets another dart because at 16 he clearly had enough money to build an arcade.
The other issue here that needs to be addressed is the age issue. Gary starts out the movie at the age of 15, making him a high school sophomore more than likely. How old is Gary's love interest, Alana Kane (Alana Haim)? She's either 25 or 28 depending on the scene we're talking about—she claims to be 28 at one point. Even if she's just 25, she's a decade older than Gary at an age where that means something. And this is not merely Gary pursuing Alana—she's happy for the attention and continues to hang around with Gary and his friends despite this age difference. Gary is sexually forward with her, and at one point, to fend him off, she flashes him.
Having read that paragraph, go back and read it again with their ages switched. If Licorice Pizza had been about the relationship of a precocious young actress with big ideas and a guy 10 years her senior who ended up hanging around with her and slowly moving toward a sexual relationship, is there anyone who wouldn't call this a grooming narrative, or think that it was more than bordering on an inappropriate relationship? Are we really going to decide that this is okay because it's not like the boy is going to complain about getting the attention of an older woman? Again, just to reiterate, this is something that develops into a love story between a kid five or six years away from his first legal drink and a woman old enough to have voted in multiple presidential elections.
But hey, it doesn't matter, right? Gary is wealthy and privileged, so naturally he's going to get what he wants, because he doesn't just get to throw darts in terms of entrepreneurship, but at relationships with Alana, too. He gets to keep throwing those darts until he gets the results he wants.
Licorice Pizza feels a great deal like Paul Thomas Anderson wanted to film something that took place in the same cinematic universe as Once Upon a Time…in Hollywood without all of the violence of a Tarantino film. It has that same sort of feel to it, like the people involved here aren't going to have any consequences for their actions because they live in a world where nothing can hurt them.
The last bit of frustrating for me? A "licorice pizza" is a record album. It's black like licorice and roughly the size of a pizza. So is this movie even remotely about the music industry? It is not. This was the name of a record store chain in Los Angeles (Chicago had a chain called The Flip Side). It has nothing to do with the story or the characters.
Why to watch Licorice Pizza: You wanted to watch Once Upon a Time…in Hollywood without the murder.
Why not to watch: It really is about a very inappropriate relationship.