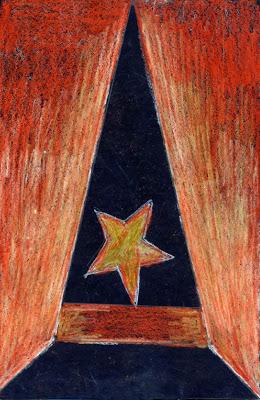 A Halloween stock art image inspired me to make this witch hat drawing. It's a good example of using positive and negative space in a very seasonal manner


1. I started with a 6" x 9" piece of black drawing paper. I made a dot on the top center, and drew a hat that touched it and the two bottom corners. A band and star were also drawn in pencil.
2. I traced all the lines with a white Prismacolor pencil, and then shaded in the outside (negative) areas white. Sometimes this is also called "underglazing" a drawing. Note: Some pencils will not work for layering, they are not soft enough. Test your pencils before you try this lesson.
3. Orange and yellow pencil color went on top of the white, and also on the band and star. I experimented with adding pressure with all the pencils to get the maximum burst of color.