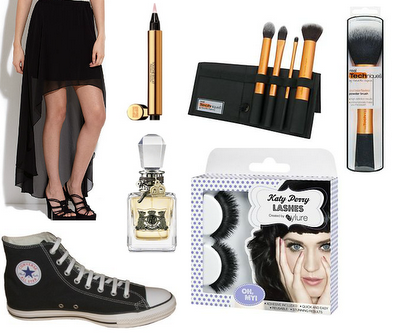 Its Wednesday and I see other bloggers having ago at this and I love the idea of knowing what's out there which you may have never seen it before. Thank You to the Bloggers!.So this is mine!
Skirt which is from Newlook and its Gorgeous. i love black it probably my most worn color did i mention its gorgeous!.http://www.newlook.com/shop/womens/skirts/blue-chiffon-dip-hem-skirt_246315740
Converse tbh there a must have for everyone!
Katy perry lashes im so wanting to try these there full and thick and i think they will look amazing on!
YSL and Juicy! both can be found on cheapsmells at a lower price.
Real Technique Brushes, with all the hype thats going round how can anyone not want to try these. I have the stippling brush and i love it and im now really wanting to try these! and there not badly priced either.
Let me know what yours are OR what you are liking.I love product suggestions.
Much Love